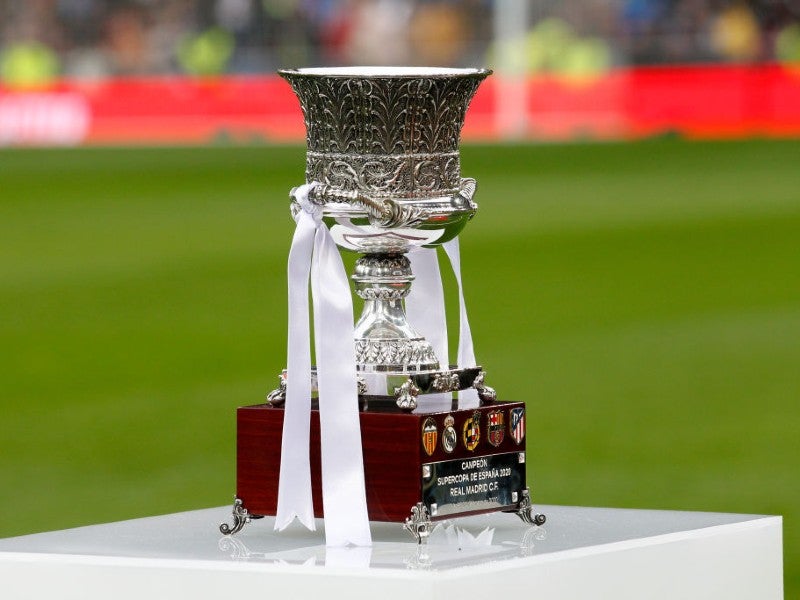 The RFEF, the Spanish soccer federation, has announced this season's Supercopa de Espana (Super Cup) will again be staged in Saudi Arabia.
The four-team tournament will be held at the 60,000-seat King Fahd Stadium in Riyadh from January 11 to 15, 2023.
The Supercopa will feature Real Madrid and Real Betis as the winners of the top-flight LaLiga and Copa del Rey domestic cup competition, respectively, as well as Barcelona, who finished second in the league, and cup runners-up Valencia.
The semi-finals will be played on January 11 and 12 and will see Real Madrid see face Valencia and Real Betis take on Barcelona. The winners will meet in the January 15 final.
The Supercopa was held in Saudi Arabia last season and in the 2019-20 campaign. The country was due to stage the competition in the 2020-21 season but was ultimately played in Spain because of the Covid-19 pandemic.
This season's edition will be the last in a three-year contract agreed between the RFEF and Saudi Arabia in 2019.
The Middle East nation is believed to be paying a fee of around €30 million (then $35 million) for the contract.
Italy's Serie A has also staged its Super Cup in Saudi Arabia on multiple occasions in recent years and will do so again in January just three days after the final of Spain's Supercoppa.
More leagues have been looking into staging games overseas and it was announced earlier this month (October) that, from 2023, Argentina's Supercopa will take place in Abu Dhabi as part of a four-year deal between the Argentine Football Association (AFA) and the Abu Dhabi Sports Council (ADSC).
Meanwhile, LaLiga has expanded its partnership with Twitch, the video-streaming platform, to allow its streamers to live stream match commentaries from its games.
The Sportscasters by Twitch program will see streamers live streaming from LaLiga stadiums within customized commentary boxes, viewable on their individual Twitch channels.
The first will see /Perxitaa live streaming from the Estadio de Mestalla for the match between Valencia and Barcelona tomorrow (October 29). This will be the first time that content creators will have been accredited as commentators.
Streamers will also be able to provide behind-the-scenes content from stadia.
Alfredo Bermejo, LaLiga's director of digital strategy, said: "This agreement with Twitch and some of the most popular streamers in its community brings fans of these streamers closer to their favorite football teams, giving them an experience that they have never been able to enjoy before. It is yet another step in LaLiga's strategy to pre-empt and adapt to the needs of its fans."
Farhan Ahmed, Twitch's director of creator expansion for Europe the Middle East, and Asia, added: "La Liga was quick to recognize the power of livestreaming on Twitch and this announcement is an extremely exciting development for our community.
"Through this collaboration, fans will be able to share real-time moments with streamers and a community of like-minded people, while streamers will create unique, unscripted moments from La Liga match days that wouldn't be accessible through any other format."
This latest move is the latest initiative between LaLiga and Twitch as the two parties have collaborated on multiple occasions in recent years.
Last season, Twitch aired nine matches from LaLiga as part of an agreement with the league and sports rights and production agency Mediapro.
The games were shown on the Twitch channels of Gol, the digital terrestrial network owned by Mediapro, LaLiga, and popular Spanish internet streamer and content creator Ibai Llanos.
That tie-up was part of the LaLiga Casters project, a collaboration between the league and Twitch after it became the first European sports league to join the Amazon-owned video portal in 2020.
It came after LaLiga previously joined forces with Llanos to broadcast a match for free on his channel – the Basque derby between Real Sociedad and Athletic Bilbao in the 2020 Copa del Rey final.
The match was the first live LaLiga broadcast on Twitch.