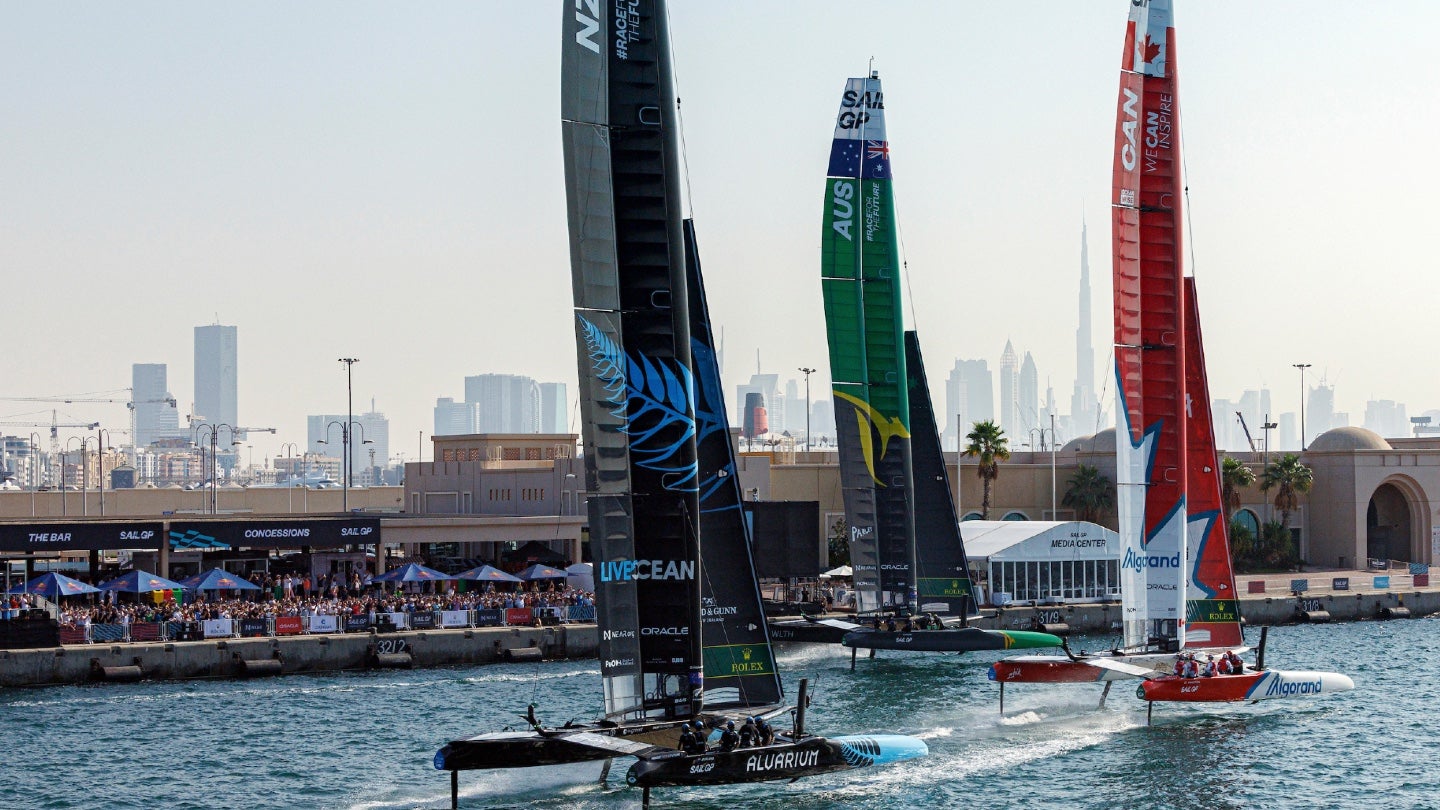 Season four of the international sailing series SailGP will cover a record 12 events, four continents, and 13 months, it has been finally confirmed today (April 5).
Although this calendar does feature a record number of races, the final version comprises two fewer than were provisionally announced for 2023-24 in September last year. A scheduled Singapore Sail Grand Prix is one of the casualties.
The 2023-24 SailGP campaign will start on June 13 this year in Chicago and culminate next July in San Francisco.
Overall, the series' fourth season will include four events in the US – two more than the ongoing 2022-23 campaign amid an increased focus on that market – two others in North America and the Caribbean, three in Europe, one in the Middle East, and two in Oceania.
Two US races, the Chicago stop and then a first-ever Los Angeles Sail Grand Prix, kick off season four before the European swing takes in France (Saint-Tropez), Italy (Taranto), and Spain (Cadiz) in late 2024.
A Middle East Sail Grand Prix in the United Arab Emirates (UAE) will then take place in mid-January, with the location and title partner yet to be announced.
The Oceania events will be a Sail Grand Prix in Sydney on February 24 and 25 followed by one in Auckland on March 23 and 24.
The next two stops on the calendar are Bermuda (May 4-5) and Canada (June 1-2), while the season will conclude as it starts with two US events.
As with the UAE race, the precise venue for the Canada Sail Grand Prix has yet to be announced – the shortlist of cities features Halifax, Kingston, Montreal, and Victoria.
The final two races next season will be held in New York, and then in San Francisco to finish off, with the campaign ending on July 13 and 14.
So far, the races in Chicago, Sydney, and Auckland have allocated title sponsors.
In terms of destination changes from 2022-23, races in the UK, Denmark, and Singapore will not be reappearing next season.
SailGP has announced that Singapore has been removed as a host from seasons four and five – in the original calendar issued it featured as staging a race in January next year – following a review.
The series' managing director, Andy Thompson, said: "The fact that we are again expanding our season from 11 to 12 events, and now have many multi-year agreements in place, shows the continued demand to host events and the strong momentum the league continues to experience.
"The impressive array of global locations and wide range of event title partners – with more to be announced soon – is great news for our passionate fans and partners alike and is further evidence of the growth and appeal our sport has on a global scale."
After the 2024 season, the league "will pause for both the Olympic Games and America's Cup to allow its athletes to participate in both."
Season five is scheduled to begin late next year.
The last race of the 2022-23 SailGP season will be held in San Francisco on May 6 and 7.
In February, it was announced that SailGP would be altering its structure and breaking the overall business down into various units, with the series confirming several personnel alterations in the process.
The series has now split into the League (commercial, marketing, events, and strategy), Productions (broadcast and content), and Technologies (boat building and design) divisions.