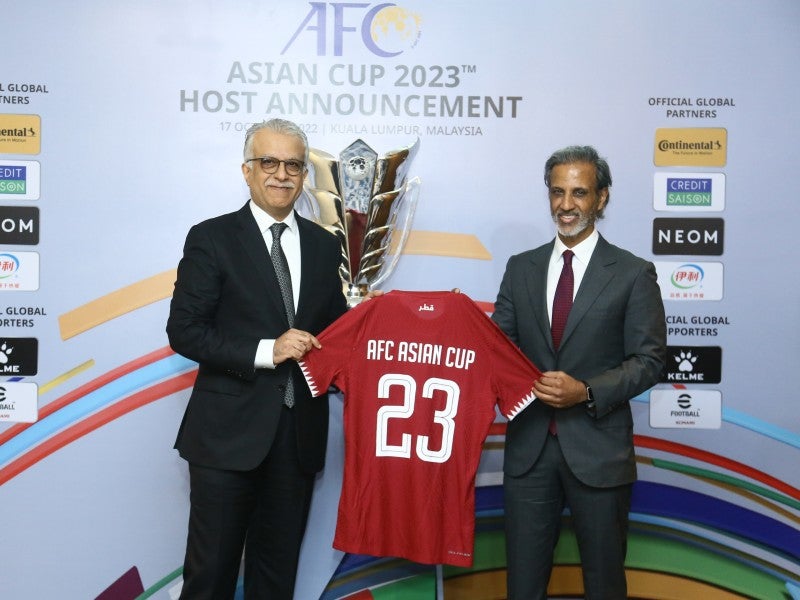 The Asian Football Confederation (AFC) has today (October 17) named Qatar as the host nation for the 2023 Asian Cup national teams tournament.
The decision was ratified by the continental governing body at its 11th executive committee meeting.
Qatar was selected ahead of South Korea and Indonesia, both of which also submitted bids to host next year's competition.
The Middle East nation replaces China, which was originally scheduled to host the Asian Cup after being selected in 2019.
However, in May, the Chinese Football Association (CFA) informed the AFC of its decision to pull out of hosting the tournament, citing the "exceptional circumstances" caused by the country's zero-Covid policy, which makes staging a sports event a major challenge.
Australia had initially expressed an interest but eventually pulled out of the running to instead focus on a bid for the 2026 Women's Asian Cup.
Qatar has staged the men's Asian Cup on two previous occasions in 1988 and 2011.
The country will have major soccer tournaments in back-to-back years as it gears up to host the upcoming FIFA World Cup.
Shaikh Salman bin Ebrahim Al Khalifa, AFC president, said: "Qatar's capabilities and track record in hosting major international sporting events and their meticulous attention to detail are well admired throughout the globe.
"Given the short lead time in preparation, we know that the hard work begins immediately, but, with their existing world-class infrastructure and unrivaled hosting capabilities, we are confident that Qatar will stage a worthy spectacle befitting the prestige and stature of Asia's crown jewel."
Staging the 2023 tournament in the Middle East breaks the AFC's convention of alternating between hosts in West Asia and East Asia. The last edition of the Asian Cup (won by Qatar) was staged in the United Arab Emirates in 2019.
In 2019, the AFC expanded its flagship tournament to 24 teams. Bid criteria now require the host country to have at least five stadiums with a seating capacity of 20,000, while the stadium for the opening ceremony must have a 40,000+ capacity, which Qatar possesses having built several new stadiums for the World Cup.
As a result of Qatar being awarded the 2023 Asian Cup, the country has withdrawn its bid to host the 2027 edition.
At the executive committee meeting, the AFC shortlisted India and Saudi Arabia as the final two bidders for 2027 with the host nation to be selected by the governing body's congress at its next session in February 2023.
Uzbekistan and Iran, which also expressed interests, have withdrawn their bids for 2027.