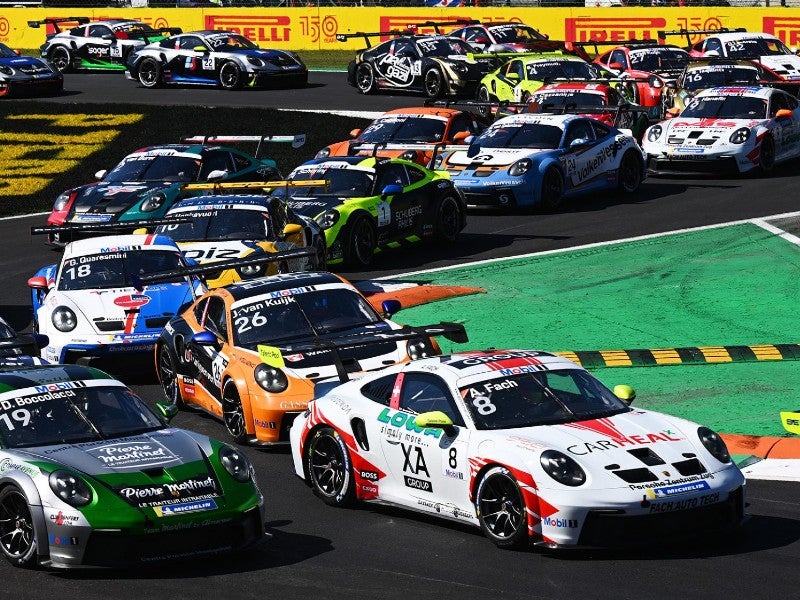 Motor racing's Porsche Supercup will remain a support series on the Formula 1 (F1) calendar until at least 2030 after German manufacturer Porsche secured an eight-year contract extension with the top-tier series.
The series, which has been part of the F1 support program since its debut season in 1993, will continue to feature at eight European F1 events, starting with the Emilia Romagna Grand Prix in May and ending with the Italian Grand Prix at Monza in September. Its last three-year contract renewal was struck in 2019.
Other series events will feature at the Monaco GP (May 28), Austrian GP (July 2), British GP (July 9), Hungarian GP (July 23), Belgium GP (July 30), and Dutch GP (August 27).
As part of the deal between F1 and the German manufacturer, individual rounds of the Porsche Carrera Cup Japan and Porsche Carrera Cup Asia will continue to feature in F1's support program away from Europe.
F1 president and chief executive Stefano Domenicali said: "For more than 30 years Porsche has been an important part of the Formula 1 weekend. I'm looking forward to continuing our long-standing relationship which delivers something special for our fans across our European season and beyond.
"It is yet another sign of our growth and influence as a platform that major brands want to continue to expand their relationships with us and the potential that is there for all our partners."
Michael Dreiser, sales director at Porsche Motorsport, added: "Formula 1 is the ideal platform for drivers and teams in the Porsche Mobil 1 Supercup to demonstrate their prowess at the highest international level. The best from Porsche's national one-make cups come together in the Supercup.
"I'm also proud of the fact that the respective national Porsche Carrera Cups will continue as part of the support program at several Formula 1 events outside Europe in the future. We will also maintain our presence in North America and even further expand our involvement."
Volkswagen-owned Porsche is looking to increase its involvement in F1 by entering the sport as a power unit manufacturer in 2026 when the new regulations come into force.
The manufacturer entered negotiations with the Red Bull Racing team but the talks ended when a deal could not be reached, leading to speculation about with which team it could choose to partner.
The supervisory board of Volkswagen Group had already given its approval for the brand to get involved in F1, with the company's chief executive Herbert Diess confirming in May that Porsche and its sister company Audi would enter the series.
Last month, the Sauber motor F1 team confirmed it will partner with Porsche's sister company Audi when it enters the series in 2026, with Audi taking a stake in Sauber Group.
The Sauber F1 team currently races under the Alfa Romeo brand using Ferrari engines, but that partnership is due to conclude conclude at the end of the 2023 season.