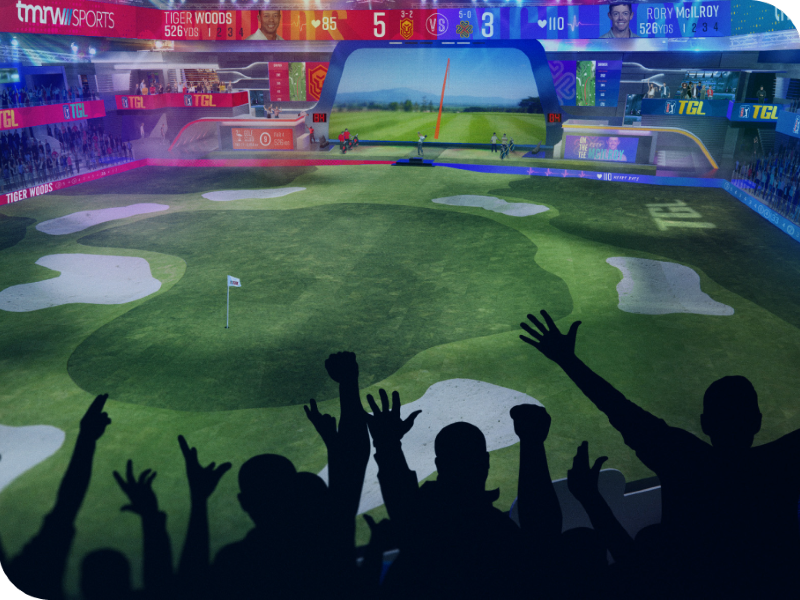 TMRW Sports, the new venture launched by golf stars Tiger Woods and Rory McIlroy this week, has partnered with US golf's PGA Tour to launch TGL, its new "tech-infused" golf league.
Announced yesterday (August 24), TGL will "showcase team matches fusing advanced tech and live action from a custom-built venue in primetime."
Matches will take place on Monday nights in the US and complement the current PGA Tour schedule.
Woods and McIlroy are the first two golfers who have committed to compete, with the league's inaugural season to begin in January 2024.
The duo have been working on the concept for more than two years.
The launch of a new stadium-based format was mooted after the launch of TMRW Sports earlier this week and comes after Woods and McIlroy recently led a players-only meeting with fellow PGA Tour members to discuss the threat of the embryonic LIV Golf Invitational Series.
TGL will feature six teams of three PGA Tour players competing in 15 regular season Monday night games followed by semi-finals and finals matches.
The league will also feature tech innovations such as a "data-rich, virtual course complete with a tech-infused, short-game complex" and a "high-energy, greenside fan experience with every shot live within a two-hour, primetime televised match."
Discussions about broadcast and gaming partners for the new series are understood to be underway.
Woods and McIlroy are reported to have shared details about the series with PGA Tour members who attended the meeting of players on August 16 at Wilmington Country Club ahead of it hosting the BMW Championship.
That meeting was understood to have primarily focused on the threat to the PGA Tour of the LIV series, of which innovation has been touted as one major selling point for both players and fans.
This detail, along with the reported alignment with the PGA Tour schedule, suggests that the new stadium-based series will be used to help head off the departure of tour members to its high-paying LIV competitor.
Among the numerous players to have defected are high-profile names including Phil Mickelson, Brooks Koepka, Bryson DeChambeau, Dustin Johnson, Ian Poulter, Patrick Reed, Sergio Garcia, Graeme McDowell, and Martin Kaymer.
Woods said: "TGL is the next evolution within professional golf, and I am committed to helping lead it into the future. Embracing technology to create this unique environment gives us the ability to move our sport into primetime on a consistent basis alongside so many of sports' biggest events.
"I'm excited about blending golf with technology and team elements common in other sports. We all know what it's like to be in a football stadium or a basketball arena where you can watch every play, every minute of action unfold right in front of you. It's something that inherently isn't possible in traditional golf – and an aspect of TGL that will set it apart and appeal to a new generation of fans."
Jay Monahan, PGA Tour commissioner, said: "The tour has been committed to aligning our athletes with innovative technology and this initiative combines that vision with a unique golf atmosphere.
"A primetime experience featuring PGA Tour players will help attract a broader audience to our sport and the world's greatest players."
Woods and McIlroy founded TMRW Sports along with sports industry executive Mike McCarley and is aimed at "harnessing technology to build progressive approaches to sports, media, and entertainment."
TMRW Sports will be headed up by McCarley as chief executive and counts US television executive and former chairman of NBC Sports among its initial investors.
Meanwhile, in a continued effort to compete with LIV, the PGA Tour has announced a further increase in prize money and an enhanced schedule where top players have committed to compete in 20 events per year.
Monahan announced on Wednesday that the tour has added four 'elevated events' to its calendar which brings the total to 12 for next season. The 12 tournaments will have an average purse of $20 million, similar to the prize pots awarded by LIV.
Speaking before this week's Tour Championship, the final PGA Tour event of the year, the commissioner said that the top players have made "an unprecedented commitment" to play all 12 events and at least 20 across the season, including the four majors, The Players Championship, and an additional three events.
The tour has also expanded its Player Impact Program and will introduce an 'Earnings Assurance Program', which will guarantee all fully-exempt tour members will earn at least $500,000 per year.
From this year, the Player Impact Program, created in January 2021, will double to award $100 million to 20 players who "resonate the most with fans and media" and generate coverage for the tour. New metrics will also be implemented" to better capture awareness from both casual and core fans."
A travel stipend program also will be implemented for lower-ranked players who will receive $5,000 for travel and tournament-related expenses when they miss the cut.
Earlier this month, the PGA Tour had already announced a record prize pot for its 2022-23 season, with a total of $428.6 million to be distributed across official events and $145 million in bonuses.
Monahan said: "Our top players are firmly behind the tour, helping us deliver an unmatched product to our fans, who will be all but guaranteed to see the best players competing against each other in 20 events or more throughout the season."
"Every single member of the PGA Tour is going to benefit from the changes that we're going to be making. The tour is going to continue to grow by having the best players in the world committed to it, by us continuing to lean into and invest in our ethos, which is the single-best competitive platform.
"This is a culmination of a strengthened partnership between the tour and the players, and amongst the players themselves. It's unprecedented for our tour and a testament to who these guys are and what they believe in."