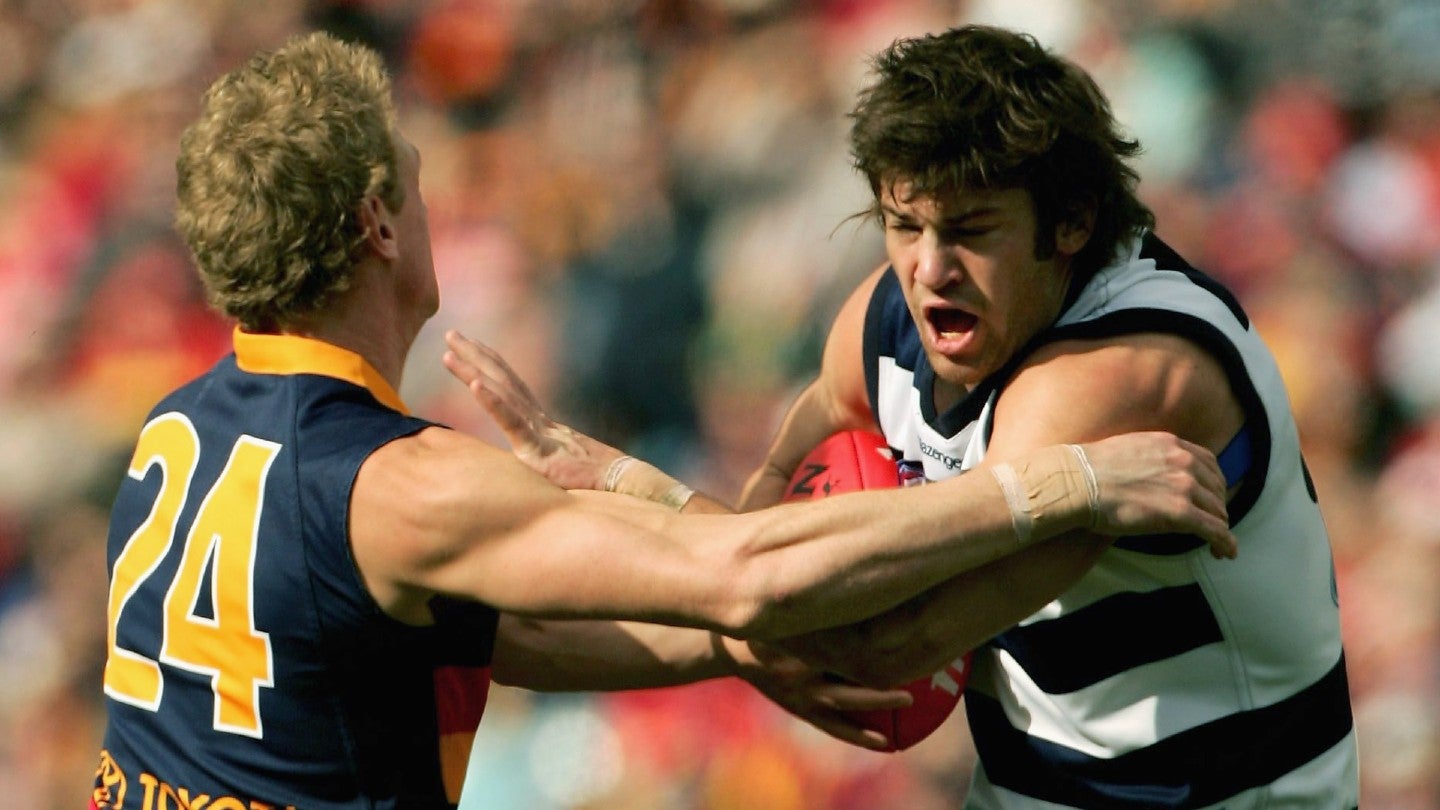 A landmark lawsuit has been filed against the Australian Football League (AFL) by former players who claim to have suffered permanent damage as a result of concussions and other head injuries sustained during their careers.
The action was lodged by Margalit Injury Lawyers in the Supreme Court of Victoria on behalf of former players who suffered concussion-related injuries while playing or training between 1985 and the present day.
The lead plaintiff is former Geelong star Jarad Maxwell Rooke (pictured, right) who claims to have suffered "permanent and life-altering injuries … due to the negligence of the AFL" after suffering up to 30 concussions during this 135-game career.
More than 60 former players have now come forward to join the legal action, which is seeking compensation for pain and suffering, economic loss, and medical expenses.
Michel Margalit, managing principal of Margalit Injury Lawyers, said: "The injuries suffered by this group of former AFL players, as a direct result of concussions sustained while playing Aussie rules, has had a devastating impact on their lives and the lives of their loved ones.
"Some of the players who have joined this landmark class action have never been able to hold down a job after leaving the AFL.
"Their personal lives have been shattered and they live with constant physical and mental pain. It's heartbreaking and they need to be adequately cared for."
Margalit added more players could join the lawsuit and the firm would seek about AUD2 million ($1.3 million) per player plus medical expenses.
She said: "The whole class action could cost the AFL close to AUD1 billion.
"But we must remember that this is not about bringing down the AFL, this is about compensating these injured players, this compensation will come through insurance."
The identities of the other players involved have not been made public, but Margalit said they include well-known players from the top-tier premiership, as well as lesser-known players.
The firm said it is open to engaging in early resolution discussions with the league to avoid prolonging the players' suffering but is also speaking with neurology experts in preparation for them to give evidence in court.
The writ alleges it was reasonably foreseeable to the AFL that players were vulnerable to concussion caused by head strike "at all relevant times" given a history of medical knowledge on the impacts of concussion.
It said: "Since at least 1992, it has been known that brain injuries are one of the most catastrophic athletics injuries and that once a player has incurred a concussion there is a heightened risk of a second or further concussion."
It adds the league owed players a duty to take reasonable care of their safety and avoid exposing them to unnecessary risk.
The class action comes just days after former Western Bulldogs premiership star Liam Picken also filed an action against the AFL through the same court seeking compensation from his former club and club doctors over concussions he suffered throughout his career.
Responding to the lawsuit, the AFL said it had not yet received formal correspondence regarding the class action.
A spokesperson said: "The AFL takes concussion and protection of the brain health of all those playing in our game extremely seriously.
"Today we launched updated concussion guidelines for the elite game, where players that are diagnosed with concussion must pass the 11-steps of the return to play protocol of over a minimum of 12 days in order to be medically cleared to return to play."
The class action has been lodged in court at the same time the league pledged AUD25 million to fund a study into the long-term effects of concussions and head knocks on players. It said it will begin recruiting participants this year for the 10-year study.
The AFL is also preparing to lodge a submission to an ongoing senate inquiry into the effects of head trauma sustained in contact sports.
Last year, the league apologized to former players who felt "let down" by the league's concussion research project after an independent review criticized the study, which said it was underfunded and under-resourced.
The new study is part of a plan that sets out "strategic pillars including Education, Prevention, Detection, Recovery, Support, and Innovation and identifies key priorities, objectives, and actions for each of these pillars."
AFL executive Andrew Dillon said: "Overall, this past year represents significant progress in the area of concussion management with the adoption of a new governance structure, the development and release of the strategic plan, and the release of updated concussion guidelines.
"These actions demonstrate the AFL's ongoing commitment to continuous improvement, increased transparency, and diverse consultation, in the prioritization of health and safety of all Australian football participants across all levels of the game."
Image: Mark Dadswell/Getty Images