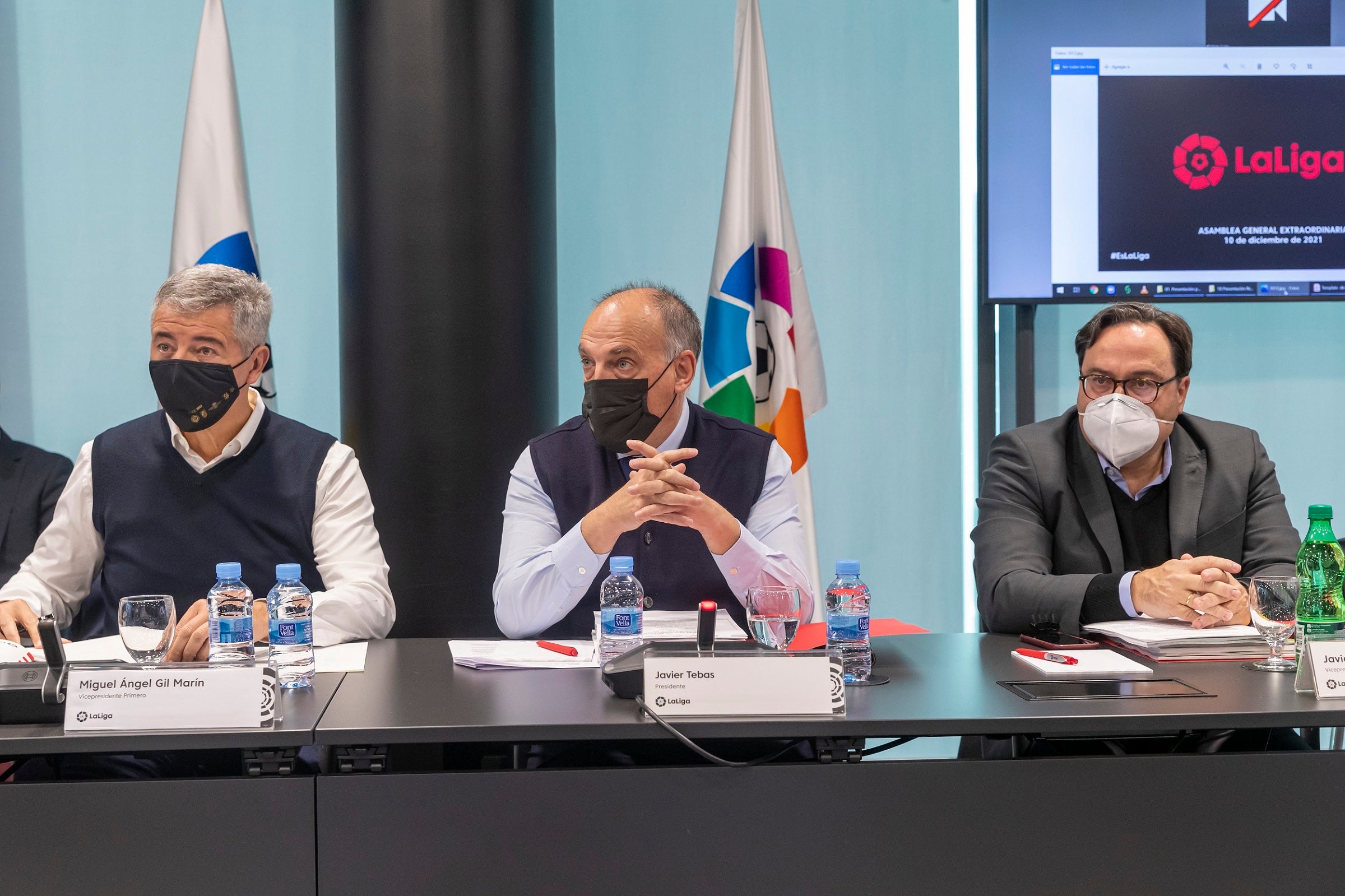 The general assembly of Spanish soccer's top-tier LaLiga today ratified the partnership with private equity firm CVC Capital Partners and rejected a last-ditch attempt by Barcelona, Real Madrid and Athletic Bilbao to thwart the agreement after they had presented an alternative proposal.
The 'Impulso LaLiga' (Boost LaLiga) project received a majority backing as 37 of 42 clubs across Spain's top two tiers voted in favour.
The deal will see CVC provide total investment of €1.99 billion (€2.25 billion) for "sporting and business growth initiatives" in LaLiga through a series of staggered payments, as part of a 50-year partnership with the league.
LaLiga first agreed a long-term deal with the firm in August, with the two parties combining to create a new commercial arm to support both the top Spanish soccer league's global growth plans, and the financially-stricken clubs which have suffered heavily due to the Covid-19 pandemic.
CVC will hold a 10 per cent stake in the commercial entity.
An initial cash injection of €400 million will reach the clubs in a few weeks, with LaLiga saying in a statement that this first payment is aimed at "strengthening their infrastructure, digitalisation and internationalisation for the benefit of fans".
At first, CVC agreed to invest around €2.7 billion but Barcelona, Real and Athletic opted out of the deal, which saw the firm reduce the figure accordingly in order to only support the clubs in favour of the move.
LaLiga then agreed that the teams in opposition will not relinquish their broadcast rights income, but will not receive a share of the CVC money.
Last week, the trio made a late attempt to derail the agreement by presenting an alternative funding proposal backed by financial services company JP Morgan.
It appears they were able to sway two teams in today's assembly – but as the league only required 22 of 42 first and second division clubs to vote in favour, it was always unlikely that the heavyweights would be able to turn the tables sufficiently.
LaLiga said the project approved today by the assembly "carves out the clubs that choose not to participate."
It added that for the rest, "this injection of nearly €2 billion commits the clubs to allocating up to 70 per cent of the funds to investments linked to infrastructure, international development, brand and product development, communication strategy, innovation and technology, and a content development plan for digital platforms and social media. Up to 15 per cent can be used to sign players, with the remaining 15 per cent for reducing debt."
The league described the collaboration as "a defining moment for Spanish sport and football in particular" and added the agreement "will advance the modernisation of clubs, benefitting football fans, the Spanish sports industry and boosting its profile worldwide."
Javier Tebas, LaLiga president, added: "This is a new milestone in the history of LaLiga and its clubs. We're proud to have reached this agreement with CVC, which will allow us to continue our transformation towards a global digital entertainment company, improving the competition and enhancing the fan experience."
"We've been able to get this project off the ground. I am confident it will be a watershed positive moment for these 37 clubs. It will mean they will be able to improve their infrastructures for fans to enjoy, develop their international brand and collectively take giant steps to continue improving this league's stature around the world."
The deal was valued by investment firms Rothschild & Co and Duff & Phelps, for LaLiga and CVC respectively.
LaLiga was advised by Uría Menéndez and KPMG, while CVC consulted Latham & Watkins.