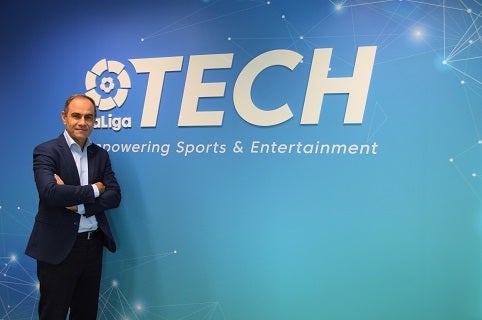 Spanish soccer's LaLiga has today appointed Miguel Angel Leal as chief executive of its new technology subsidiary.
Leal will be responsible for leading the global growth of LaLiga Tech and driving its business development.
He has leadership experience in the B2B technology and telecommunications markets, having led projects for a wide range of companies focused on digital transformation, internationalisation, increasing profitability through business growth and streamlining operational and financial processes.
Leal joins from Chinese technology firm Huawei where he held the role of enterprise business director and, prior to that, he served as corporate managing director at telecoms company Teldat.
Last December, LaLiga separated its digital services into the new LaLiga Tech company.
Through the subsidiary, LaLiga will package its existing technologies into a commercial offering for the sports industry, from matchday stats and analytics to "the next generation" of OTT streaming services, advanced content protection services and venue access management systems.
LaLiga said this will help it "expand into a new era in sports and beyond and enhance the fan experience by creating new data-driven technology solutions".
The league's new technology arm already has a portfolio of clients across the sports and entertainment industry such as MotoGP promoter Dorna Sports, Sky Mexico, Belgian soccer's Pro League and the Royal Belgian Football Association.
Leal said: "It is an exciting time to join the sports and entertainment industry as the role of technology is becoming increasingly essential for engaging fans, improving content and managing competitions.
"LaLiga Tech has a unique offering and extensive industry experience which I am confident will help organisations of all sizes accelerate their digital transformation."
Despite being a new entity, LaLiga Tech's services boast over five years of development and have been used by LaLiga and its clubs over that period.
The Spanish league values the tech business at €450 million ($534 million) and president Javier Tebas has previously stated it is looking for investors to help with the development of the commercialisation of its digital assets.