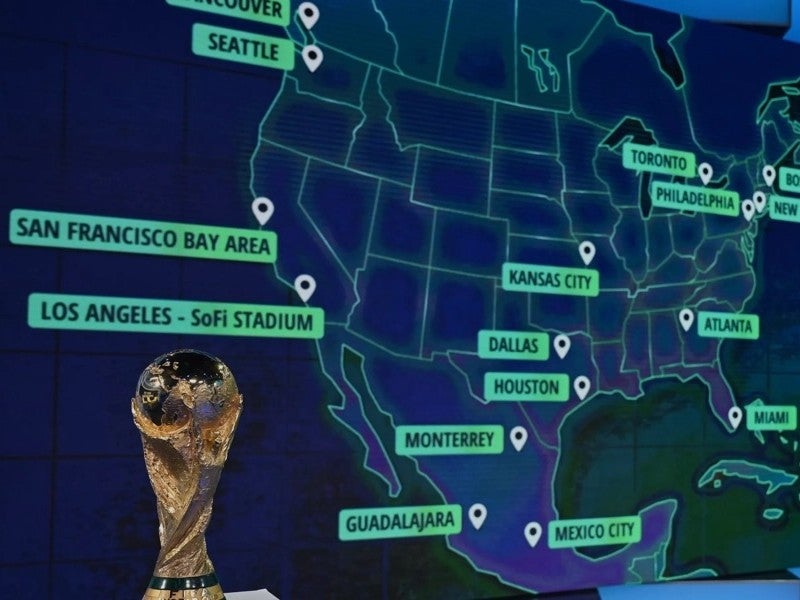 FIFA, soccer's global governing body, has selected 16 cities across the US (11), Mexico (three), and Canada (two) as host venues for games at the 2026 men's FIFA World Cup premier national teams tournament.
The cities announced at an event yesterday (June 17), for the first World Cup to be hosted jointly by these three nations, are as follows:
US: Atlanta (Mercedes-Benz Stadium), Boston (Gillette Stadium), Dallas (AT&T Stadium), Houston (NRG Stadium), Kansas City (Arrowhead Stadium), Los Angeles (SoFi Stadium), Miami (Hard Rock Stadium), New York/New Jersey metropolitan area (MetLife Stadium), Philadelphia (Lincoln Financial Field), San Francisco Bay area (Levi's Stadium), and Seattle (Lumen Field).
Mexico: Guadalajara (Estadio Akron), Mexico City (Estadio Azteca), and Monterrey (Estadio BBVA Bancomer).
Canada: Toronto (BMO Field, and Vancouver (BC Place).
These cities – selected from 22 bidders – will host 80 matches split between 48 teams.
It will be the first time so many sides have participated, with the World Cup set to expand significantly for the edition in four years' time – up from 32 teams and 64 games currently.
The six unsuccessful cities are Baltimore/Washington, Orlando, Cincinnati, Nashville, Denver, and Edmonton.
The US will host 60 matches (including every fixture from the quarter-finals onwards), while Canada and Mexico will stage 10 games each.
The venues were announced by geographical grouping – five in the East group, six in the Central, and five in the West.
FIFA has said that decisions made as to which cities should host games and which should be left out have "been made in the best interests of the game, taking into consideration the needs of all stakeholders involved."
Both the US and Mexico have hosted the World Cup individually before. The US put on the 1994 edition while Mexico has held the event twice – in 1970 and in 1986. Canada, though, will be hosting World Cup games for the first time.
It is not yet known which venue will host the final. The stadium in which the 1994 World Cup final was held, the Rose Bowl in Pasadena, California, will not be a part of the 2026 tournament.
At this early stage, Dallas and New York/New Jersey are thought to be two of the areas most likely to be selected to host that showpiece fixture.
Five of the US hosting cities (Boston, Dallas, New York/New Jersey, Los Angeles, and the San Francisco Bay area) were used in 1994.
The Baltimore/Washington submission not being selected means that, in a highly unusual development, the capital city of a World Cup host country will not stage any games.
Estadio Azteca in Mexico City, meanwhile, will become the first arena to put on matches from three separate World Cups, having staged games in 1970 and again 16 years later.
Indeed, Mexico will become the first country ever to host (or in this case, joint host) a third edition of the World Cup.
Gianni Infantino, FIFA's president, said yesterday: "In this part of the world, you are leading the world in many areas … But in the number one sport in the world, you are not – yet.
"This part of the world does not realize what will happen here in 2026 – these three countries will be turned upside down and then flipped back again.
"The world will be invading Canada, Mexico, and the US with a wave of joy and happiness because that's what soccer is about."
He added: "It was the most competitive process ever for the FIFA World Cup … We will be working in clusters, making sure that the teams and the fans don't have to travel too much in different areas."
Victor Montagliani, FIFA vice-president and president of the CONCACAF body which governs the sport in all three host nations, said: "We are extremely grateful not only to the 16 cities that have been selected but also to the other six – with whom we look forward to continuing to engage and explore additional opportunities to welcome fans and participating teams. This has always been a FIFA World Cup of three countries, and that undoubtedly will have a tremendous impact on the whole region and the wider football community."
The process to select venues began in 2017, with the list of North American candidates narrowed down to 23 by March 2018 a few months before the joint bid was voted through by FIFA (in June of that year) ahead of a submission by Morocco.
Even at that stage, notable cities to be left out of the frame included Detroit, Chicago, Las Vegas, and Salt Lake City (host of the 2002 Winter Olympics).
Cindy Parlow Cone, president of the US Soccer governing body, said: "Together with our friends in Canada and Mexico, we couldn't be more excited to work with FIFA to host what we think will be the greatest World Cup in history. I want to congratulate all the bid cities that will host games. I know you will all do a fantastic job of sharing your world-class stadiums, unique communities and culture, and amazing fans."
It has been reported that some of the final decisions as to the host cities were not made until earlier this week.
Colin Smith, chief tournament and events officer at FIFA, added, on the subject of no games taking place in the US capital: "This was a very difficult choice. You can't imagine a World Cup coming to the US and the capital city not taking a major role as well."
The next edition of the FIFA World Cup will take place in Qatar, between November 21 and December 18 this year.