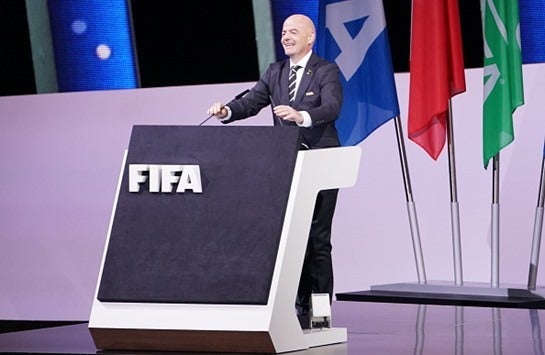 World soccer's governing body Fifa is undertaking the "most inclusive and thorough consultation process that football has ever seen" to explore potential reforms to the current international match calendars as it proposes to stage its showpiece World Cup every two years.
The consultation was carried out during the first Fifa member associations online summit yesterday as the organisation discussed its proposal for a biennial World Cup with all 211 of its member federations.
Fifa said the summit "provided the platform for member associations to share their views as part of the ongoing consultation in relation to the future international match calendars."
It included presentations from Fifa's chief of global football development Arsene Wenger and Jill Ellis, who has assumed the role of Fifa technical advisory group leader for women's soccer.
At the top of Fifa's agenda is a plan to make the men's World Cup a biennial event.
The governing body has been assessing the idea ever since it was first proposed by the Saudi Football Federation at Fifa's annual congress in July, with an international feasibility study subsequently being launched.
The suggestion from the Saudis was referred to by Fifa's president Gianni Infantino as "an eloquent and detailed proposal" earlier this summer, and the subsequent vote to set up a feasibility study secured 166 votes in favour from the various worldwide national federations, with only 22 federations standing against.
The first phase of the consultation process involved players and coaches, while the second phase features member associations, confederations and stakeholders, including fans.
Fifa said a comprehensive report will be published in November before a global summit will be staged before the end of the year.
Infantino said: "This first summit was an important step in the consultation process because it provided both Fifa Council members and over 200 Fifa member associations with the opportunity to make proposals, to ask questions and to debate issues in an open and transparent way.
"We want to adopt a holistic approach with a global approach to this project. Fifa has one event that lasts one month every four years that is helping to develop football in 211 member associations and the other Fifa competitions.
"Fifa has ambitions for football development across the entire world, but these can only be realised if we have more successful events taking place on a more regular basis.
"The new Fifa is open for this type of dialogue as we strive to find the best possible solution for women's, men's and youth football going forward, both in terms of international match calendar and final tournaments reform."
The biennial World Cup proposal has been met with strong backlash within key parts of the soccer community, particularly from continental bodies and major leagues.
In recent weeks, three continental federations – North and Central America's Concacaf, the Asian Football Confederation, and the Confederation of African Football – have either said they support the proposal or are willing to approach it with an open mind, while two others – European soccer's governing body Uefa and South America's equivalent Conmebol (both of whom carry significant weight in the game) – have said they are categorically opposed to the idea.
Last month, Alexander Ceferin, Uefa's president, went as far as to say that if Fifa does push the proposal through, European and South American nations could well boycott the new competition.
Just last week, the European Club Association, the body which represents 234 soccer teams across the continent, issued a strongly-worded statement of opposition to the plan and accused Fifa of breaching its legal obligations to the game in trying to push through a World Cup every two years.
Proponents of the biennial World Cup proposal have said it will give smaller nations a greater chance of competing on the world's biggest stage and play more top-tier tournaments, while those who stand against the idea have said it will overwhelm the international fixture calendar and lead to an increase in player fatigue and injury.
Infantino added: "Our vision is to make football truly global. But we will only make changes if it benefits everyone. No-one should be a loser in this, everyone should be better off at the end of the day.
"Otherwise there is no reason to change anything, if the global world of football and everyone in it is not better off. We are aware of the different challenges that this brings."
Wenger outlined "four main principles" under the proposal for the future of men's international soccer which he outlined as "regrouping national team qualifying matches, reducing travel for players, creating more space for meaningful matches and final tournaments and ensuring a mandatory rest period for players between seasons."
If a biennial World Cup is introduced, it could be done as early as 2028, which would be the next free two-year slot after the 2026 World Cup in the US, Mexico and Canada.
Any final decision on the plans would have to be voted in by a full Fifa congress, which generally takes place annually in May.
Meanwhile, Fifa is considering relocating its commercial business to the US in an effort to further increase revenues, according to the New York Times.
The report states that the possible move will be determined by technical factors including the suitability of locations on both coasts and the ease of acquiring work visas for overseas staff members and tax rules.
The commercial operation represents a key part of Fifa's business as it is responsible for the sale of sponsorships and broadcasting rights, which feature some of the most lucrative properties in global sports.
Since Infantino took charge in 2016, Fifa has been exploring the possibility of expanding beyond its headquarters in Zurich, Switzerland.
Fifa recently opened an office in Paris which it said will be "a strategic base for football development activities."
The New York Times reports that officials within the global soccer body believe that relocating its commercial business to a major US city would help Fifa attract and retain key staff members, amid concerns that its current home is proving a hurdle in attracting talent.
Local regulations require Fifa to employ a fixed number of Swiss staff members.
Switzerland has been Fifa's base since 1932.
A move to North America would also be strategic for Fifa with the US, Canada and Mexico to become the first trio of nations to jointly host a World Cup in five years' time.
In other Fifa developments, the governing body has announced that its Football Tribunal has become operational today.
The Fifa Football Tribunal consolidates the existing Fifa decision-making bodies into a single umbrella body and "further facilitates the resolution of disputes and decisions on regulatory applications within the football regulatory framework."
The organisation said it will "streamline the existing processes, consolidate and stipulate all governance elements, and deliver a more efficient decision-making system."
The tribunal will be composed of three specific chambers: Dispute Resolution, Players' Status and Agents.
Fifa anticipates that the Dispute Resolution chamber will decide approximately 3,500 disputes per year, while the Players' Status chamber will rule on approximately 700 disputes and 6,000 regulatory applications on an annual basis.