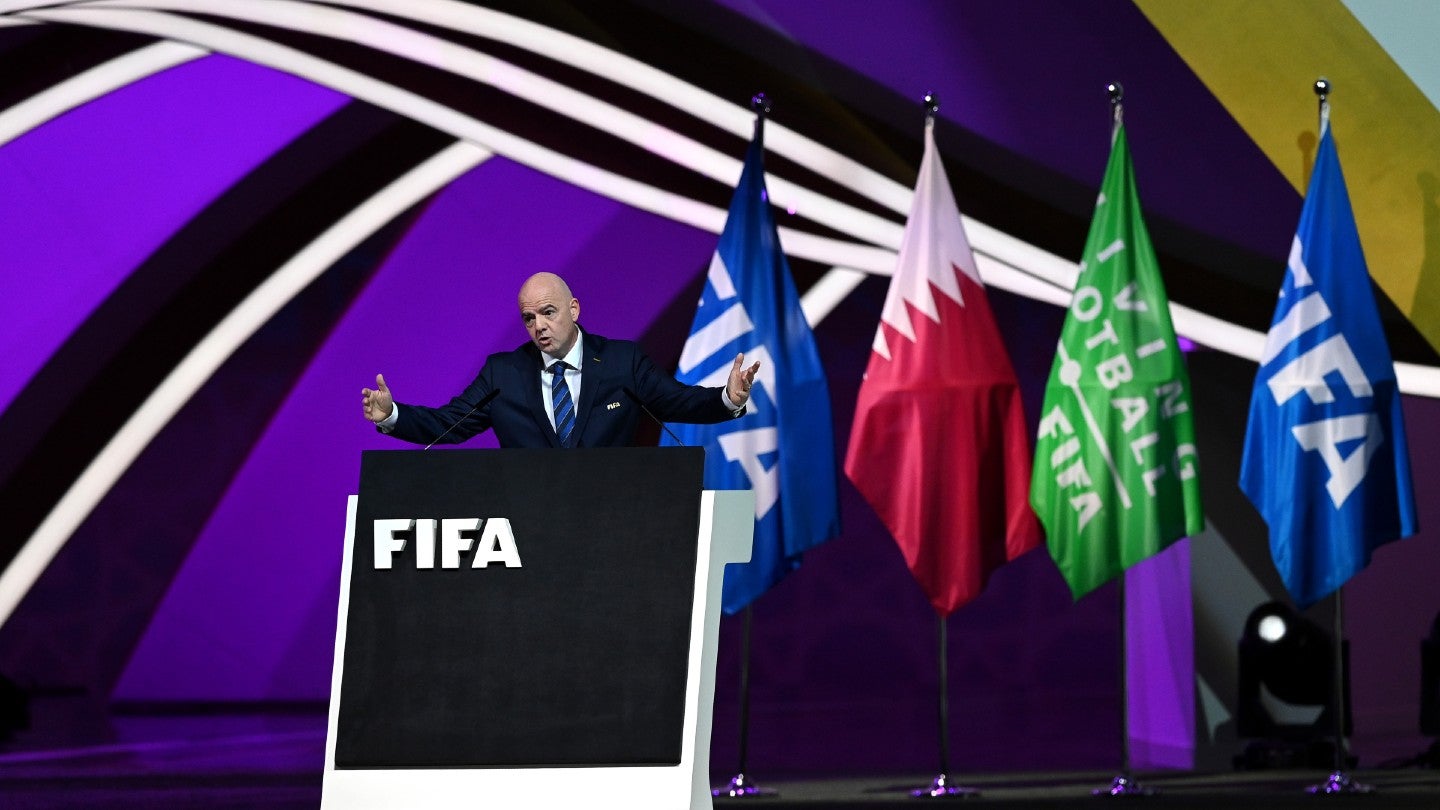 FIFA, soccer's world governing body, has announced the expanded men's 2026 World Cup will feature a record 104 games, including a new last-32 stage, after scrapping its controversial plans for a three-team group stage.
The 2026 edition, being co-hosted by the US, Canada, and Mexico, will be the first edition to feature 48 teams. The final will be played on July 19 that year.
Ahead of its Congress in Kigali, Rwanda, FIFA said the next tournament will span 39 days, with the opening group stage featuring 12 groups of four. The top two and eight best third-placed sides will then progress to the 32-team knockout stages.
The extra knockout round will see the two teams that reach the final play eight games each, as opposed to seven under the previous format.
Last year's Qatar World Cup featured 32 teams with eight groups of four playing over 32 days – a format that has been in place since the 1998 edition in France.
In total, an extra 40 matches will be played during the tournament compared to Qatar 2022, where a total of 64 matches were played. That edition ended with Argentina lifting the trophy after defeating France in the final on penalties.
FIFA's original proposal to revamp the group stage of the tournament would have seen 16 groups of three and a total of 80 matches overall.
However, the proposed changes would have seen a significant number of teams exit the competition after playing only two matches and raised the risk of collusion in the final group game.
In a statement, FIFA said the decision to revert to a four-team group stage and increase the number of matches was made "based on a thorough review that considered sporting integrity, player welfare, team travel, commercial and sporting attractiveness, as well as team and fan experience," would mitigate the risk of collusion, and ensure "that all teams play a minimum of three matches while providing balanced rest time between competing teams."
FIFA is looking to increase its revenue for the next 2023-26 financial cycle after securing record levels for the 2019-22 period. The governing body said it generated a record $7.6 billion in revenue across the last cycle, with $3.4 billion coming from broadcasting rights and just under $1.8 billion generated from sponsorships.
It is now chasing a revenue target of $11 billion across the next 2023-26 cycle, with $4.3 billion to come from broadcasting rights, $2.7 billion from sponsorship deals, and $3.1 billion from hospitality and ticket sales. Other revenue includes marketing rights and licensing rights.
During its congress, the governing body also announced changes to the international calendar which will see a 16-day, four-match international window added in September and early October from 2026, as well as nine-day two-match windows in March June, and November.
The FIFA Council also confirmed the qualifying criteria for its proposed expansion of the FIFA Club World Cup competition in 2025.
The governing body said current European club champions Real Madrid and UEFA 2020-21 Champions League winners Chelsea, as well as the Champions League winners from this season and next season will automatically be a part of the 12 European clubs involved in the expanded 32-team tournament that will be staged every four years from 2025.
However, FIFA's announcements have angered European clubs and leagues, who claim they have not been consulted about the changes in the calendar or the expansion of competitions that affect their schedules.
In December, the World Leagues Forum, the association of professional soccer leagues, criticized FIFA for its proposed calendar changes and accused the governing body of "acting unilaterally without consulting, let alone agreeing, with those who are directly affected by them: the leagues, their member clubs, the players, and fans."
In a strong rebuke, Spain's top-tier LaLiga said: "FIFA continues its malpractice of making unilateral decisions on the world football calendar, showing complete disregard for the importance of national championships, and the football community in general.
"FIFA completely neglects the economic damage these decisions inflict on leagues around the world. Leagues were not consulted about any of the changes presented yesterday, especially about the new annual club competition, of which we were completely unaware, and which seriously affects our competitions.
"These decisions do not take into account the competitive, sporting, and economic impact on national leagues, clubs, and players, by further cramming an already overloaded schedule.
"LaLiga and other leagues represented in the World Leagues Forum will analyze FIFA's decision and decide on the most appropriate next steps."
The FIFA Council said it had approved the establishment of a dedicated task force on player welfare amid concerns about the crowded international fixture list.
FIFA president Gianni Infantino said: "FIFA promoted a truly global approach to discussions on the International Match Calendar, which considered the perspectives of all key stakeholders.
"Our fundamental objective is to have clarity on this topic, and to have meaningful football matches while protecting the wellbeing of players and recognizing that many regions need more competitive football."
Infantino is expected to be re-elected unopposed later this week and begin his second full term in office after serving as interim president between 2016 and 2019 following the resignation of former president Sepp Blatter.
Image: Shaun Botterill/Getty Images