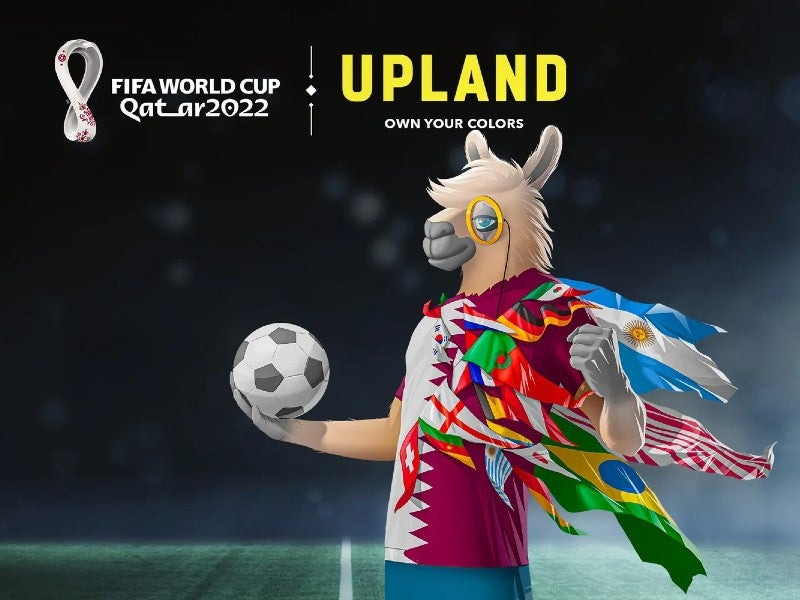 World soccer governing body FIFA has signed a multi-year partnership with metaverse gaming platform Upland in a deal that will allow fans to own non-fungible token (NFT) 'moments' from the upcoming men's World Cup matches in Qatar.
The partnership, which officially begins later this month with FIFA's flagship men's tournament, will allow supporters worldwide to collect, trade, and own FIFA digital assets and game highlights in the form of NFTs.
Upland's platform, which it says is the largest open metaverse mapped to the real world, includes 22 world cities where users obtain and trade virtual properties that are based on real-world addresses.
For the Qatar 2022 World Cup, a replica of the Lusail Stadium, as well as FIFA branded village, shops, and showrooms, will be added to their real-world addresses in Upland which fans can visit virtually.
All 34 World Cup teams will have digital country crests, boost, shirts, logos, posters, and team mascots featured in Upland. Fans can also buy virtual buildings in Upland to be decorated with flags of their favorite World Cup team.
The platform said it will also announce a new capital city in its virtual world on December 18 based on the nation that wins the World Cup.
Upland co-founder and co-chief executive Dirk Lueth said: "No other world competition unites countries and people worldwide quite like the FIFA World Cup.
"We're excited to create a multi-tour Web3 experience showcasing fun, innovation, entrepreneurialism, and community as the first of many opportunities in the future of FIFA World Cups, where fans can now collect, own, and share a real moment in history."
As part of the partnership, Upland and FIFA said they will jointly develop gamified experiences to help fans learn how to participate and contribute to the virtual community. A variety of activities during and between tournaments will support their education efforts.
Upland also plans to offer a collection game for fans, with a limited number of mystery bundles at numerous rarities available, including team crests, boost, shirts, retro logos, posters, and mascots so users can complete digital collector albums across all 32 nations represented at this year's tournament.
Completing the collections can lead to prizes including the Lusail Stadium as a virtual property in the metaverse. Other perks include chances to acquire the most talked-about moments of the World Cup, including exclusive game highlights that cannot be purchased directly from Upland.
FIFA's Upland partnership adds to the governing body's growing body of "new future-focused Web3" gaming projects since ending its partnership with video developer EA.
The games are all blockchain-based and include AI League, a four-on-four football game where players coach and own artificial intelligence (AI) teams and can "collect and trade characters," Matchday, a prediction game based on soccer trading cards, and Phygtl, a fan engagement mobile app that allows players to down a "digital representation of eternal fandom."
The 2022 FIFA World Cup in Qatar starts on November 20 with Qatar versus Ecuador and will end on December 18 with the tournament final.