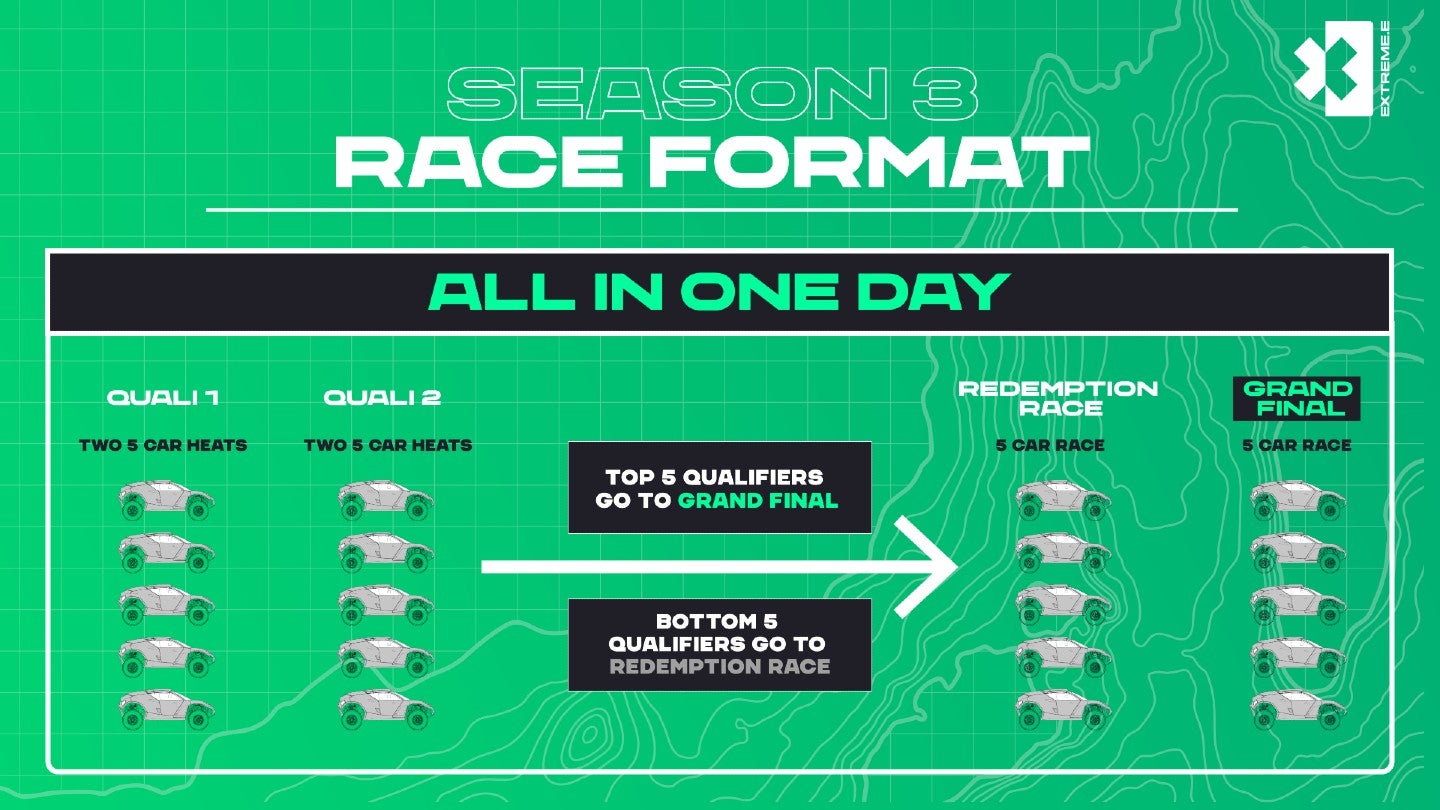 Extreme E, the all-electric SUV motor racing series, has today (February 27) unveiled a new format for its upcoming third season.
For the 2023 campaign, the series will double its number of races from five to 10. Each X Prix will now be a doubleheader and play host to back-to-back rounds across the weekend.
Extreme E stated that the change will provide "double the opportunity for wins, podiums, and points across the 10-race calendar over the course of the campaign, without adding any additional carbon footprint."
Additionally, the series has swapped out single-car qualifying for five-car qualifying and finals to enhance its wheel-to-wheel racing output.
The top five qualifiers will advance to the Grand Final, while the bottom five will compete in the Redemption Race, where championship points will still be at stake.
With the doubleheader element, the above format will take place on both Saturdays and Sundays, meaning two winners will be crowned at each race weekend.
Alejandro Agag, founder and chief executive at Extreme E, said: "Since launching Extreme E, we have worked hard to improve the level of racing out on course to ensure it is thrilling to watch with plenty of action.
"This new sporting format goes even further to deliver that, with now double the amount of racing action on some of the toughest courses in the world, leaving zero additional impact on the planet.
"To have a 10-race championship in Extreme E is a tantalizing prospect for everyone on board and we believe the increased number of races will only enhance our series."
The third edition of the championship will begin in the futuristic city-to-be Neom in Saudi Arabia on March 11 and 12.
The Saudi leg will be followed by rounds in Scotland, the UK on May 13 and 14, Sardinia, Italy (July 8 and 9), Brazil or the US (September 16 and 17), and Chile (December 2 to 3).
Extreme E last week (February 20) revealed it achieved 30% global audience growth for its second season, attracting 135 million viewers.
The series is currently shown by more than 90 broadcasters in over 200 territories worldwide.