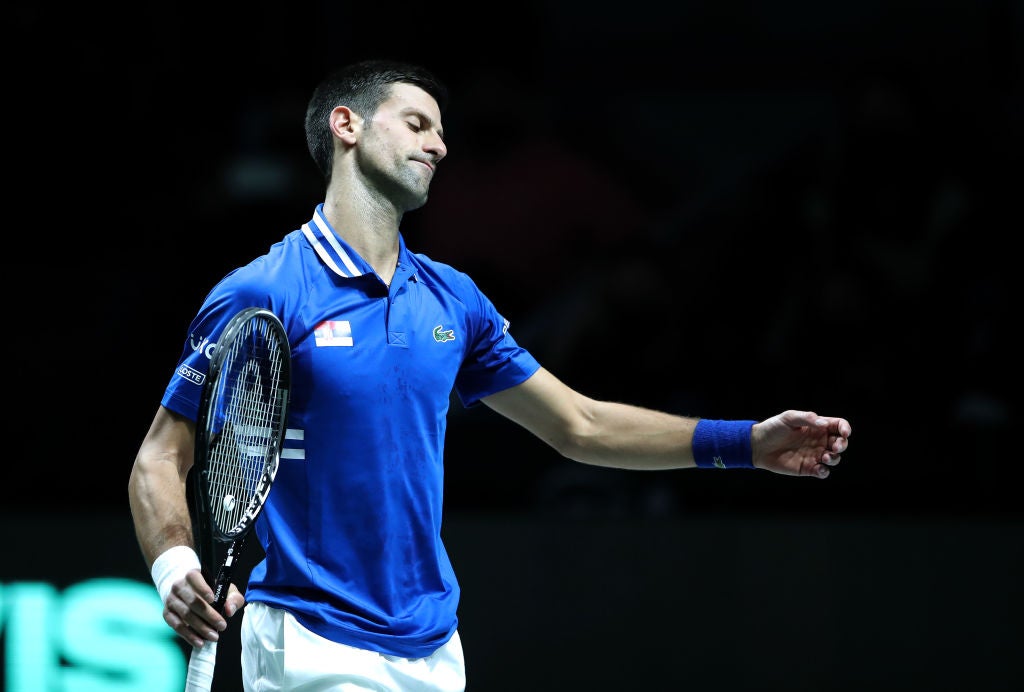 Serbian tennis superstar Novak Djokovic is embroiled in a legal battle with the Australian government after his visa to enter the country to compete in the upcoming Australian Open grand slam was revoked.
After being detained following his arrival, Djokovic was ultimately denied entry into Australia following a backlash against a decision to grant him a medical exemption from Covid-19 vaccination requirements to play in the tournament that is due to begin on January 17.
However, the 34-year-old's lawyers have managed to secure an agreement for him to remain in the country until Monday, where he will be given a full court hearing in his case to overturn the federal government ban on his entry after an appeal was lodged.
In recent months, the Australian authorities have provided a series of contradictory statements in regards to unvaccinated players wishing to participate in the tournament.
In October, Scott Morrison, the prime minister of Australia, initially indicated that unvaccinated players would be able to compete in the grand slam after completing a 14-day quarantine, granted that the state of Victoria applied for permits for them.
But this was immediately shut down by Daniel Andrews, the premier of Victoria, who made clear that the state would not apply for travel permits for unvaccinated players to participate.
However, in this instance, Djokovic had traveled to Australia after receiving an exemption from the Victorian government. That exemption supported his federal government-issued visa.
Under Australia's federal system, states and territories can issue exemptions from vaccination requirements to enter their jurisdictions. However, the federal government controls international borders and can challenge such exemptions.
Following his arrival into the country, federal border force officials at Melbourne's Tullamarine airport said Djokovic "failed to provide appropriate evidence to meet the entry requirements to Australia" and ordered his removal from the country.
Morrison released a statement on Twitter yesterday (January 5) saying: "Mr. Djokovic's visa has been canceled. Rules are rules, especially when it comes to our borders.
"No one is above these rules. Our strong border policies have been critical to Australia having one of the lowest death rates in the world from Covid, we are continuing to be vigilant."
Australia's Covid-19 cases reached a record high for a fourth successive day today, hitting 72,000.
Tennis Australia, the sport's national governing body, advised Djokovic and his representatives that it will need to know about his participation by Tuesday.
The decision regarding the Serb, who has won a record nine Australian Open titles, is likely to impact other unvaccinated players seeking to compete in Melbourne and have negative implications for broadcasters, with ratings and tournament value likely to take a hit.
Patrick Kinch, sport analyst at GlobalData, commented: "Djokovic's decision to not get vaccinated, and resulting visa complications means that one of the biggest competitions in tennis will be without its defending champion and one of the most successful players in the history of the game.
"The implication for Tennis Australia, the managers of the Australian Open, is a lower quality event with a less desirable narrative of competition between its record winner and competing men's singles players.
"A more tangible impact may be felt by the broadcasters. The lead domestic rights for the Australian Open are carried by Channel Nine Network in a $230 million deal between 2020 and 2024. The knock-on effect of Djokovic's absence will be lower TV ratings as the competition will be without its nine-time defending champion, with a new winner looking likely to be crowned this year given his resulting visa complications."
He continued: "Channel Nine's ratings for Djokovic's victory in the 2021 final pulled in 1.17 million people across Sydney, Melbourne, Perth, Adelaide, and Brisbane, down from 1.5 million in 2020, with the domestic broadcaster's overall tournament viewing figures down 30% on 2020, with Djokovic's likely absence this year likely to extend this trend.
"With the men's tennis arena coming to the end of the age of the Djokovic, Nadal, Federer trifecta, the importance to its rights holders that new compelling rivalries emerge will be vital to sustained media rights value, with fans now looking to the likes of Daniil Medvedev, Alexander Zverev and Stefanos Tsitsipas for the next generation of great men's singles players, as Djokovic suffers from Australia's strict coronavirus border regulations."