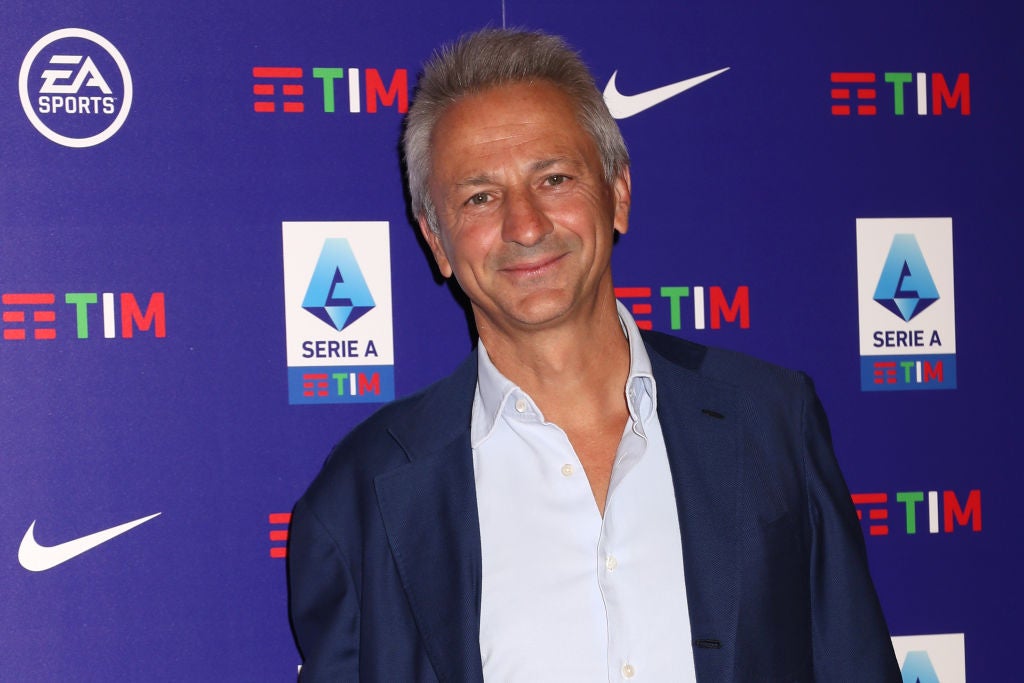 Paolo Dal Pino has resigned as president of Italian soccer's Serie A after just two years in charge.
Dal Pino revealed he moved to California in the US last month and thus opted to relinquish his duties running the league.
The 61-year-old became Serie A president in January 2020, just two months before the onset of the Covid-19 pandemic.
Dal Pino announced his decision with a formal letter issued on the league's official website.
He wrote: "In January, California became the core of my professional and private life, so I can't continue with my role as Lega Serie A president. It has been an honor to lead the assembly and the board of directors of this association and I thank you all for you for these two years together.
"Since the beginning of my mandate, I tried to address the critical issues of Serie A governance and innovation, continuing the creation of a media company and the entry of private equity funds.
"I hope that there will also be the transformation of governance soon, with a public company model. The proposal for funds, on the other hand, was not successful for the reasons you all know.
"I tried to propose ideas and innovation in a climate resistant to change. I am proud to have worked with a very close unity of intent with the FIGC (the national soccer body) and I thank its president Gabriele Gravina."
Gravina today sent a letter to Serie A chief executive Luigi Di Siervo instructing him to immediately convene an elective assembly to appoint a new president to replace Dal Pino "in order to restore the full and correct functioning of the Lega bodies."
As well as the pandemic, Dal Pino faced several challenges during his tenure, notably a battle with some of the league's top clubs over major commercial matters.
In April 2021, seven Serie A clubs, including defending champions Inter Milan and Juventus, submitted a formal request to the league for Dal Pino's resignation over his handling of broadcast rights and private equity funds.
They had also filed damages for "mismanagement" against the official.
The clubs were unhappy with the way Dal Pino handled the domestic broadcast rights negotiations and talks with a private equity consortium led by CVC Capital Partners that had sought to acquire 10% of a media company proposed by the league.
The Italian top-flight eventually concluded a protracted domestic broadcast rights deal last March with international sports streaming platform DAZN when 16 of the 20 clubs voted in favor of its €2.5 billion ($2.8 billion) offer.
It took several meetings between the league and the clubs to eventually decide on a main rights partner for this three-year cycle, from 2021-22 to 2023-24.
The same seven clubs – which also include Atalanta, Fiorentina, Lazio, Napoli, and Hellas Verona – were involved in another squabble with the other 13 teams after performing a u-turn and going cold on the private equity deal, despite a unanimous vote in favor of it in November 2019.
A final vote was expected early last year but the proposed venture was eventually scrapped as the league failed to get a majority of 14 clubs on board.
The CVC-led consortium offered to invest €1.7 billion for a share in the media company that would have handled Serie A rights.
Under the proposed agreement, CVC would have held 50% of the consortium's stake in the media business, Advent International 40%, and Italian state-backed fund FSI 10%.
CVC ultimately pulled out of talks and subsequently entered into a similar agreement with Spain's LaLiga recently.