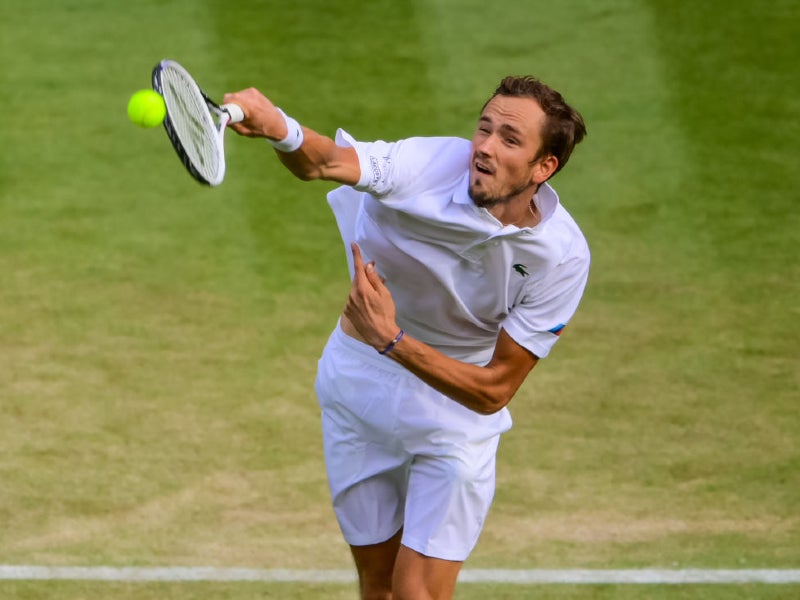 The All England Lawn Tennis and Croquet Club (AELTC), organizer of the prestigious Wimbledon grand slam, said it is "considering its options" after the men's ATP and women's WTA top-tier professional tennis tours withdrew ranking points from this year's tournament over its decision to ban Russian and Belarusian players.
The move by the two tours reduces the grand slam to an exhibition event and comes a month after they condemned AELTC's decision to ban players from the two nations from competing amid the ongoing conflict in Ukraine.
In a statement, WTA chairman Steve Simon said: "The stance we are taking is about protecting the equal opportunities that WTA players should have to compete as individuals.
"If we do not take this stance, then we abandon our fundamental principle and allow the WTA to become an example to support discrimination based on nationality at other events and in other regions around the world.
"We remain hopeful and willing to reassess the issuance of points should we find a solution that has consensus from all parties and allows our players the opportunity to compete in a unified environment."
The WTA added it is also placing Lawn Tennis Association (LTA) events in Nottingham, Birmingham, and Eastbourne, warm-up tournaments for the Wimbledon Championships, on probation.
The AELTC said its decision to ban Russian and Belarusian players, which was mirrored by the LTA for its events, was made in context of its duties to players, its community, and the broader UK public as a "British sporting institution" after it took guidance set out by the UK Government.
The ban excludes several top players from both the men's and women's tours, including men's no. 2, Russia's Daniil Medvedev, as well as five women in the top 40 of the WTA rankings.
The ATP, meanwhile, said: "Our rules and agreements exist in order to protect the rights of players as a whole. Unilateral decisions of this nature, if unaddressed, set a damaging precedent for the rest of the Tour. Discrimination by individual tournaments is simply not viable on a Tour that operates in more than 30 countries.
"We greatly value our long-standing relationships with Wimbledon and the LTA (Lawn Tennis Association) and do not underestimate the difficult decisions faced in responding to recent UK Government guidance.
"However, we note that this was informal guidance, not a mandate, which offered an alternative option that would have left the decision in the hands of individual players competing as neutral athletes through a signed declaration."
The ATP added that sanctions related to the LTA's will be assessed separately. The International Tennis Federation (ITF) has said it will also not grant ITF ranking points to Wimbledon in 2022 for juniors and wheelchair events.
In response, AELTC said: "We appreciate that opinions differ in relation to our decision to decline entries from Russian and Belarusian players to the Championships this year, and we deeply regret the impact of this decision on the individuals affected.
"However, given the position taken by the UK Government to limit Russia's global influence, which removed automatic entry by ranking, and the widespread response of Government, industry, sport, and creative institutions, we remain of the view that we have made the only viable decision for Wimbledon as a globally renowned sporting event and British institution, and we stand by the decision we have made.
It added: "[We] wish to state our deep disappointment at the decision taken by the ATP. WTA, and ITF in removing raking points for the Championships. We believe these decisions to be disproportionate in the context of the exceptional and extreme circumstances of this situation and the position we found ourselves in and damaging to all players who compete on Tour.
"We are considering our options and we are reserving our position at this stage. We are also in discussion with our grand slam colleagues."
This year's Wimbledon grand slam is set to begin on June 27.