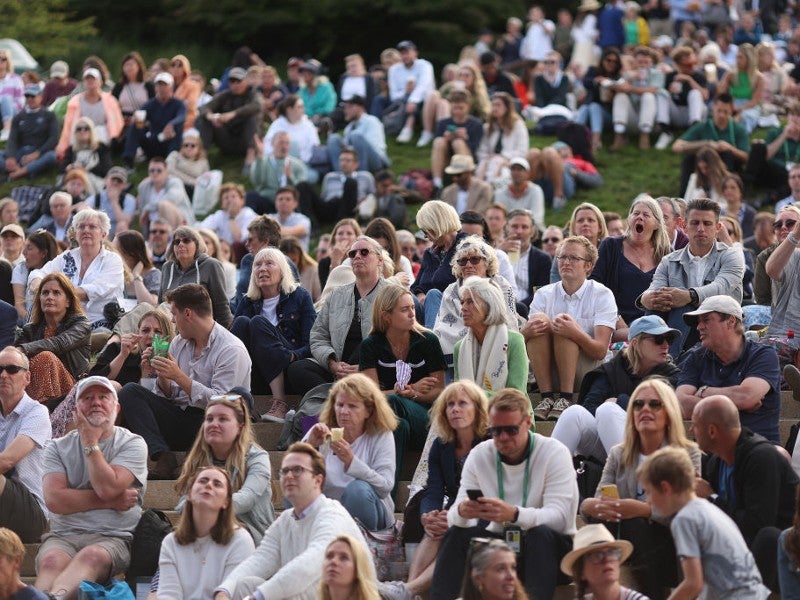 Following the COVID-19 pandemic, the expectation was that sporting events would be oversubscribed and tickets harder than ever to come by.
While some industries and companies thrived throughout the pandemic as society adjusted to new realities, the sports event industry was certainly not one of those.
The lack of ticket sales and ancillary revenue from concessions and on-site merchandise sales has impacted several sporting events, clubs and even leagues and series.
Formula 1 posted losses of $386m in 2020 given that hardly any fans were able to attend a race, while some of world's largest soccer clubs such as FC Barcelona and Manchester United saw loss of revenue of $206 million and in excess of $100m respectively, with FC Barcelona seeing key revenue streams like Museum Tours put on hold throughout the pandemic.
However, while the losses during the pandemic were inevitable as populations were locked down, many experts predicted that the 'post-Covid' recovery would see event attendances rebound and continue to grow in line with the state of play prepandemic. WPP-owned consultancy Two Circles predicted that '…data analysis of fan behavior shows that Covid will not have a long-term negative impact on the propensity to go – and pay – to attend watch live sport.
On the contrary, the restriction of movement over the summer has created a pent-up demand for live experiences, and we believe there will be an increased desire to attend live sport in a post-vaccine world.' However, the data seems to be telling us something very different.
The 2022 Wimbledon Championships reported 'record' attendance figures, with The All-England Club posting a total attendance of 515,164, the highest in event history, surpassing the 2009 record of 511,043 which suggests a rosy picture.
However, The AELTC admitted to missing sales targets by 25,000 tickets and with an extra day of play on the middle Sunday, this suggests demand simply wasn't there for one of the world's premier sporting events.
From TV footage, the number of empty seats in the first week suggested that audiences were not flocking back to the event as predicted. In fact, attendances were down 11 per cent during the first three days of the Championships compared to 2019. A total of 114,573 people visited this year's Championships over the first three days of matches whereas in 2019 – the last time Wimbledon was open to full crowds – the equivalent total was 128,934.
This is not only a UK problem either. In Australia, the average attendance for Australian Football League games is the lowest it has been in nearly 25 years, with several factors from Covid to cost and ease of purchasing tickets cited as reasons why crowds at their lowest for a quarter of century.
The World Athletics Championships in Eugene, Oregon is reporting solid attendances during the first three days of the meet, but plenty of tickets remain unsold for what was expected to be a major event for the overhauled Hayward Field complex, which cost over $270 million dollars to refurbish.
The news isn't completely bleak – the recent NBA Finals were completely sold out, and the Open which took place at St Andrews in July 2022 saw record attendances with a reported 290,000 people attending over the course of the week. So, can we discern a pattern or is it simply chance that is driving attendance? The popularity of sports is not in question with record TV rights renewals for the NFL occurring during the pandemic, while Formula 1 has seen its rights fees grow in the US even with fans being unable to attend races because of Covid.
While sport is still a key part of people's lives, the pandemic has provided the industry with one inescapable truth – it is no longer the only way we can entertain ourselves. The growth of esports/gaming and streaming services have provided us with access to more entertainment options than ever before, with more demands on our time and attention than ever before.
While sport still has the capacity to reach people emotionally and connect with them likes perhaps nothing else – see the reaction to Tiger Woods approaching the 18th hole at St Andrews for what might be the final time – the reality is with the cost-of-living crisis, record levels of inflation the world over and more demands on our time, sport can no longer take for granted its place at the top of the pecking order.
Many sporting venues have aging infrastructure with poor connectivity in a digital age, which given the amount of time we all spend on electronic devices is simply off putting, especially to a younger generation who practically live online. According to a recent fan insights survey conducted by Nielsen, 82 per cent of soccer fans in the United States, 78 per cent of fans in Australia and 71 per cent of fans in the United Kingdom admit to checking social media when watching a game of soccer.
In emerging soccer nations such as China and India, those numbers are even higher. Ultimately, the fan experience and the sense of a shared, collective event is the key value driver for sports and event attendance. The Covid-19 pandemic has provided the sports industry with an opportunity to revolutionize how we view sports and sport event attendance, and while some have embraced it, too many are simply relying on the old model to continue without offering fans anything approaching what they want or need.
The sooner sport realizes that it is an entertainment industry and embraces this fact, the easier the road to recovery will be. The audiences are still there, and the
emotional resonance sport provides will never change, but understanding how the audience wants to interact with sports is crucial for building a sustainable business model moving forward. Here we are now, entertain us.