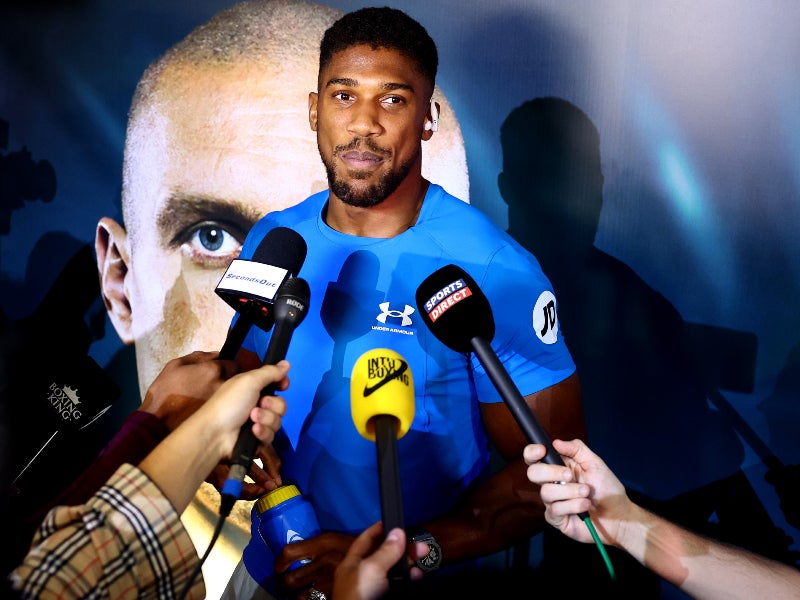 Anthony Joshua (AJ) has long been identified as a marketing dream, with a striking image, a reputation for big punching, renowned status as a two-time world champion, and a combined social media following in excess of 24.99 million fans. All of this has seen AJ be able to cash in on his success, signing a plethora of individual sponsorship deals with the likes of Hugo Boss, Under Armour, and Land Rover, which equate to millions of dollars of additional earnings away from the sport each year.
AJ's appeal and unparalleled position in global boxing, besides Canelo Alvarez, has seen brands and broadcasters scrambling to piggyback on his name. His appeal has been unwavering, even in light of two defeats to Andy Ruiz and Oleksandr Usyk, and his record may have taken a blip, but nothing has truly been able to derail the AJ marketing/hype train. AJ's appeal was underlined earlier in 2022 when he and online-streaming broadcaster DAZN, announced a rights deal that has been touted as being worth as much as £100 million ($120.89 million) a year. Though Joshua does boast a huge online, a third career loss to Usyk later this month could seriously tarnish his reputation and future in the sport.
DAZN has described it as a long-term partnership, but the value of the deal will come under some doubt if he is once again outboxed by Usyk and not seen as the standout elite boxer in the heavyweight division. All of that said, Joshua's marketability and exciting future prospects have been enough for DAZN and his sponsors to pay a premium price, and, in the event of an AJ victory over Usyk, his stock will rise to even greater heights. A victory in Saudi Arabia would see scope for more blockbuster fights, including a potential trilogy match with Usyk and the possibility of a highly anticipated unification clash with Tyson Fury. Joshua and DAZN will still be guaranteed lucrative fights regardless of the result with Usyk, though, with names such as Deontay Wilder and Andy Ruiz still lucrative propositions for fans and the streaming platform.
Joshua has been a main feature on Sky Sports fight cards in the UK since turning professional after claiming Olympic Gold in 2012. Despite the British broadcaster losing future prospective AJ fights following his deal with DAZN, it will again be the main UK channel for the upcoming rematch with Usyk. In order to secure the broadcasting rights, Sky is reported to have paid £25 million ($30.22 million). As a result of its high up-front costs, the broadcaster has set its pay-per-view (PPV) price at a record high of £26.95 ($32.58). Compared with the astronomical prices associated with the US PPV market, the price does not seem that extreme, but the price has angered some fans who typically pay £19.95 ($24.12), making this fight price 35.09% higher than normal.
With many UK households already struggling in the current economy, facing price hikes across their bills, the new price point could deter some from buying the fight. Despite the price increase, Sky can still expect strong PPV sales given the scale of the bout and the magnitude of what is on the line for AJ. The reality of the situation is that Sky has deemed the price increase necessary as it looks to recoup as much of its outlay for securing the fight. The rematch bout between Joshua and Ruiz in the country in 2019 had a reported 1.2 million PPV buys, earning the broadcaster $35.65 million. In order to break even with its reported $30.22-million spend, Sky will have to generate at least 927,563 PPV buys. However, the PPV price increase raises doubts about the broadcaster's chances of making its money back on the fight. Joshua's promoter Eddie Hearn has already hinted that the broadcaster has overpaid and could make a loss.
The high costs associated with this fight also extend to its location, with the King Abdollah Sports City Arena in Jeddah, Saudi Arabia, set to stage the action. For Joshua, it marks a second appearance in the Middle Eastern country, and he will be hoping for similar success as he again looks to avenge a previous defeat to his listed opponent. The Public Investment Fund (PIF) of Saudi Arabia is reported to have paid a record $80 million for site staging rights to the fight, paying even more than they did for Joshua's rematch with Andy Ruiz. This time, the stage will be set with a 10,000-seat capacity, in the same country.
Ticket prices for the Joshua-Ruiz fight in the country ranged between $125 and $11,800. Using a reserved $200 ticket average, the fight in Saudi Arabia could net organizers somewhere in the region of $2 million should they achieve close to a sell-out (60,000). Saudi Arabia has received significant criticism in 2022 and before for its alleged use of sport as a means of laundering the country's poor human rights issues. The country is continuing to target high-profile sporting events to 'sportswash' its reputation. Despite this, the Joshua-Usyk bout has gone somewhat under the radar in terms of protests and objections because of the PIF's advances in soccer and golf, via the acquisition of Newcastle United and financing of the rival LIV Golf series, respectively.
With the former, the influence of the country on the Premier League club has already seen it release a club third kit similar to that of the Saudi Arabian national team, with the club having been propelled to one of the richest in the world. It is the LIV investment on which the most media attention has been afforded, however, with huge sums thrown down as prize money and PGA Tour players terminating their contracts to sign multi-million-dollar deals with the Saudi Arabian series. Big names such as Phil Mickelson and Dustin Johnson have already made the move, with Johnson having reportedly done so for a fee of $125 million. Amnesty International is one group that has led the calls against Saudi Arabia and its attempts to sportswash, though these voices are going almost unheard, with athletes and sports still choosing money over a moral stance. Issues linked to the nation of Saudi Arabia on human rights issues include extreme criminal justice rulings; limiting women's legal rights; and heavy abuse/exploitation of migrant workers.
Both AJ and Usyk's teams will earn handsomely from fighting in the country and choose to remain ignorant on the matter, adding weight to the notion that money talks, without truly considering the power and influence they could have if they refused such an offer and made a stance against the oil-rich nation. In the lead-up to the fight, Joshua's promoter Eddie Heard has justified his position, saying it is his job to secure the biggest payday for athletes who are risking serious bodily damage for the sport and distancing boxing from golf on these grounds. While the higher risk of death or serious injury in boxing arguably warrants a higher purse, fighters are still able to earn lucrative paydays in other markets, particularly in the UK and the US. The fight still has the global platform to reach millions of fans around the world, with Saudi Arabia set to claim the positive attention which comes with staging such an event.