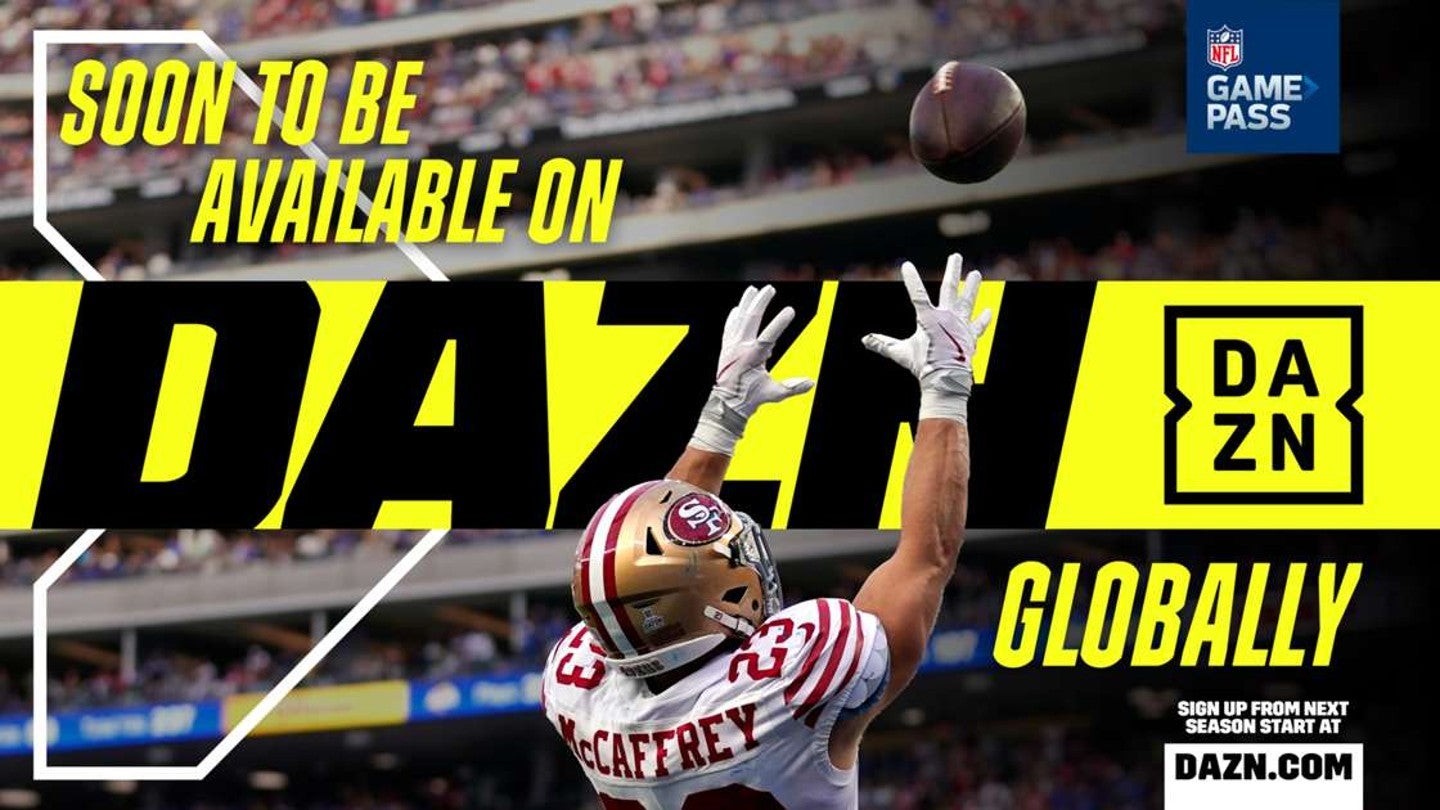 The National Football League (NFL), the world's most lucrative sports league, agreed what could be a groundbreaking media deal with live sports streaming service DAZN in February.
NFL Game Pass International will allow fans from outside the US to watch every NFL game live on the platform.
The league hopes that the deal will enable it to continue to expand its thriving global audience by utilizing DAZN's extensive distribution network, technology, and powerful marketing capabilities.
DAZN's NFL coverage will be available to fans through smartphones, tablets, game consoles, and smart TVs.
The package will also be accessible to fans via DAZN's app both as a separate subscription or as a bolt-on to a current globally sold DAZN package. According to Forbes, the 10-year deal is worth an estimated $100 million annually.
NFL commissioner Roger Goodell said: "Growing the NFL globally is a key strategic priority for the league and our 32 clubs. We are excited to partner with DAZN to help us accelerate this effort."
With the growth experienced by the NFL, it is not surprising that the league has sought a broadcaster to distribute its NFL Game Pass International package to fans worldwide.
The global expansion has included an accelerating number of regular season NFL games played yearly outside the US. This includes a game being played in Germany for the first time during the 2022 season.
The top American football league has also identified the need to grow its brand in the media space and has won 216 million online fans outside of the US, with content being delivered in 25 different languages across 200 countries and regions.
With the expansion in games played abroad, along with the increase in popularity of the sport, demand for NFL global games tickets has also soared.
All three London games from the 2022 season were sell-outs and the contest in Munich attracted an estimated 800,000 people to the digital queue when tickets went on sale.
These positive signs of growth, especially across Europe, highlight the case for the NFL to partner with an industry leader to make its NFL Game Pass International package more accessible to a global audience.
With the increase in international games and more eyes being drawn to the sport, the league launched its International Home Marketing Areas (IHMA) initiative. This allows NFL franchises to freely market themselves in 10 different countries across Europe, North America, South America, Africa, and Oceania.
The initiative has been revolutionary in permitting NFL franchises to gain access to new territories for commercialization, fan engagement, and marketing.
This has enabled teams to build their brands globally and accelerate the NFL's fan base. With the rise in international NFL games, teams have begun signing regional deals with brands outside North America.
One example is the Kansas City Chiefs' recent deal with workwear and safety equipment firm Engelbert Strauss.
The company is serving as the Chiefs' official workwear partner in Germany and as an official regional partner of the current Super Bowl champions.
GlobalData estimates that the one-and-a-half-year deal, which is part of the IHMA program, is worth an estimated $1.5 million.
Looking specifically at the growth of DAZN, the company became the highest-grossing sports app in 2022 and its total revenues rose to $2.3 billion, achieving 70% year-on-year growth.
Last year, DAZN was also able to record a total viewership of 1.2 billion hours, a substantial figure for the streaming platform.
The company now operates in over 200 markets and holds rights to top-tier European soccer properties such as Spain's LaLiga, Germany's Bundesliga, and Italian Serie A.
DAZN has also demonstrated its desire to continue to grow by completing the acquisition of Eleven Group's global sports media businesses. This is expected to add an additional $300 million in revenue to DAZN and enables the company to obtain top quality rights such as the UEFA Champions League and the English Premier League.
Furthermore, the platform will be able to enter new markets in Portugal, Belgium, and Taiwan.
Despite a fairly positive reaction from fans, some have raised concerns regarding the potentially game-changing NFL media deal. DAZN subscribers previously criticized the platform's Serie A coverage, after major technical problems hampered the broadcasting of the first matchday of the 2022-23 Serie A season.
As a result, the Italian economy ministry and communication industry regulator AGCOM asked DAZN to compensate subscribers and cautioned the service that if the issues continued it could "adopt any measures that will become necessary."
DAZN subscribers have also hit out at steep price increases announced at the beginning of February. In the UK, the flexible pay-as-you-go package has increased to £19.99 ($24.93) per month, whilst the annual cost has surged to £99.99 ($124.73).
Disapproval from subscribers of the platform has also been stirred recently by DAZN's decision not to allow those with an 'Annual Pass' or 'Monthly Saver' subscription to access its newly-announced Sky channel which went live on March 23.
Subscribers felt disappointed that they would not have free access to this channel after being sold an annual pass with an upfront fee from DAZN for access to the company's online platform which has been known to have streaming issues that the DAZN Sky channel will not face.
However, the deal with Sky shows how DAZN is continually looking to push forward in its offering and accessibility to subscribers.
The new media deal with DAZN gives the NFL a huge opportunity to provide an improved service for many loyal global fans who previously subscribed to the NFL Game Pass on NFL+. It should also attract new fans if DAZN can offer a world class product to the league's ever-growing global following.
The deal presents DAZN with a chance to rebuild the trust of subscribers after financial decisions that have left users disappointed with the platform.
A smooth running of NFL Game Pass International across the 2023 NFL season is likely to increase the chances of fans renewing their subscription with the service and entice more NFL fans to subscribe to Game Pass ahead of the 2024 season.