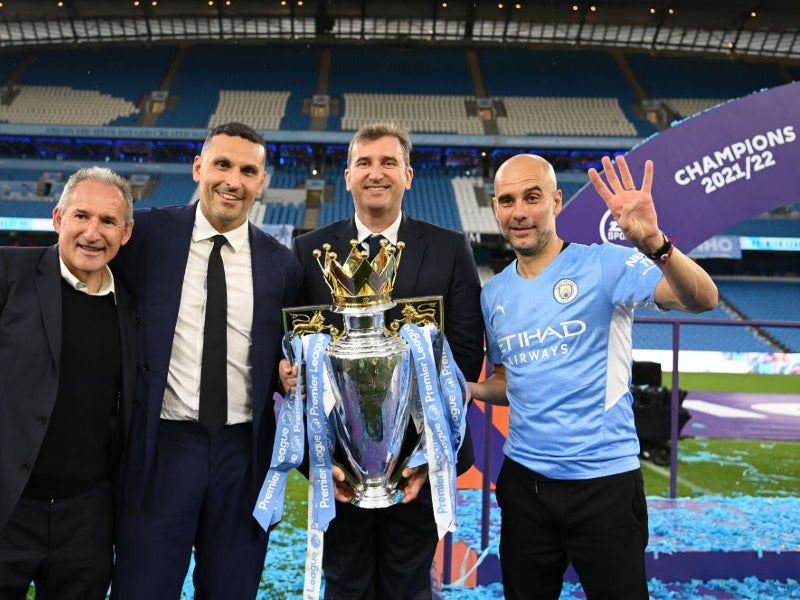 The trend of multi-club ownership has developed in a significant way over the past decade, with investors, hedge funds, and even sovereign nations using the opportunity of owning multiple teams across numerous regions and nations to better grow their brands and networks.
For some, like City Football Group (CFG) in soccer, the acquisitions made have focused solely on one sport. Other groups see an opportunity to own multiple teams in a variety of sports. It could be suggested that these groups are hedging their bets as the sporting landscape evolves and traditional sports are challenged for eyeballs and interest.
Abu Dhabi-backed CFG was one of the first to realize a multi-club ownership vision successfully. Following the Abu Dhabi United Group's acquisition of Manchester City in 2008, the club hired former Barcelona FC Executive Ferran Soriano, who had conceived of the idea of global network of clubs while still at the Catalan club. Taking over day-to-day management of Manchester City in 2012, Soriano had the backing to realize his vision and began the expansion with the formation of MLS expansion side New York City FC, the 20th MLS club created, and effectively the beginning of City Football Group.
From there, CFG focused on the APAC region, acquiring A-League franchise Melbourne Heart and rebranding them as Melbourne City, as well as taking a 20% stake in J-League side Yokohama F Marinos. The focus then shifted to South America, with CFG purchasing Club Atletico Torque, which was also rebranded Montevideo City Torque, before Spanish second division side Girona FC were welcomed into the fold.
Activity shifted back to Asia in 2019, with CFG taking a controlling stake in Chinese third division side Sichaun Jiuniu before CFG acquired a controlling stake in Indian Super League side Mumbai City. The most recent additions have been in Europe, with Belgian side Lommel and Troyes in France being added to the stable, while, in 2022, CFG took an 80% stake in Italian side Palermo.
The logic behind these moves has been outlined by Soriano at various points, but the principle behind this is to appeal to foreign fans by giving them both a local side to support and create an affinity to the 'parent' club, thereby giving the parent a club a global footprint and engendering loyalty from a non-domestic audience, a term branded 'Disneyfication' by football finance expert Professor Simon Chadwick.
While Manchester City had a rich soccer pedigree in England prior to the Abu Dhabi-led takeover, they were not considered one of the traditional superpowers of English soccer. They had neither the success nor history of local rivals Manchester United and Liverpool, with only one post-war championship to their name, won in 1968. Since the takeover, however, City have been synonymous with success, which in turn has made them an attractive vehicle for commercial partners.
Providing sponsors and partners with an immediate global footprint through the network has allowed Manchester City to sign sponsorship agreements worth an estimated $254.8 million. In comparison, Manchester United, the club seen as one of the most commercially successful clubs in soccer, generate around $325.24 million annually through sponsorship and commercial partners. Manchester City's front-of-shirt partners, Abu Dhabi's national airline Etihad, adorn the shirts of all majority-owned CFG clubs, giving them a truly global footprint for their sponsorship.
While CFG has taken the approach of owning clubs in one sport with a view to building an overarching brand, other groups have taken a different approach. Fenway Sports Group (FSG) is the parent company of City's English Premier League rivals Liverpool FC, as well as owners of the Boston Red Sox, one of the most famous franchises in baseball and the NHL's Pittsburgh Penguins.
Rumors abound that it has an interest in placing an NBA expansion team in Las Vegas too, a franchise likely to be overseen by NBA legend LeBron James, who is an investor in FSG. Instead of targeting just one sport, FSG has looked to build a portfolio of teams across numerous leagues with a view to turning those teams into the most dominant within the particular league or sport.
Having won the World Series with the Red Sox (and broken the curse of Babe Ruth) as well as the Champions League and Premier League with Liverpool, the intention for their latest purchase in the Pittsburgh Penguins is clear. While some may criticize FSG for their approach in terms of spending, keeping an eye very much on value and their teams living within their means as opposed to CFG's more fiscally liberal approach, the fact is supporters do get success and their teams do become more commercially attractive. This is perhaps best exemplified by Nike's court battle with New Balance over the right to supply Liverpool's kit.
Other US investors have also seen the value in sports. New Chelsea FC owner Todd Boehly has a strong presence across US sports. While not formalized in the same way as with FSG and CFG, Boehly owns significant percentages in numerous Los Angeles outfits, including the Lakers NBA team, the Sparks WNBA team, and, most famously, the Dodgers Major League Baseball team. Boehly is also the owner of fantasy sports and betting company DraftKings and esports team Cloud9.
Stephen Pagliuca, co-chairman of private investment firm Bain Capital, is also active in terms of sports ownership as a part owner of the NBA's Boston Celtics and Serie A side Atalanta. In fact, Italian football is proving to be very attractive to US investors, with RedBird Capital recently partnering with Yankee Global Enterprises (YGE), owner of the New York Yankees baseball team, to purchase Italian giants AC Milan for $1.2 billion, while AS Roma have been traded between US owners in recent years, with Dan Friedkin purchasing the club from billionaire businessman James Pallotta, who had owned the club from 2011.
One only needs to look at the media rights available in sports to see the attraction. Sport is the last bastion of 'must-see' live television, so the appeal to broadcasters who are able to generate huge profits by selling advertising against sports programming is obvious. As trends move towards streaming and on-demand services, sport is the vanguard for traditional TV, with sporting moments serving as a rally point for fans to experience something together, as one. This presents huge opportunities for investment groups and owners who seek to further commercialize their sporing assets.
While sponsors and commercial partners will pay millions for association with teams and leagues, broadcasters are willing to pay billions to guarantee audiences and eyeballs. The latest domestic deal for the NFL is worth in excess of $100 billion, while the English Premier League generates in excess of $10 billion annually. Even sports such as the Australian Football League generate multi-billion-dollar deals, with the largest broadcast rights contract in the history of Australian sport having just been signed for over $3 billion over seven years.
The NBA is the next major sports organization going to market, with its current $25-billion deal ending at the end of the 2024-25 season and many predicting the new deal will be worth in excess of $70 billion. By purchasing multiple sporting organizations, owners are banking on sport continuing to captivate and generate interest from TV audiences, making them commercially appealing to both partner brands and broadcasters. Once seen by the wealthy elite as playthings and vanity projects, sporting organizations are now viewed as savvy financial investments, with many seeing them as an ideal vehicle to generate significant returns on investment for decades to come.
Image: Michael Regan/Getty Images