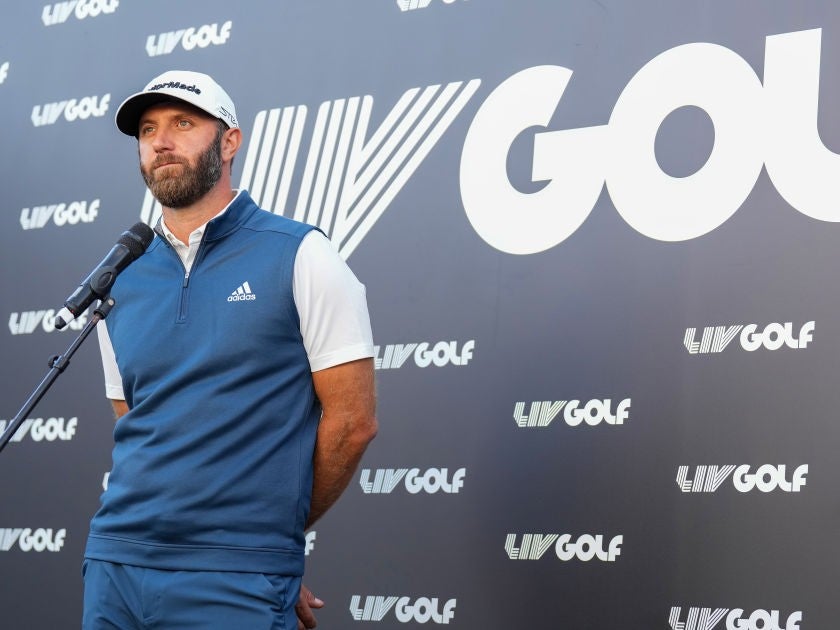 The Saudi Arabia backed LIV Golf tour has upset many golf traditionalists, with many feeling that those competing are not doing so for the love of the game, merely the proposed paycheck.
Dustin Johnson is a two-time major winner and is third on the all-time list on the PGA Tour career earnings, bringing home $74,276,710 in prize money, putting him only behind Tiger Woods and Phil Mickelson for prize money. The 2016 U.S Open and 2020 Masters Champion has 22 additional PGA tour wins over 12 years, putting him level with the legendary Gary Player on the all-time list. Despite this, Johnson has lost his PGA Tour membership, resigning it to play in the Saudi Arabia backed LIV Golf tour, getting a $125 million signing on fee and competing for a share of the vast prize money on offer.
Despite earning $11 million a year annually through endorsements with commercial partners in addition to the prize money accumulated through his career, Johnson cited that he didn't want to "play golf for the rest of my life, which I felt like I was probably going to have to do. This gives me opportunities to spend more time with my family and spend more time doing the things I love to do and it's exciting."
Quite apart from asking how much money is 'enough' for an athlete who has earned over $100m in his career to date, the move by Johnson, Phil Mickelson, Lee Westwood, Sergio Garcia, Graeme McDowell and Ian Poulter to join the LIV Golf Tour has put pressure on the traditional golfing establishment. The PGA Tour has moved swiftly, suspending those who did not resign their PGA Tour membership, effectively banning them from PGA Tour events.
While traditionalists are upset at the approach taken by these rebel players, the appeal of the LIV Golf tour is evident. At the inaugural LIV Golf event at Centurion, the eventual winner Charl Schwartzel took home a cheque for $4 million for his first place finish. Each LIV Golf event has a total prize fund of $25 million, with every golfer finishing in the top 11 places guaranteed $500,000 for their three rounds of 18 holes, meaning more money for less work – a major event in golf is usually played over four rounds, or 72 holes. In real terms, Schwartzel made three times as much from his win at Centurion than he did for winning the 2011 Masters tournament by playing less golf.
However, listening to the likes of Graeme McDowell at the press briefings ahead of the first LIV Golf event, it is not about the money. "I really feel golf is a force of good in the world and I love using the game of golf as something to help grow around the world and be role models to kids…If Saudi Arabia want to use the game of golf as a way for them to get to where they want to be, I think we're proud to help them on that journey, using the game of golf and the abilities we have to help grow the sport." This response does raise the specter of sport washing, the practice where regimes with questionable moral standing in the world utilize sport to bring legitimacy and deflect any ethical questions.
McDowell and others frequently responded to allegations in this area by saying that he and other golfers were not politicians, and that is a legitimate defense to a charge that they shouldn't play for, or in, a tournament backed by a regime with questionable moral positions, given that they do not make political decisions. While many would like sports people to provide moral leadership, ultimately this isn't their role. If they choose to do so, then that is a personal choice.
However, as in other sports such as soccer where this question has been raised around the ownership of sports teams, including English Champions Manchester City, French Champions Paris Saint Germain and the Saudi sovereign Public Investment Fund (PIF) backed takeover of English Premier League side Newcastle United, ultimately many sports people see their careers as a job and will take the best offer available to maximize earnings in their careers.
Many have criticized the rebel golfers since golf careers are not short – many players can earn substantial sums well into their 50s, unlike sports such as soccer where the window for a top-level athlete is far, far shorter. Leading players such as Rory McIlroy have criticized their fellow professionals, taking both moral and professional umbrage at the decision of many.
McIlroy cited "competitive integrity" as one of the reasons he would not take his talents to the LIV Golf tour and seems to be taking the side of the PGA Tour in this instance. However, the DP World Tour, formerly the European Tour before taking the DP World name following a significant sponsorship deal with the UAE based logistics company, seems to be taking a softer stance than the PGA Tour with the decision to allow those playing in LIV Golf events to continue to play on the DP World Tour.
This is likely due to the DP World traditionally being seen as the 'weaker' of the traditional golf tours, and therefore not willing to risk players having to choose and further diluting the competitive landscape of the Tour. It seems the organizers of the golf Majors are also not banning those who are taking part in the LIV Golf events.
With fault lines already emerging in golf's response to LIV Golf, it seems that the business of professional golf has been permanently altered with the emergence of the new competition. With the riches on offer it seems almost inevitable that golf will see more players cross the divide and participate in the new tournament. While the field for the inaugural event only featured four of the worlds top 50 players, it is probably only a matter of time before others do the same. While the PGA Tour will try to stand as the bulwark against new money, once sponsors and media organizations come on board it will be an inevitability that the golfing landscape will be permanently and irrecoverably changed and the possibilities presented by LIV Golf become too much of a temptation.