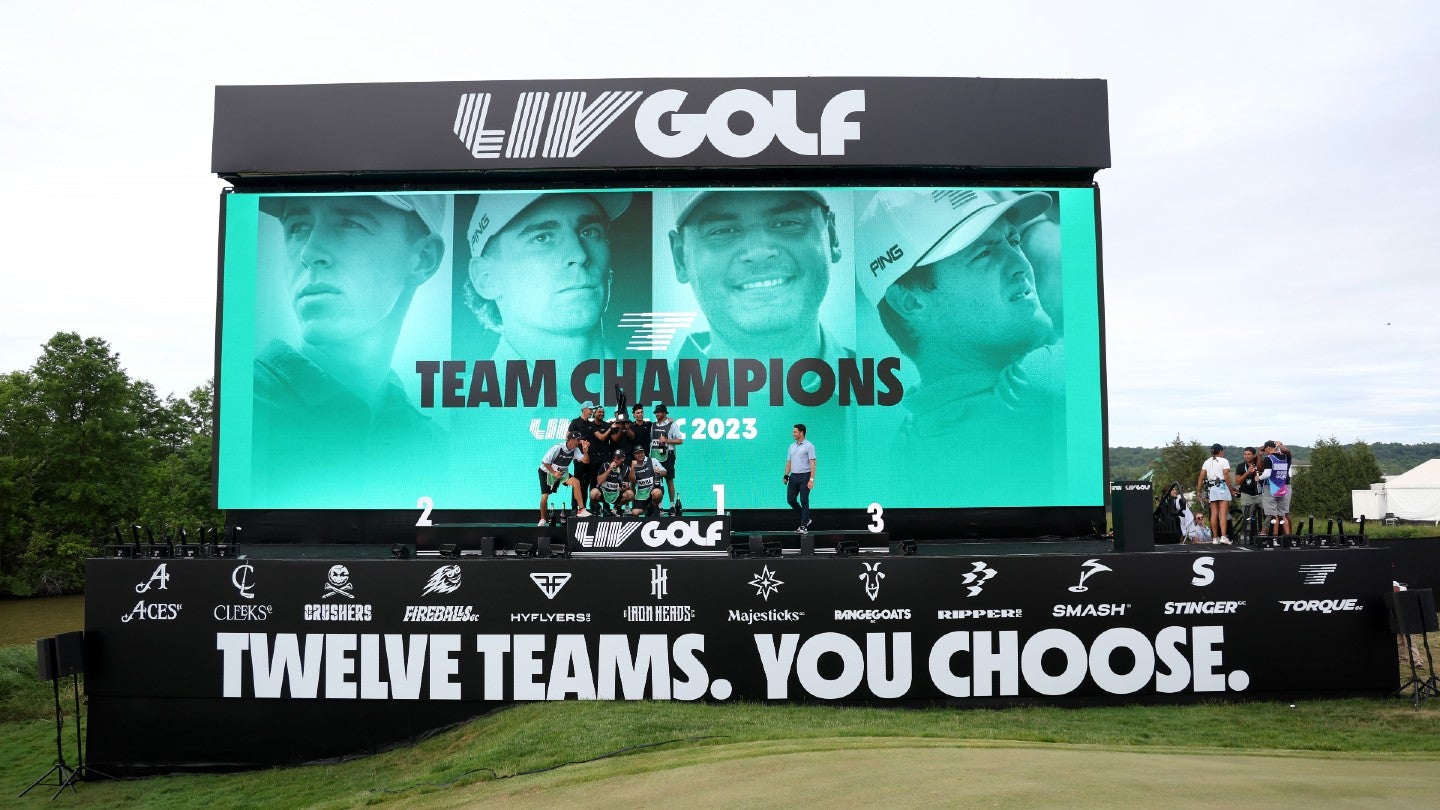 Since news first broke about the birth of LIV Golf in late 2021, its arrival has caused mass chaos and divided the biggest names in the sport. Seeking to disrupt the monopoly held by established tours, the Public Investment Fund (PIF) offered huge sums to prize away the biggest stars and change the professional golfing landscape.
On June 6, 2023, just three days shy of when LIV Golf would have celebrated the one-year anniversary of its first competition in London, news quickly circulated that it would merge with the PGA and DP World Tours.
The split has been hostile over the past 18 months, with LIV Golf enjoying far more success than anyone initially predicted. Its success was based on offering players the chance to earn more money for less time spent traveling and competing on the course.
The tour's ability to then poach a huge roster of players, including many big names, has only added stock to the notion that money clearly talks. Despite the perceived ethical and moral issues linked to Saudi-backed money, many players had a breaking price at which they could feel comfortable ignoring such morals.
Saudi Arabia has, in recent years, been globally accused of sportswashing, a term which describes the action of becoming involved in popular sport as a means of detracting from its own negative headlines and enhancing its reputation. Saudi's arrival in sports such as golf, boxing, and soccer has been backed under this term due to the country's poor human rights record.
Since 2022, LIV Golf has been able to field a highly competitive roster of players at its events including several multiple major winners. Some of the prices reportedly linked to securing these players were astronomical and it's easy to understand how players found it difficult to refuse.
Ignoring the platform and their own influence on millions around the world, offering any person in any profession the opportunity to earn significantly more money to effectively perform the same job, with fewer hours, is one almost everybody would jump at.
It's a difficult line to tread because of perceived power and influence but for the most part, golfers do not consider themselves to be political, and as such their minds can be eased when not taking a stand against the money being thrown at them.
How big of an impact would their refusal truly be in reforming Saudi Arabia's human rights abuses and are there not more powerful people in positions of power who should be taking a greater stand over the issue?
Being able to detach themselves from thoughts of aiding and supporting human rights abuse, some of the biggest reported earners from LIV Golf include Phil Mickelson at $200 million, Dustin Johnson ($125 million), Bryson DeChambeau ($135 million), and Brooks Koepka ($100 million).
These sums are also not related to future prize earnings on the competitive calendar. Looking at the results over the past 12 months with LIV, we can see how, as an example, Dustin Johnson has been able to pocket a further $43.5 million in prize money alone. To emphasize these earnings, this figure stands at over half his entire earnings from over 14 years on the PGA Tour ($74.98 million).
Back in August 2022, PGA Tour commissioner Jay Monahan made his feelings clear about the LIV Golf player exiles, refuting the possibility that they could one day return to the PGA Tour.
Monahan then met with 'loyal' PGA Tour players to discuss the future landscape of the tour and announced new changes in retaliation to LIV Golf's player poaching, which included higher prize money being made available, top players committing to playing at least 20 events a season and introducing plans to imitate LIV Golf's three-day competition format at certain tournaments.
Given the defiant stance of officials and players in the PGA Tour since LIV's inception, it seems perplexing how it has been able to strike a deal to merge the tours and unite the golfing world.
Whilst the terms of the merger have yet to be fully realized, with many contentious issues still lingering, it appears to be a massive win for the Saudi-backed project. They have been able to successfully disrupt the landscape and it now finds itself with a seat at the main table, with a voice of power and influence.
Its influence will now stretch across more players, countries, and tournaments than ever before. It also represents a huge win for LIV players, who will now be able to compete in big tournaments such as the Ryder Cup which were previously off-limits.
With European team rules around players needing to be signed up to the DP World Tour, and these new lifting of restrictions only coming into effect for the start of 2024, we can expect to see a lot of comments and issues arising over the coming months in the lead up to the 2023 Ryder Cup competition.
Legends of the competition, like Ian Poulter, who accepted the move to LIV, will now undoubtedly be pushing hard to challenge the qualifying criteria for the Ryder Cup in exceptional and never-before-seen circumstances.
Even if these calls fail, news of the merger can still be seen as a big win for the likes of Poulter, who previously accepted his inability to represent Team Europe.
As is custom in sport, where there are winners, there are losers, and upon hearing the news of the merger, it feels like the players that initially refused the temptations of LIV Golf have lost out.
Players like Tiger Woods and Rory McIlroy have been firm in their stance and worked tirelessly with PGA Tour officials to improve its offering and keep other professionals on side.
Standing by their own values, Woods and McIlroy are reported to have turned down offers from LIV in the region of $800 million and $300 million respectively. All that work has ultimately been for PGA Tour officials to now permit LIV exiles back to the same competitions in 2024 with no consequences and much deeper pockets.
How much has their integrity really been worth? Donald Trump was one of the standout names to have called such an eventuality last year, as he aligned his interests with LIV Golf, as his owned golf courses were signed up to host three LIV tournaments in 2023.
The future of golf and reintegration of players and tours from both sides seems far from clear, with many issues yet to be resolved. One thing that is clear is that golf is finally looking to unite after such a fracas and disjointed 18 months, marking a big win for fans who will now get to watch the best versus the best.
Image: Rob Carr/Getty Images