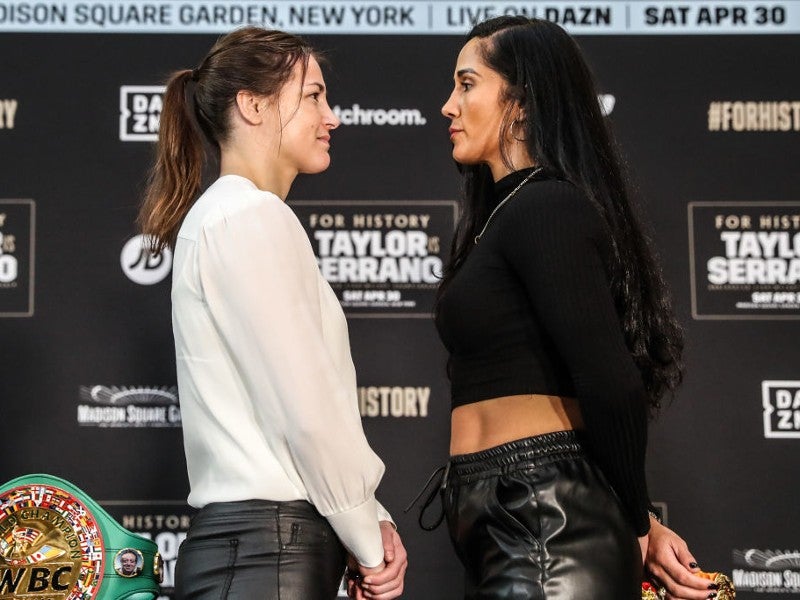 Katie Taylor has already taken the sport of professional female boxing to new levels, and as the face of the sport is continuing to push the boundaries. With an undefeated record and multiple world titles across two weight divisions she has already defeated big names including Jessica McCaskill, Eva Wahlstrom and Delfine Persoon but this weekend she will be involved in one of the biggest fights available in the sport.
In fighting the best opponents available to her, she has been able to progress women's boxing in a way that no other woman in history has. In providing the best possible matchup's, women's boxing has learned from the frustrations which have plagued men's boxing for years, with so many elite fighters avoiding one another.
It is not just the quality of the fight which makes Taylor-Serrano so momentous, but also the location and media attention it has brought to the sport. The fight will take place at Madison Square Garden, ending a 140-year long history at the venue in which only men have boxed at the iconic piece of New York real estate. Katie Taylor continues to be involved in a number of women's boxing 'firsts' such as this, and in doing so is a true trail blazer.
It has been somewhat of a revolution of the sport, spearheaded by Taylor and her fellow American Olympic (2016) Gold medalist, Claressa Shields. In building their respective fanbases, they have clearly advanced opportunities for their gender, with almost every top professional boxing undercard now guaranteed to feature at least one women's fight.
With the greater visibility at such high-profile nights of boxing, the promotion is only encouraging more and more young girls and women to take up the sport.
Despite the advancement, women's boxing remains a long way off parity with the men, which is most obviously felt in the strength of talent in a single fighting division, popular followings and money earned. The reality of this, is that women's boxing is a good number of decades behind men in terms of development as a popular and competitive sport, something which can not be corrected overnight.
The likes of Taylor and Shields are therefore only anomalies in the sport, with very few holding name recognition even amongst hardened fans of the boxing. Even looking at Taylor's next opponent, Amanda Serrano, a highly decorated world champion across seven weight classes, she holds nowhere near the status, fame, or global popularity of Taylor.
Even in pitting Taylor against the toughest opponents available, women's boxing continues, for now, to be let down by the lack of household names and depth of talent, meaning no serious rivalries can be formed. Looking back over the years in men's boxing, the height of its popularity grew off legendary fighters boasting multiple intense rivalries.
Muhammed Ali had the likes of Sonny Liston, Henry Cooper, and Joe Frazier, whilst Mike Tyson had Evander Holyfield and Lennox Lewis for esteemed company. Taylor and Shields today, do not share these types of long-lasting rivalries which advance the sport, and compete in contrasting divisions ensuring that a fight between the two of them is highly unrealistic and hence not sought after.
Further to the issue of competition, there remains a big gap between money being earned, which is relatable to the size of audience watching and pay-per-view buys. Though claimed by promoter, Jake Paul, that both fighters will earn seven figure sums from the fight on Saturday, Taylor collected only $1 million in her last fight against Firuza Sharipova, whilst Serrano earned a reported $275,000 against Miriam Gutierrez, on the Jake Paul-Tyron Woodley undercard.
Despite this fight being one of the biggest fights in history, the take-home wages of each fighter pales in comparison to last weekend's 95,000 sellout stadium heavyweight night at Wembley, which saw Tyson Fury claim a reported $29.5 million for knocking out Dillian Whyte, who picked up a consolation $7.4 million. This stands in stark contrast to the pay-days 'enjoyed' by Amanda Serrano throughout her career which has previously seen her defend her world titles for as little as $1,500.
In building a bigger and more popular reputation, female boxers are enhancing their position in the sports market. In doing this, another channel for earning money should be through personal sponsorship deals with brands. At present, boxing in general does not boast many heavily brand-backed names, with Canelo Alvarez, Anthony Joshua and Tyson Fury the only fighters earning millions off endorsement deals.
Only at this top tier of elite level boxing are lucrative figures offered to fighters in sponsorship, with many brands deterred away from a sport which glamorizes violence and involves a good number of high-profile criminal offenders. There is a however an opportunity for brands to associate with female fighters, given that they offer a different marketing context. For brands, it is all about diversifying their association to positive role models, as advertisements have moved away from picturing women as the fairer sex.
There has been a greater push to elevate women as strong and independent, such connotations which are heavily linked to the likes of Katie Taylor and other female boxers. To date, the sponsorship push in women's boxing remained under-explored, with Taylor boasting a limited two-brand portfolio, however, there are signs of big interest in the sport, with Taylor having signed a kit deal with Gymshark, whilst Amanda Serrano continues to wear Air Jordan branded clothing in the ring.
Taylor versus Serrano already has reason to be celebrated, offering great optimism for the future of women's boxing, whetting the appetite of fans to see more of these type of special fight nights. Reports indicate that the fight will be close to a sell out of the 20,087-seater venue, as its pre-sale became the second highest earning boxing ticket at Madison Square Garden ever, with 4,500 British and Irish fans mooted to be travelling over for the occasion.
But whilst Taylor continues to advance and shine a light on women's boxing, more is needed to be done and invested in below the level of the Irish fighter to ensure that these modern superstars do not remain one-off anomalies in a sport dominated by men.