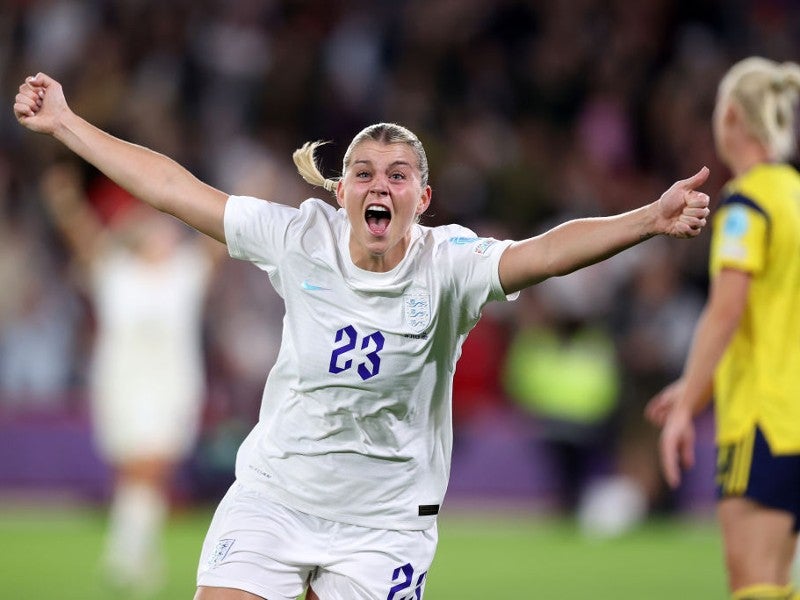 The Lionesses have replicated the success of the men's English soccer team from 2021 in reaching the Final of the European Championships and have looked impressive en route to Wembley. The team has scored the most goals in the tournament, and only conceded once so far in five matches.
While performances on the pitch have been strong, the impact that the event has had off the pitch has been seismic, with the tournament reaching a huge audience. While women's soccer has come a long way in Europe, the reality is that it still has a long way to go before a sense of equality is felt across the sport for both genders.
The ongoing women's European Championships has already established itself as the most popular in UEFA's history, with more fans coming to watch live matches than at any other previous female European tournament.
The previous record for cumulative live fans came in the Netherlands in 2017, where some 240,045 fans were entertained in stadiums across 31 matches. That record was a successive record-breaking total but was only a 10.68 per cent increase on the numbers achieved at the same event in 2013. So far in 2022, with only the final still to play, the total audience number stands at 487,683, an increase of 103.163 per cent on the 2017 tournament.
With another record-breaking live audience expected for the Final at Wembley, which has the potential to hold up to 90,000 fans, the increase in fans attending games cannot be downplayed. This means that the live audience numbers for the event in 2022 have doubled the numbers achieved in 2017.
Crowd attendance figures have been impressive, with an average crowd of 16,256 at each game so far in the tournament, being a huge improvement on the 7,743-fan average in 2017. A further point of context should be against the men's European Championships in 2021, which highlights the gap between the two genders, which achieved an average game live audience of 23,292.
This illustrates how much further the women's game can still grow, with the men's Euro's boasting over the double the match attendances despite a large number of restrictions against COVID-19 severely limiting potential capacities many of its host cities.
The English women's team have not just attracted fans to stadiums but also persuaded those at home to watch on television. Coverage of the England games at this tournament have continued to grow, starting at 3.7 million linear views for their opener against Austria before arriving at a 9.3 million peak audience for their Semi Final win over Sweden. Figures for this game have even been reported as being as high as 11.7 million, when including online streams.
Fan viewership of the Semi Final brings it in line with the audiences achieved by the men's team during their opener at the European Championships last year against Croatia (10.2 million average/ 11.6 million peak). This highlights just how much attention they have managed to build over the past few weeks.
Their involvement in the Final, against historic rivals Germany, will undoubtedly break the national viewing numbers again, though they will struggle to match the 29.85 million peak audience achieved by the men against Italy in their Euro's Final last year. UEFA themselves have also reported how coverage of the Group Stages at this years Euro's have seen a rise of 54 per cent on previous records.
In surpassing double the number of fans at its games in 2022, it feels like women's soccer is enjoying a shift in popular opinion and interest in a way which has not been seen before it. The real question now for women's soccer advocates is how can they turn this tournament success into sustained success?
Capturing hearts and minds in international soccer is significant, with fans able to get behind their country, but the rise in popularity still needs to convert into the domestic game in order to build the sport.
In reality, the majority of these national team fans will not retain their interest in the sport after the conclusion of the event, with less coverage afforded to the national teams until the next major tournament in 2023 (FIFA World Cup), and a large proportion of fans returning their interests back to the men's game.
The women's Euro's has operated in isolation, away from the men's game but the domestic league dates coincide with that of the men's teams. It is therefore very difficult to retain the attention afforded to it this summer, with England fans for example unlikely to know which Women's Super League (WSL) team to follow, as it also competes against the Premier League for viewership.
It is up to the individual clubs and leagues to re-direct the attention and interest onto their version of the sport. More needs to be done to give a shared platform by clubs with both gendered teams, to offer women's soccer the biggest possible platform to shine on.
More needs to be done in building up the profile and legacies of individual players; players such as Ronaldo and Messi are household names across the world in men's soccer but there is nowhere near the same level of marketability or notoriety for female players.
Adding Chelsea's Australian forward Sam Kerr to the cover of EA Sports popular video game franchise 'FIFA 23', alongside Kylian Mbappe is a good example of how this can be done. The players who have achieved greatness at this tournament need to be celebrated as to ensure their names are not easily forgotten and grow the sports interest more widely.
Brands not readily associated with soccer also need to get more involved and invest in female players. We are used to seeing Ronaldo or Mbappe endorsing their plethora of sponsors, but female soccer stars struggle to receive the same level of brand interest. Some brands, such as Nike and Visa have already been at the forefront of change with their marketing efforts and have signed the likes of Lucy Bronze and Fran Kirby to deals; but player sponsorship portfolios remain limited to only a handful of deals.
The more campaigns that females are seen in will equate to greater exposure and help build name recognition. If championed by brands and clubs in the right way, female stars can grow their marketability and build their own fan bases as has been the way for years in the men's game. The social media followings below offer an indication into the gap between men's and women's soccer, with more needing to be done to build their profiles.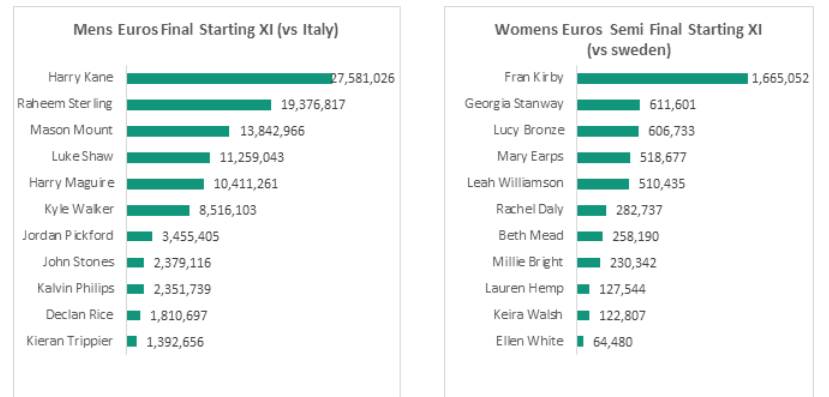 Part of this advancement should also see a greater commitment from national federations to invest more heavily in women's soccer and create more professional leagues across the world.
This summer's competition has seen a number of part-time athletes competing but given the success of teams such as England, Spain and France, other federations should be inspired to speed up its route to league/player professionalism in their own countries. Increasing the number of professional players/teams around the world will translate into a more competitive sporting landscape.
Despite the inevitable drop off in popularity for women's soccer after the tournament, there is real momentum across the game globally that needs to be channeled in the right way. The 2022 Euro's will have inspired more young girls to take an active interest in the sport than ever before, which in turn should help grow participation rates at a grass roots level.
The tournament will hopefully have inspired more soccer fans to want to engage with women's sport and want to go watch live club games throughout the season. If this momentum is well harnessed over the next few years, there should be no questions that the next European championships will again break live audience and TV viewership records.
Click here to access a Sportcal Instant Insights podcast episode where Conrad Wiacek, head of research and analysis at GlobalData Sport, and Sarah Coop, an analyst at GlobalData Thematic Intelligence, discuss the Lionesses Euros triumph, the record fan numbers, and what this means for the future of women's sport.