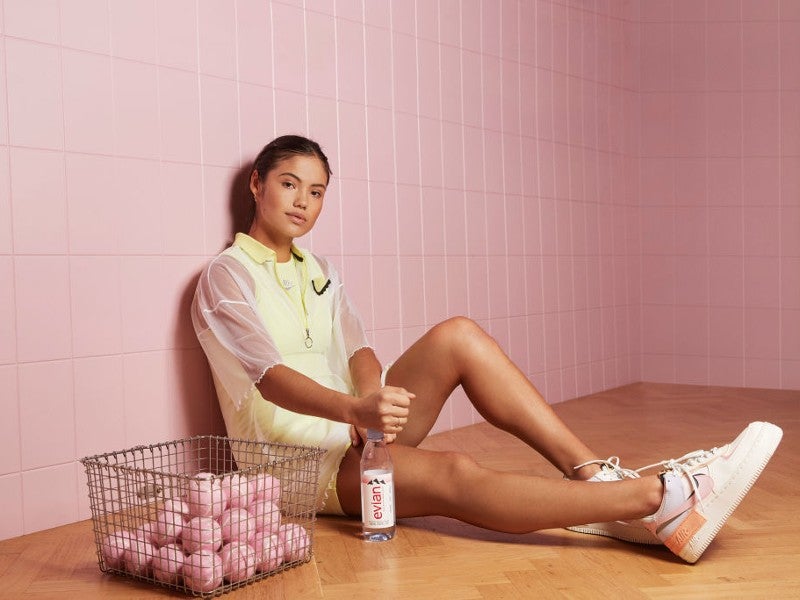 Since her first Grand Slam Victory at the US Open at the age of 18, Emma Raducanu has seen a huge rise in her endorsement portfolio, as brands from Evian to Tiffany, and Nike to HSBC have signed her to multi-year and multi-million-pound deals.
Emma Raducanu announced herself to international tennis in an incredible run at Wimbledon in 2021 as she progressed from a wildcard spot to the round of 16 at the age of 18. Only two months later she stunned the world when she defeated the 19-year-old Canadian Leylah Fernandez to win the US Open, becoming the youngest Briton to win a Grand Slam title and the first qualifier in the Open era to win a Slam. This astonishing victory launched her brand and has given her the potential to be a global star.
The US Open victory accelerated Raducanu's endorsement portfolio, while also boosting her social media following. The British star began the tournament with a strong following of roughly 400,000 Instagram followers, built on the back of her Wimbledon run. The Monday after her victory at Arthur Ashe Stadium her account saw substantial growth with over 1.6 million people now following the Grand Slam winner.
As of the 1st July 2022 Raducanu's following has continued to show rapid growth and she now sits only behind Serena Williams with the second highest Instagram following for a female tennis player. Still only 19 years old, Raducanu has also become the UK's most followed tennis player on Instagram, passing triple Grand Slam winner Andy Murray, during whose illustrious tennis career GlobalData estimates $180 million sponsorship has been generated including $48.75 million from Head, the sports equipment company.
With Raducanu's rapid social media rise and interest from the public it comes as no surprise that many highly recognized brands, with established sponsorship portfolios that include many of the world's most identifiable athletes, were eager to partner with tennis's newest sensation. On the 20th September 2021, Tiffany & Co, the jewellery company, were the first brand to partner with Raducanu after her US Open victory.
Raducanu signed a one-year deal that GlobalData estimates to be worth $0.75 million. Since then, she has developed a sponsorship portfolio that includes Nike, Wilson, HSBC, Porsche, Vodafone, British Airways, Evian, and Dior. Her endorsement deals have included her being involved in many recent television advertisements with Vodafone and Evian in the build up to the 2022 Wimbledon Championships.
Raducanu's three highest annual deals are from Nike, Porsche, and Vodafone each worth $1.5 million annually. GlobalData estimates Emma Raducanu is set to earn $9.03 million annually from her sponsorship portfolio.
In the long term, provided she continues to be successful, it is likely that sponsors will continue to be intrigued into partnering with Raducanu especially across Asia, as she is able to offer sponsors an incredibly marketable brand that offers an engaging personality and a Romanian Chinese heritage which includes her being able to speak fluent Mandarin.
Born in Toronto and brought up in London, Raducanu has dual British and Canadian citizenship. Having a multicultural identity positions her as athlete that will be very attractive to sponsors as she is highly marketable across North America, Europe and Asia, meaning commercially she has a significant advantage over many of her tennis peers.
This rise in stardom for Raducanu replicates the commercial success that Naomi Osaka was able to have after her US Open win at age 18 in 2018. Like Raducanu, Osaka also comes from mixed heritage, being born in Japan to a Japanese mother and Haitian father and moving to the United States when she was a child.
She has signed partnerships with multiple brands headquartered in the United States and Japan which include Morinaga, Yonex, Nike and Mastercard. She has been able to generate $137 million worth of total sponsorship income and was in particularly high demand ahead of the Tokyo Olympics.
In the 12 months after her US Open win, Osaka signed 11 sponsorship deals with an overall annual sponsorship deal value
of $20.38 million which included a Nike deal worth $8.5 million. Raducanu, 10 months after her US Open victory, has generated an annual amount of $9.78 million from sponsors. Raducanu is therefore on course to be well short of Osaka's total annual sponsorship income 12 months after her victory against Leylah Fernandez in 2021.
While it is undeniable that Raducanu has commercial appeal, the challenge for her will be to continue to replicate her success on court at the US Open, which she has subsequently failed to do since her dramatic win at Flushing Meadow. At the three subsequent Grand Slams, Raducanu has failed to make it past the second round, and the win at the US Open is her only career tournament win to date.
While her marketability is not in question, Raducanu will need further on-court success to reach the level of Serena Williams and Naomi Osaka with a view to remaining commercially attractive to sponsors. Should she manage this, she could easily become one of the highest paid female athletes in world sport.