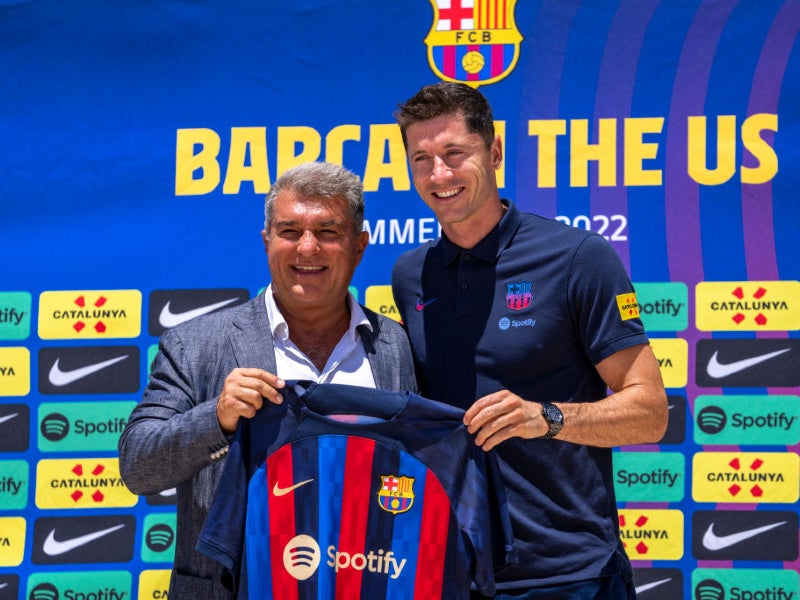 It's no secret in the sporting world that Barcelona have racked up a significant amount of debt, with some sources reporting that it now totals over $1.2 billion. This debt is believed to be one of the club's primary motivations for supporting the failed European Super League (ESL). The coronavirus pandemic hit both Barcelona and Spanish soccer's other giant Real Madrid hard.
Ticket revenues and museum tours are a significant source of income for the former, and Covid-19 countermeasures led to the club struggling financially. Participation in the ESL would have seen all founding clubs receive huge windfalls from bank JP Morgan, which was backing the project, and would have helped wipe out some of Barca's arrears. The failure of the ESL means the status quo in soccer has been maintained, along with Barcelona's sizable debt.
Last summer, Barca said goodbye to club legend Lionel Messi, as it was financially unviable for him to stay. Despite Messi being willing to take a significant pay cut, Spanish law dictates that a player's new contract cannot pay less than 50% of the previous contract's wage in order to prevent 'financial manipulation'. Messi's forced departure was unsurprising, given that under the stewardship of Josep Bartomeu, the club had tripled his wages, allowing him to earn €555 million ($573.2 million) between 2017 to 2021. Additionally, the club reportedly lost €487 million during the pandemic, adding to its financial woes.
This significant sum has limited Barcelona's ability to spend huge money on new players. And yet, this summer, they have signed five high-profile players for a combined fee of £137.7 million ($168.3 million), with more arrivals expected in the coming weeks. Many of Barca's best players, including some of their new arrivals, are on weekly wages that exceed €240,000 ($248,000) a week. In an attempt to pay for these contracts, the club has been desperately trying to offload star midfielder Frenkie De Jong, who earns a staggering €561,000 ($580,000) a week. The financial trouble brought about by the Covid-19 pandemic means that De Jong is still owed €17 million ($17.6 million) in deferred wages, and this is thought to be a significant obstacle to him being sold, as Barcelona seemingly cannot pay him the money he's owed.
The summer-long saga turned even uglier recently when Barcelona told De Jong that they wanted to annul his existing contract and return to his previous terms, alleging that his contract renewal handled by the previous board involved criminality. While the previous board has stated that the deal was legally handled and ratified by LaLiga, the current board alleges to have identified the individuals responsible for the criminal behavior and has implied that De Jong and his representatives may be implicated. The chairman of the Dutch player's union, Evgeniy Levchenko has stated that De Jong is essentially being extorted by Barcelona, and the global player's union FIFPro is said to be closely monitoring the situation.
Many see Barcelona's actions as reprehensible, given that they are threatening a player with legal action for simply asking for the money the club has promised to pay him. Additionally, Barcelona still owe French club Bordeaux money for the transfer of Brazilian player Malcolm. This is despite the fact that Bordeaux have recently suffered a relegation to the second tier of French soccer due to their own significant debt.
Among Europe's top five leagues, LaLiga has some of the strictest spending rules. Each team is given a total cap of the maximum amount that can be spent on the first team in relation to the players and the coaching staff. This value includes both transfer fees and wages. The limit is applied prior to signing players, so if they don't fall within the limit, then players can't be registered.
In order to raise the necessary funds to align with this, Barca have sold 25% of their portion of LaLiga TV rights for the next 25 years, as well 24.5% of their Barca Studios production division for $102 million. This finally allowed them to register the majority of their summer signings, aside from Jules Kounde.
Barcelona's conduct throughout this period has been heavily criticized, especially their threats to De Jong, who remains committed to playing for them. Barca have been slammed by other members of the soccer community, including Sky Sports pundit Gary Neville, who claimed that the behavior of the club has been tantamount to selling their soul. Bayern Munich manager Julien Nagelsmann also criticized the club, indicating his confusion at how a team that supposedly has no money has signed so many new players.
The reality is that Barcelona's actions this summer are somewhat unprecedented – they have never been seen before in the world of professional soccer – and the fact that they haven't been warned about their conduct with De Jong sets a worrying precedent that other major European clubs may try to follow in the future should they encounter financial strife.
Image: Eric Espada/Getty Images