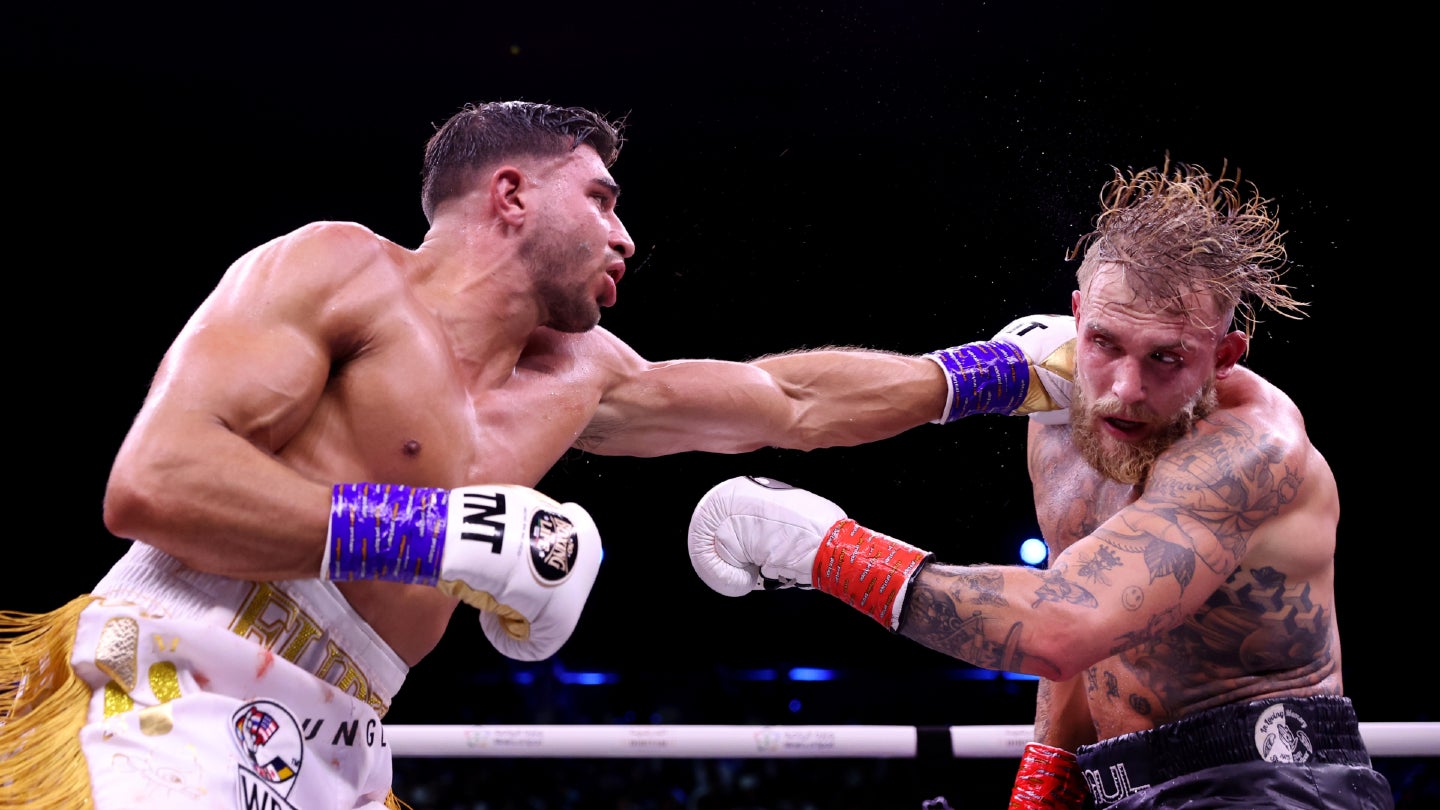 Tommy Fury and Jake Paul settled their online rivalry in the ring at the weekend, as the younger half-brother of heavyweight world champion Tyson Fury emerged with his undefeated record intact.
Both Fury and Paul have generated large online followings away from elite sport, establishing themselves as pop-culture celebrities through reality TV and online influencer videos. Despite this, Paul-Fury appeared as the main event on a professional fight card in Saudi Arabia in what could reasonably be described as the most highly anticipated fight of 2023 so far.
A few years ago, the idea that two men could garner such attention on the back of 14 combined fights, all against very low-ranked fighters or mixed martial arts athletes, would have been inconceivable. Yet, the huge interest in influencer boxing over the past few years is very real and represents a growing business in which for promoters and fighters to get involved.
One of the most surreal things about the fight in Saudi Arabia was not the sheer amount of interest from fans and celebrities (with the likes of Mike Tyson and Cristiano Ronaldo in attendance) but the fact that the Paul-Fury fight eclipsed a real-world title fight. Fighting in the same weight category as the main event, fans were able to experience the pinnacle of cruiserweight fighting, as Badou Jack became the WBC World Champion against another strong name within the sport, IIlunga Makubu.
The reality of the situation is that fighting on the Paul-Fury undercard offers them a bigger audience and potentially a larger payday than they could ever generate by themselves as the main event. And this highlights one of the big differences between influencer and elite boxing; not just the larger global fanbases but also their abilities to serve as self-promoters.
This is not something new for the world of boxing. The biggest characters and personalities at an elite level have always been able to carve out bigger opportunities for themselves, with their boxing ability only one element of what generates interest. The biggest names in the sport are all personalities or are well-established in big domestic markets, with Tyson Fury himself unlikely to have been anywhere near as popular if he offered little outside of his fighting prowess.
Away from showcasing elite athleticism, professional boxing is all about prize fighting and entertainment, two things influencer boxers bring in abundance. In the same way that historically fans went to see Roman gladiators compete, fans are there for the show and the thrills that come with it – and are not necessarily bothered by the level of competition being offered to them.
Describing Paul-Fury as one of the most anticipated fights of 2023 also goes deeper than simply highlighting the popular appeal of the two names fighting. It is a damning indictment of the professional boxing landscape, where fans are often left frustrated by the lack of genuine rivalries and big fights made. It is a problem that continues to plague the sport in the elite ranks, as the biggest fighters and best match ups fail to come to fruition for various reasons.
Despite the large market demand for the biggest fights, there is complexity around making a fight happen between different broadcasters and promoters, which ultimately often starves fans of the best fights. A prime example of this would be the interest in a proposed heavyweight unification fight between Tyson Fury and Oleksandr Usyk, which after initial promises that the fight could materialize has since fallen silent. Despite very few obstacles seemingly being in the way of such a fight being made, it proves there are no guarantees in elite boxing of getting these desired matchups, with fans left with an uncompetitive consolation fight in December 2022 between Fury and Derek Chisora.
In celebrity boxing, these issues are far less common, as fans get immersed in online feuds between online names (however genuine they may be) and these feuds are quickly made into boxing contracts, capitalizing on real fan interest while at the peak of relevance.
If there is money to be made and a genuine appetite for the product being offered, then it is hard to see when or how the traction of this type of boxing will be stopped. Boxing undoubtedly needs to learn lessons from these types of fights and could be a lot better for it. The finances and market for the likes of Jake Paul in boxing are clear for all to see as he continues to sell well both on the gate and on Pay-Per-View (PPV) buys.
While figures have yet to be released around his fight with Tommy Fury, reports have indicated he sold between 200,000 and 300,000 PPV buys for his previous fight with Anderson Silva, which at $60 in North America would generate between $12 and 18 million there alone. One of his earlier fights with Ben Askren has been marked as his biggest sell to date, with reports of 1.5 million PPV buys, which at the same price would generate around $75 million in PPV ticket buys alone.
Jake Paul's brother, Logan Paul, was involved in the first fight to explode this type of fighting into the mainstream, when his two fights with YouTuber KSI, achieved some 2 million and 1.2 million PPV buys. Putting this into perspective, one of the biggest series of fights between boxers over the past decade, Tyson Fury versus Deontay Wilder achieved a reported 325,000 (in the first fight) and 850,000 (in the second) PPV buys.
The reality of the situation is that elite boxers need to do better at selling their business and serving as self-promoters, which includes building a larger fanbase online, in the same way that these influencers have. Jake Paul has a combined 32.53 million social media followers, which stands far ahead of even the biggest global boxing names like Anthony Joshua (25.71m), Canelo Alvarez 23.61m), and Tyson Fury 10.06m).
Jake Paul may well be using boxing as simply a means to maximize his earnings, but his impact has become so much bigger, and it is hard to argue that his presence is not good for boxing. He is bringing new audiences to the sport which could translate into a more permanent following of boxing at an elite level. He is offering big world title fights on the same undercard as his events, offering a platform to fighters who would otherwise struggle. He respects and takes the sport very seriously, understanding the health risks involved by investing a lot of money and training as hard as the most serious professional fighters.
He also builds his influence beyond his own fights through his own promotion company (MVP), via which he will again be involved in one of the most anticipated fights of 2023 by representing Amanda Serrano when she takes on Katie Taylor in a rematch of one of the most compelling fights of 2022.
The product of celebrity/influencer boxing looks to set to continue for now, with a rematch between Paul and Fury likely to be signed for even more money than the first fight later this year. Elite boxing cannot simply look to discredit what they are doing, they need to learn from what is happening and evolve with the market and piggyback of its success to usher in a new era of boxing fans globally.
Image: Francois Nel/Getty Images