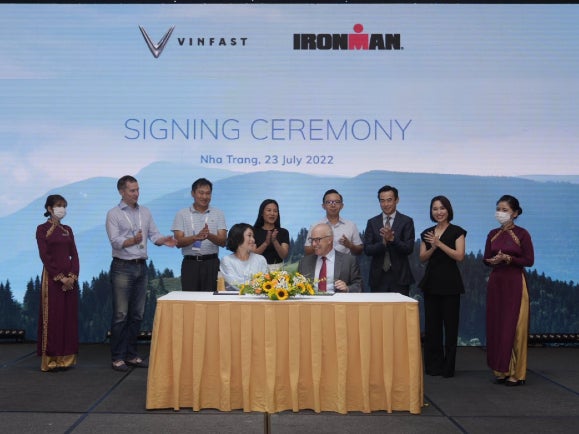 VinFast, the Vietnamese electric vehicle (EV) manufacturer, has entered a global partnership with Ironman, the organizer of long-distance triathlon events, and become the naming rights partner of its World Championship, 70.3 World Championship, and US Series.
Through the deal, which was signed at the weekend (July 23) and runs until 2025, VinFast is designated the exclusive automotive vehicle, electric vehicle, electric scooter, and electric bus partner of Ironman and will provide those methods of transport for Ironman's full-distance, 140.6-mile (226.3km) events, and Ironman 70.3 (half-distance) events.
Through its naming rights agreement, meanwhile, the various properties become known commercially as the VinFast Ironman World Championship, the VinFast Ironman 70.3 World Championship, and the VinFast Ironman US Series.
The brand is also now a premier partner of Ironman and the Ironman 70.3 Series.
Through the tie-up, VinFast will be given branding at Ironman events around the world, direct-to-consumer opportunities at events, and other "experiential programming."
It intends to use the partnership to promote itself to a global audience and encourage the use of EVs.
VinFast, which was founded in 2017, had been due to be the title sponsor of the Vietnam Grand Prix, of the Formula 1 motor racing series, from 2020 but the race was canceled that year as a result of the coronavirus pandemic and has not taken place since.
Earlier this year, meanwhile, Ironman extended its partnership with cycling clothing manufacturer Santini, entered into a long-term global partnership with recovery and performance company Hyperice, and brought in Intermountain and Supersapiens as title partners of World Championship events.
In December last year, Suzanne Cohen was installed as the new chief marketing officer at Ironman.
Le Thi Thu Thuy, vice chairwoman of VinFast's parent company Vingroup and global chief executive of VinFast, said: "Sharing the spirit that 'Anything is Possible', we are honored to be a Premier Partner of Ironman and Ironman 70.3 Series.
"We are proud to be part of the moments that push people beyond their boundaries, and beyond what many have thought is humanly possible. We are certain that our electric mobility will strongly underpin the journeys of Ironman athletes around the world to be boundless."
Andrew Messick, president and chief executive of the Ironman Group, added: "The Ironman Group is delighted to have developed with VinFast a comprehensive and far-reaching partnership, inclusive of our pinnacle Ironman and Ironman 70.3 World Championship events.
"We value the way VinFast pushes the boundaries forward through their smart and eco-friendly electric vehicles to create a sustainable future for all. This is much like the spirit of Ironman and our athletes to break through and surpass preconceived boundaries."