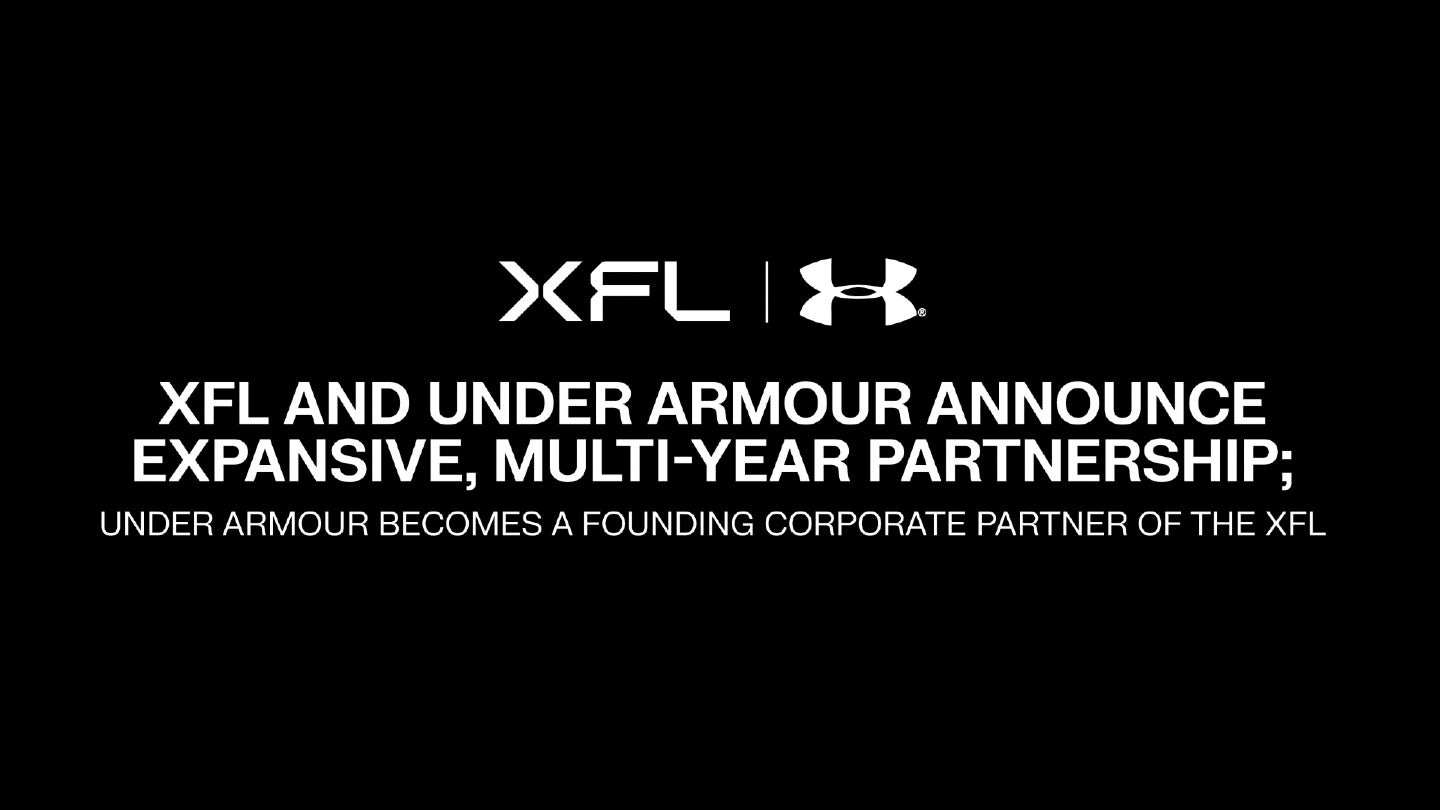 Sportswear brand Under Armour and rebooted American football league the XFL have unveiled a new tie-up that goes well beyond their previously announced kit partnership.
Under the new multi-year deal, announced yesterday (February 27), Under Armour is designated a founding corporate partner of the league and "will provide resources, services, and support for XFL businesses and initiatives."
In addition to its existing role as official uniform partner, it is also now afforded the roles of official sideline apparel partner, official performance apparel partner, official youth football partner, and preferred footwear partner.
This means it is to provide all teams and staff sideline apparel, footwear, accessories, and training and practice gear, as well as match uniforms.
The company will also collaborate on the XFL's youth football and grassroots initiatives, hospitality offerings through fan activations, and digital media services.
It has been granted rights to league and team logos and wordmarks along with player partnership rights and XFL venue access for content development.
Under Armour was initially announced as the XFL's official uniform partner for 2023 in December – having already had an existing endorsement with the league's co-owner Dwayne Johnson.
The 2023 season, the first of the relaunched guise of the league, kicked off on February 18, with initial viewing figures reported to have been underwhelming.
It had has been working towards a relaunch since it was bought by a group including US investment firm Redbird Capital Partners, Johnson, and Dany Garcia in 2020. The $15-million deal included all the intellectual property such as team names and colors.
It was first relaunched by WWE majority owner Vince McMahon in February 2020 – 19 years after its first and only other season in 2001 – but was suspended five weeks into its 10-week season due to the coronavirus pandemic and filed for bankruptcy.
Under Armour, meanwhile, recently appointed Stephanie Linnartz as its new president and chief executive.
Russ Brandon, XFL president, said: "Appointing a founding corporate partner, particularly one that is fan-facing and integrated with the league's commercial initiatives, is an important piece of determining the trajectory of the league's branding and a key factor in player, staff, and fan experience.
"Under Armour has an impressive legacy as a football brand, making it a uniquely qualified and well-suited partner for the XFL."