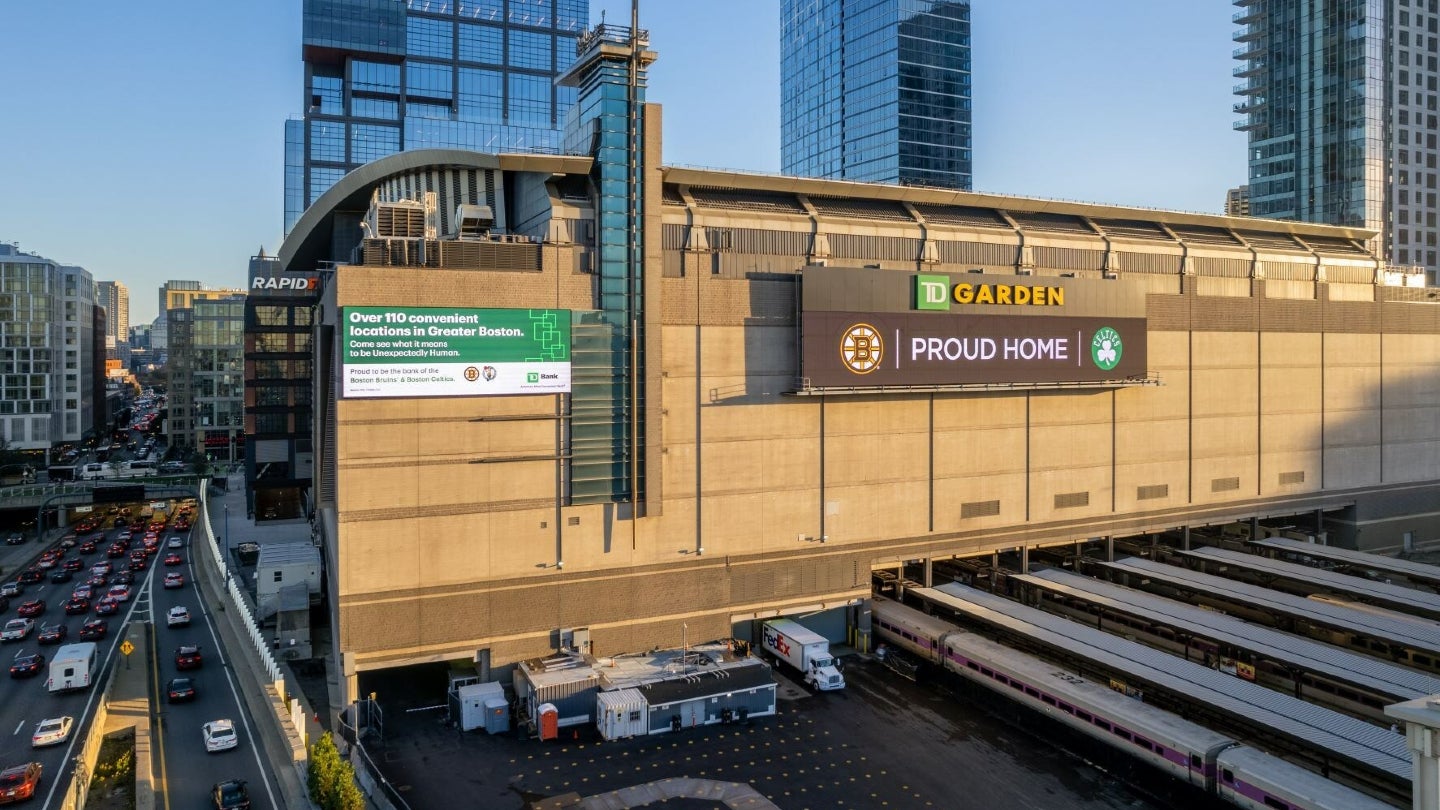 US-based TD Bank has renewed until 2045 its naming rights deal for Boston's TD Garden arena, home to the NHL Ice hockey's Boston Bruins and NBA basketball's Boston Celtics.
The renewal, agreed with the arena owner and hospitality company Delaware North and announced yesterday (January 12), represents a 20-year extension to the national bank's existing sponsorship of the arena, which was due to end in 2025.
It will see TD Bank, which mainly operates on the US east coast, extend its naming rights tie-up for the arena to 40 years in length, with the current 20-year deal having been agreed in 2005 for $6 million a season.
Financial terms of the new deal have not been disclosed, although TD Bank has committed $15 million in community programming as part of the agreement.
The new deal comes a few years after Delaware North completed a $100-million renovation and expansion of TD Garden.
New fan benefits have also been announced, including retail discounts, fast lanes, and gift cards for TD Bank customers.
In addition, the company has renewed its status as the official bank of the Boston Bruins, also until 2045.
As part of that deal, the TD Bank logo will be displayed on the Bruins' helmets, and the bank will run a variety of initiatives with the team.
Leo Salom, president and chief executive of TD Bank, said: "We are proud to deepen our commitment to Boston and Greater New England by extending our naming rights to one of the world's most recognized and beloved arenas – the 'TD Garden'.
"We also want to thank Delaware North and the Boston Bruins for continuing a relationship that began in 2005 and continues through 2045. Serving our customers and building stronger communities brings us together as does the TD Garden, and we couldn't be more excited about what the future holds for us all."
Delaware North chief exec Charlie Jacobs added: "We are proud to continue our relationship with TD Bank as they share our pride in providing a first-class experience for our fans, teams and long-term commitment to our community.
"TD Garden is the heart of our strong Boston tradition in sports and entertainment, and the Boston Bruins are about to celebrate their centennial – so it's a really exciting time and we are proud to continue into this next chapter together with TD Bank."
Notably, TD Bank was linked with another arena naming rights deal in 2019 when the Miami Herald reported that it was in "serious discussions" with Miami-Dade County about what is currently known as the FTX Arena – although not for much longer.
Back then, the American Airlines carrier had announced it would not be renewing its naming rights for the arena, which it ultimately held from 1999 to 2021.
Cryptocurrency exchange FTX secured a 19-year, $135-million deal for the rights in 2021, but they now are available again following the collapse of FTX and news this week (January 11) that Miami-Dade County has been granted permission to immediately the deal.