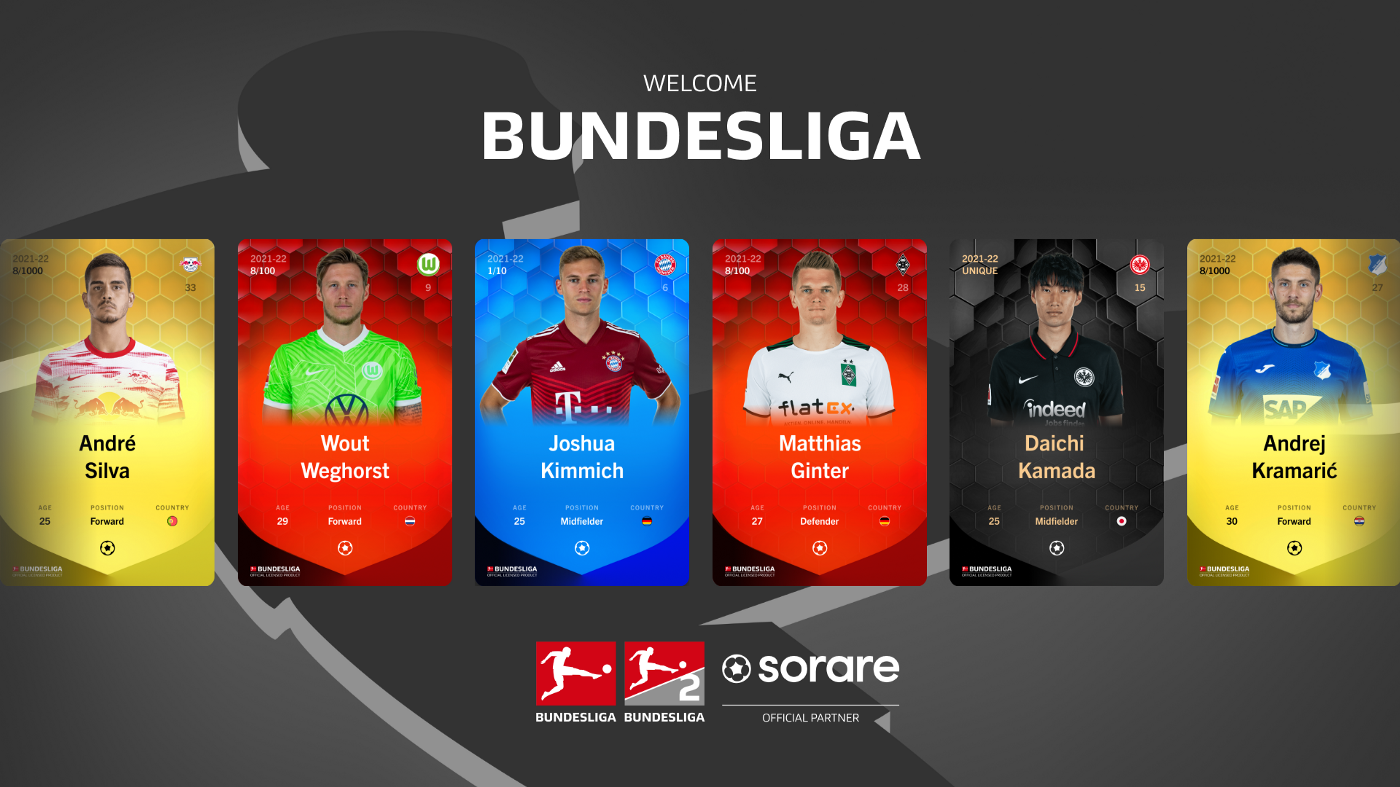 Sorare, the blockchain-based fantasy platform, has partnered with Bundesliga International, the subsidiary responsible for distributing worldwide commercial and broadcast deals across the top two tiers of German soccer.
The deal sees Sorare become an official partner of the Bundesliga and second-division Bundesliga 2 with immediate effect and runs through until at least the end of the 2022-23 season.
It sees players from the 40 clubs across the two divisions represented as non-fungible tokens (NFTs) – essentially unique digital trading cards that increase or decrease in value based upon real-world performances – in the Sorare game that can be bought and exchanged to create virtual teams that compete against each other.
The agreement follows recent Sorare tie-ups with the German national team and with LaLiga, Spanish soccer's top-tier league.
It means that over 200 clubs are now represented in Sorare, which has 600,000 registered users from over 170 countries, with 40,000 in Germany alone.
Last month, Sorare announced that it had raised $680 million in Series B financing led by Softbank, giving it a valuation of $4.3 billion.
Sales of players from the Bundesliga and Bundesliga 2 are expected to launch on the platform this month.
The platform has also announced the launch of Sorare NFT Moments, which are essentially videos of iconic sporting moments.
Sorare has said more information about them will be released ahead of their launch next year.
Robert Klein, chief executive of Bundesliga International, commented on the deal, saying: "NFTs are a digital technology of the future that should not be underestimated – especially in the sports sector. I am therefore convinced that this collaboration will give rise to further impulses. At the same time, Sorare will benefit from the appeal of one of the most popular sports brands."
Nicolas Julia, chief executive and co-founder of Sorare, added: "The Bundesliga is one of the best leagues in the world, home to some of the most exciting clubs and footballers on earth. We are very proud to partner with them to launch our first NFT Moments – we are building the future of fandom together."