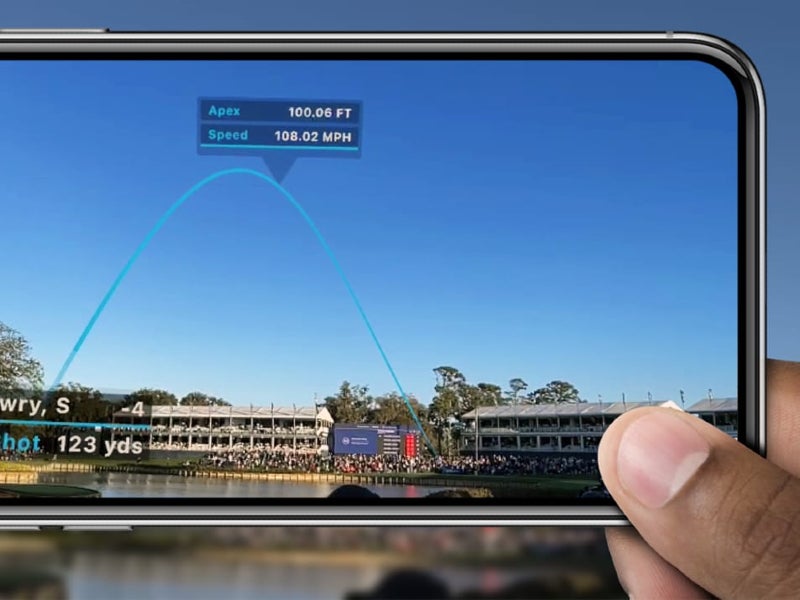 Quintar, the mixed-reality technologies firm, has renewed its augmented reality (AR) partnership with US golf's PGA Tour for three years.
Through an expanded deal, announced yesterday (May 2), Quintar is now designated the official mobile augmented reality developer of the PGA Tour, which in turn has taken a minority stake in the company.
In addition, Quintar will continue and broaden the development of the augmented reality app it has worked on since it first partnered with the PGA Tour in 2020.
The PGA Tour AR iPhone app, first launched in 2018, provides an overlay of information about on-course action for fans when they point their mobile devices at the courses of select events.
The app is powered by Quintar's Q.reality AR platform and pulls data from ShotLink, the scoring and stats platform.
The new agreement sees the number of events covered by the app increase to 10 in 2022, with more events to be added in 2023 and 2024.
Earlier this year, the PGA Tour extended and expanded its partnership with another tech provider, golf technology company TrackMan, to include ball tracking and tracing capabilities.
Elsewhere, it has recently also extended its photographic services partnership with Getty Images and secured a sponsorship deal through 2026 with Dream Finders Homes.
Scott Gutterman, senior vice president of digital operations for the PGA Tour, said: "The PGA Tour is excited to expand our relationship with Quintar with a goal of creating a more immersive and engaging tournament experience for fans. We have seen positive interaction and growth with our previous Quintar AR engagements and look forward to building on the momentum."
Jeff Jonas president and co-founder of Quintar, added: "The PGA Tour has been an incredible partner that is focused on delivering the most immersive and engaging experiences for their fans.
"Together we are leveraging the powerful Quintar platform and bringing the digital world to life, but we are just scratching the surface. We are thrilled to expand our relationship and look forward to creating new experiences and changing how fans engage with the PGA Tour."