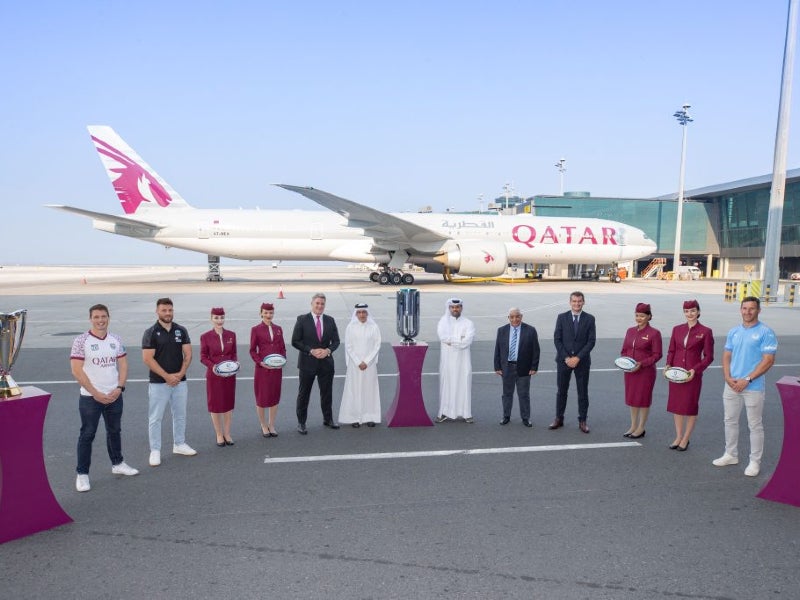 Qatar Airways, the country's national carrier, has further broadened its sports partnership portfolio through a three-pronged rugby union sponsorship of the United Rugby Championship (URC) league, the European Professional Club Rugby (EPCR) continental governing body, and the South Africa (SA) Rugby national governing body.
The multi-year agreements see the carrier designated the official airline partner of the URC and the official South African airline partner of EPCR.
Through those deals, Qatar Airways will help the two organizations grow the game globally, an announcement explains, with it to begin offering all-inclusive travel packages for matches in the URC, which is one of the three major professional leagues in Europe and currently features teams from Ireland, Italy, Scotland, South Africa, and Wales.
The airline has partnered with SA Rugby, meanwhile, as an associate sponsor and will support the team and its staff with their travel to and from URC matches in Europe.
South African teams joined the URC (formerly the Pro14) in 2017 and this season will compete in the EPCR's top-tier Champions Cup rugby union competition and Challenge Cup competition for the first time having qualified through the URC.
That has seen sub-Saharan pay-television broadcaster SuperSport agree a deal to exclusively broadcast in South Africa and other key territories in the region the Champions Cup and Challenge Cup.
The announcement of Qatar Airways' involvement in the URC follows that last week (September 2) of automotive tire firm BKT as the title sponsor in the northern hemisphere for the league until 2025.
The airline recently also entered into a long-term global partnership with Ironman, the organizer of long-distance triathlons, and became a principal partner of French soccer giants Paris Saint-Germain.
Martin Anayi, chief executive of the URC, said: "Our league has greatly broadened its horizons in the past 12 months and we are honored that Qatar Airways have become one of our key partners.
"Travel is at the heart of all of our competitions and this partnership will allow us to tap into the incredible expertise and knowledge available at Qatar Airways as they support our teams and fans on their journeys to some of the biggest games of the season."
Anthony Lepage, Chief Executive Officer of EPCR, added: "As we welcome five South African clubs into the Heineken Champions Cup and EPCR Challenge Cup, the support from Qatar Airways will be key in helping players and coaches travel to face new competition from clubs in England and France.
"We are entering a new global phase of our competitions and Qatar Airways will play a key part in delivering the pinnacle of club rugby competitions to more audiences than ever before."