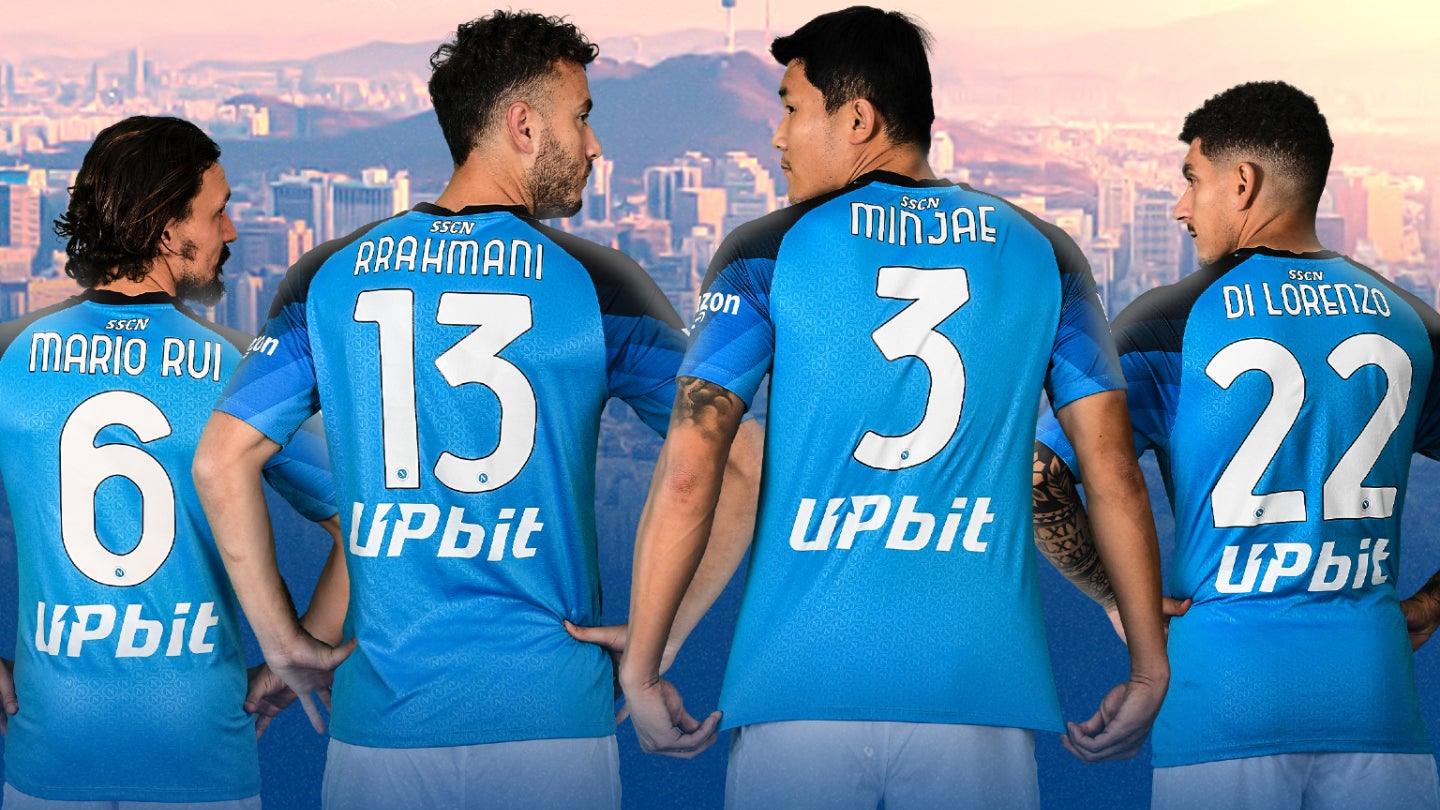 Cryptocurrency exchange Upbit is the new back-of-shirt sponsor of Italian soccer club Napoli.
The deal, agreed with the firm's parent company Dunamu, also sees it designated Napoli's global crypto exchange partner.
It runs for the 2022-23 and 2023-24 seasons and covers all matches in the domestic top-tier Serie A and Coppa Italia knockout competition, as well as all friendly matches.
The addition of Upbit continues Napoli's involvement with the crypto sector, replacing as it does the Floki cryptocurrency as the club's back-of-shirt sponsor.
Upbit becomes the club's third-tier partner behind main partner Lete and second main partner MSC Cruises.
Tommaso Bianchini, chief international development officer at Napoli, said: "We're thrilled to have reached this agreement with the South Korean company Dunamu, a leader in its sector and a growing company in the Asian market.
"This partnership enshrines the union of two game-changers in their respective sectors, underlining the objective of a future vision where innovation and technology are at the heart of the project.
"This agreement once again confirms that the club has an eye on international markets and on the most advanced technologies, in a process of continuous improvement of our brand globally."
Sirgoo Lee, chief executive of Dunamu, added: "Dunamu is excited about our new partnership with SSC Napoli, one of the biggest and most prestigious football clubs in the world.
"We're thankful for the warmest welcome and are thrilled to be a part of the journey together with SSC Napoli, including star defender Kim Minjae. We look forward to finding more meaningful collaborations throughout the season."
Meanwhile, luxury hotel company Auberge Resorts Collection has become the back-of-shirt sponsor of fellow Serie A club Roma.
The agreement sees the firm designated a main global partner alongside the team's front-of-shirt sponsor Digitalbits, kit supplier New Balance, and training kit partner Toyota.
Auberge Resorts Collection replaces Hyundai as the back-of-shirt sponsor, with the South Korean automotive manufacturer having initially signed up for three years from the 2018-19 campaign before renewing for an additional year.
The Auberge logo will feature on the shirts of Roma's men's, women's, and under-19 sides, with the brand also designated the club's official hotels partner.
The hotel company is currently seeking to expand in Europe, including with an opening in the Italian city of Florence, and its deal with Roma will support that.
Dan Friedkin, president at Roma, said: "We are delighted to be able to partner with Auberge Resorts Collection, uniting two institutions that share a deep desire to create unique emotions and genuine connections with all those who choose to experience what we have to offer."
Elsewhere, financial services firm Doo Group has been named the official financial trading platform partner of English soccer giants Manchester United.
Through the multi-year deal, Doo Group will promote its Doo Financial and Doo Prime sub-brands.
Victoria Timpson, chief executive of alliances and partnerships at Manchester United, said: "When selecting Doo Group as Manchester United's official online financial trading platform partner we were impressed by the company's focus on technology and its strong brand values."
Doo Group director Ian Howard added: "Manchester United was our obvious choice when the opportunity to form a partnership arose. We have always admired how a football club transitioned into a globally recognized icon, loved and admired across the world and representing more than the sport itself.
"That, to us, showed discipline, consistency, and drive which resonates with our brand and beliefs."
It was announced in December that United is seeking a new front-of-shirt sponsor after agreeing to end its agreement with global technology firm TeamViewer three years early.