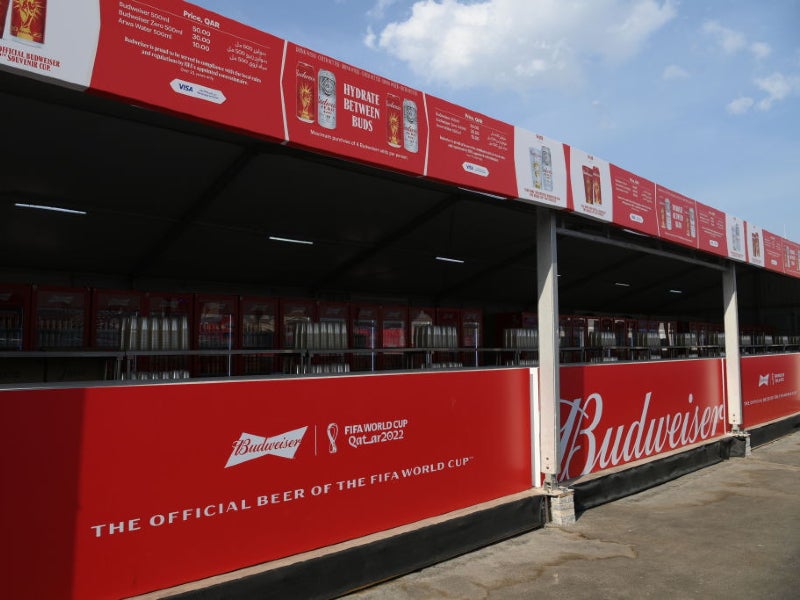 World soccer governing body FIFA has announced an eleventh-hour alcohol ban at stadiums for the imminent World Cup in Qatar.
In a statement released today (November 18), FIFA said: "Following discussions between host country authorities and FIFA, a decision has been made to focus the sale of alcoholic beverages on the FIFA Fan Festival, other fan destinations, and licensed venues, removing sales points of beer from Qatar's FIFA World Cup 2022 stadium perimeters.
"There is no impact to the sale of Bud Zero which will remain available at all Qatar's World Cup stadiums.
"Host country authorities and FIFA will continue to ensure that the stadiums and surrounding areas provide an enjoyable, respectful and pleasant experience for all fans.
"The tournament organisers appreciate AB InBev's understanding and continuous support to our joint commitment to cater for everyone during the FIFA World Cup Qatar 2022."
Qatar 2022 runs from Sunday (November 20) to December 18.
Anheuser-Busch InBev's (AB InBev) Budweiser brand is the official beer of the 2022 World Cup via a deal struck in 2011 after hosting rights were awarded to Qatar.
It is illegal to drink in public or be drunk in public in Qatar, but it has long been agreed with FIFA that the rules about alcohol consumption would be relaxed in the Muslim nation for the World Cup.
The change of decision will naturally impact sales for AB InBev.
The company has yet to comment officially about the decision, but a now-deleted tweet from Budweiser said: "Well, this is awkward."
The announcement of the ban days before the tournament is due to begin is the latest embarrassment for FIFA surrounding Qatar 2022, with allegations of widespread corruption and bribery in awarding hosting rights to the country, reports of the ill-treatment and deaths of migrant workers in preparing for the tournament, and wider criticism about Qatar's human rights record.
Conrad Wiacek, head of analysis at GlobalData Sport, commented: "Qatar's decision to ban all alcohol around the grounds for the upcoming FIFA World Cup just days before the start of the World Cup presents the impression that FIFA is not in control of its own tournament and risks alienating a key sponsor and long-term partner of the governing body.
"With the $77-million partnership due to expire after this World Cup, the opportunity for other alcohol brands to enter into an agreement with FIFA ahead of the World Cup in the USA will be a prized one, so Budweiser will be conscious of burning their bridges with the governing body.
"Regardless, the fallout of Qatar's decision to ban alcohol just ahead of the World Cup will have ramifications for FIFA and its relationship with one of its longest-serving partners ahead of negotiations for the renewal of the contract for 2026, where FIFA would have expected to potentially double the current sponsorship fee."