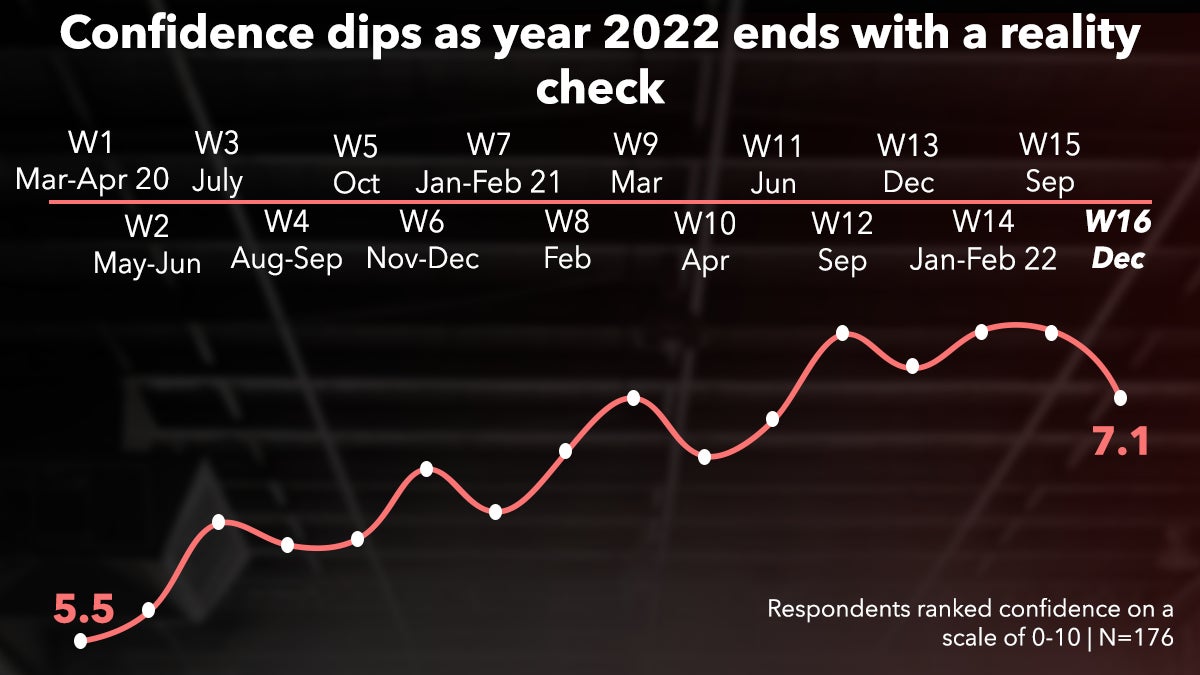 The European Sponsorship Association (ESA), which represents organizations involved in sponsorships, has urged rightsholders to carry out more due diligence about prospective sponsors and in particular those in the cryptocurrency industry.
The most recent results of the ongoing ESA Sponsorship Sentiment Tracker (SST) survey, wave 16, announced yesterday (December 13), found that 91% of respondents (from 133 industry stakeholders) believe that rightsholders should undertake more due diligence and risk assessment to protect against the possibility of sponsorships causing financial and reputational concerns.
This was accompanied by a dip in the confidence among respondents from "an historic high" rating of 7.5 out of 10 in October to 7.1 in December. Among only rightsholders, the rating fell even more markedly from 7.7 to 6.8. Brand confidence stood at 7.2, while agency confidence was the highest at 7.4.
Of more than 100 respondents who provided additional comments about the need for due diligence, around 20 specifically referenced the cryptocurrency industry, with many indicating a wariness about it or that they had already been impacted negatively by an alliance from within it.
The ESA characterized a broad sense among respondents that "crypto companies can be financially unstable and pose a particular risk to rightsholders, fans, and the industry's reputation."
The value of the global crypto market fell by over $2 trillion from a peak of around $2.9 trillion in November 2021 to less than $850 million early last month, where it has largely stayed, according to CoinMarketCap.
This 'crypto winter' has been driven by divestment from the industry as investors sought safer assets amid high inflation and banks increasing interest rates.
The most notable casualty has been the FTX cryptocurrency exchange, which filed for bankruptcy in November after a crypto price crash left the company unable to cover accounts as customers rushed to withdraw funds due to concerns being reported about its financial health.
On Monday (December 12), FTX founder Sam Bankman-Fried was arrested in the Bahamas, where the exchange was based, and he has been charged by US authorities with "one of the biggest financial frauds in US history."
The FTX collapse has caused a ripple effect in the sports world due to its numerous sponsorship deals. In 2021, it signed a $10-million deal with the NBA's Golden State Warriors and a multi-year marketing deal with Monumental Sports and Entertainment, parent company of the Washington Wizards (NBA), Washington Capitals (NHL), and Washington Mystics (WNBA).
It had additional agreements with Major League Baseball, the Mercedes Formula 1 team, and the International Cricket Council, as well as esports' Team SoloMid, League of Legends' Championship Series, and Furia.
FTX is by no means the only crypto company with sporting sponsorships to suffer, with the National Women's Soccer League's crypto partner Voyager Digital filing for bankruptcy in July and Chelsea FC's sleeve sponsor WhaleFin reportedly canceling its deal with the club due to financial struggles, among others.
On the back of the new survey results, the ESA has also advised rightsholders to take more precautionary measures to protect stakeholders and agencies from repercussions and to look more closely at who is writing the cheques to secure sponsorships with them.
Commenting on the ESA findings, Quentin Thom, co-founder and co-head of Perform Due Diligence Services, which specializes in assessing potential partnerships in crypto, blockchain, or Web3, said: "Recent events (including FTX) and a challenging 'crypto winter' market environment have served as a stark reminder to rightsholders of the critical importance of transparency and robust due diligence to mitigate the reputational risk of bad actor association, plus financial loss suffered by them, and their fan base, as a result.
"The crypto space, and the firms that operate in it, are in a fast-growing industry, operating in a largely unregulated and volatile environment. Operational due diligence is an essential, new tool to sports, that can be used to understand what that crypto business is."
ESA chairman, Andy Westlake, added: "The results of Wave 16 of the Sponsorship Sentiment Tracker serve as a wake-up call for the industry and confirm what many suspected – that there is not enough due diligence taking place when vetting potential partnerships.
"Many organizations have suffered as a result of deals not materializing because of new partners collapsing or being unable to fulfill the terms of their agreement. I'm sure all rightsholders in our community will take notice of the results of this survey and consider how they can protect themselves and their brand and agency partners when negotiating future deals."
The ESA has been tracking sentiments within the industry since March 2020.