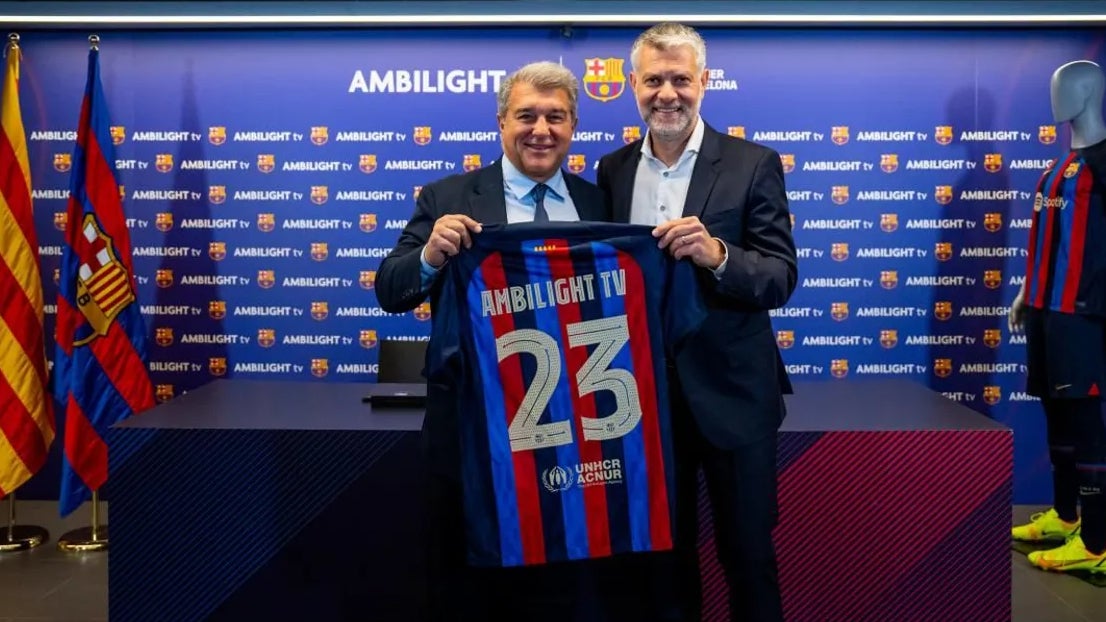 TP Vision, the TPV Technology-owned manufacturer of Philips display and audio products, has struck a sponsorship deal with Spanish soccer giants Barcelona for the Ambilight TV brand of the Dutch technology giant.
The three-year partnership, signed and announced yesterday (March 25) but trailed previously by Mundo Deportivo, sees TP Vision designated Barça's main partner for TV, display, and sound devices.
It will be activated via the Ambilight TV name featuring on the shirt sleeves of Barça's men's team, beginning with the home match against Mallorca on Sunday (May 28).
TP Vision is afforded rights of association with both Barça's men's and women's first teams, along with their indoor sports sides, and will supply screens and digital signage solutions for the club's Camp Nou stadium.
Players from the men's and women's teams will also be invited to try the Ambilight TV product range and become ambassadors for the brand.
There will be additional "value-added activations" for TP Vision's retail partners.
For TP Vision, the tie-up is intended to provide exposure for its range of Philips television sets and audio products, ultimately to drive sales for both companies.
It is positioned as being part of a strategy shared by both organizations to "forge proactive partnerships with allies that share the same values and with the goal of projecting their brands towards new global audiences."
The deal is reported to be worth €30 million ($32 million) in total, or €10 million a year.
It brings to an end Barça's search for a new sleeve sponsor since its deal with domestic appliances manufacturer Beko was retooled to focus on training kit sleeves from the end of the 2020-21 season.
As a main partner, TP Vision sits alongside kit supplier Nike and front-of-shirt sponsor Spotify in the top tier of Barça's partnership portfolio.
Kostas Vouzas, chief executive of TP Vision, said: "We are delighted to be able to partner with such a true global sporting icon as FC Barcelona. This new partnership is a natural fit as both our organizations seek to extend our offering far beyond the ordinary, each treating our fans to a unique experience, live and at home."
Juli Guiu, vice president for marketing at Barcelona, added: "We are very proud to welcome TP Vision as a new main partner of FC Barcelona. Barça has always stood out for its committed quest for excellence, both on and off the field of play, and this agreement is another successful example of this because we are partnering with a world-leading company in the field of electronics and audiovisual technology."