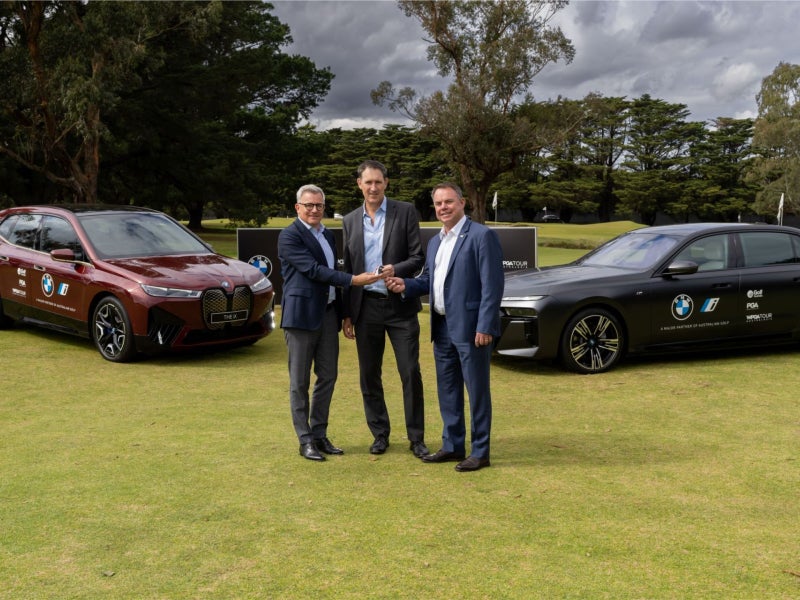 BMW Australia, the regional arm of the German carmaker, has entered into a multi-year joint partnership with the Golf Australia national governing body, the Professional Golfers Association (PGA) of Australia membership body, and the Women's PGA Tour of Australasia competition.
The deal, which was described in a joint announcement today (September 20) as "the first partnership to span the breadth of the Australian golf ecosystem," will see the three bodies work together on brand, digital, tournament, broadcast, and community programs.
Under the tie-up, BMW is designated the official car partner of the PGA Tour of Australasia, the WPGA Tour of Australasia, the Australian PGA Championship, the Australian Open, the WPGA Championship, and several Players Series and state open tournaments.
The marque will also benefit various digital, broadcast, and brand alignment rights across Australian golf.
Among BMW's other golfing partnerships are the BMW Championship event on US golf's PGA Tour, the BMW PGA Championship on the DP World Tour (formerly the European Tour), and the Ryder Cup international teams match play competition.
Wolfgang Buechel, chief executive of BMW Group Australia, said: "I am delighted that with this new partnership we can add Australia as a headline act in our global golf partnership portfolio alongside our activities in Europe, the USA, and Asia.
"Working with trusted partners in Golf Australia, the PGA of Australia, and the WPGA Tour of Australasia will see us create opportunities for players of all levels – from those who enjoy a casual round on the weekend to those who compete at the highest level – while also supporting the many people who work in the industry."
James Sutherland, chief executive of Golf Australia, added: "The partnership between our three organizations under the banner of Australian Golf and BMW Australia is a history-making moment for our sport.
"The Australian Golf Strategy clearly outlines our collective intention to work together to create a robust and sustainable future for golf in Australia. The strong sense of direction provided by the strategy opened to door to realizing a partnership like the one we are announcing today."