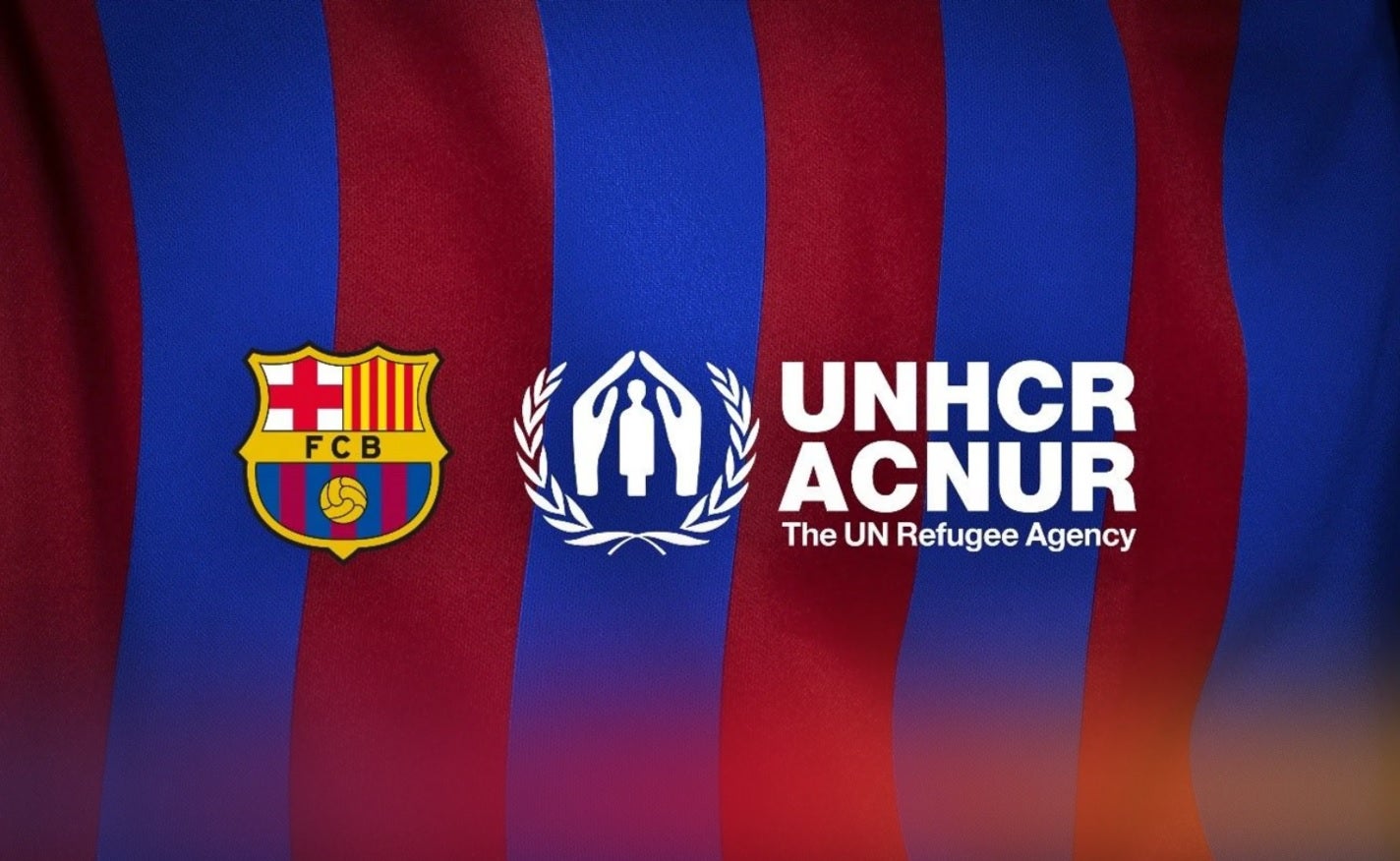 Soccer giants Barcelona, of Spain's top-tier LaLiga, have entered into an agreement with the United Nations High Commissioner for Refugees (UNHCR) that will see the club support the organization's humanitarian work and display its logo on team shirts.
The partnership, announced yesterday (March 24) and arranged through the club's Barca Foundation social initiative, will run for four seasons beginning from the start of the 2022-23 campaign.
It will see the UNHCR logo displayed on the back of the shirts of Barcelona's men's and women's first teams (below the player numbers), as well as on those of the Barça Genuine Foundation team, from July 2022.
In addition, the agreement will see the Barca Foundation make a cash contribution of €400,000 ($440,000) a season to four UNHCR projects on four continents – €100,000 per project – as well as additional donations of sports equipment worth €100,000 per season.
The UNHCR will also benefit from the "technical expertise" of the Barca Foundation's sports experts.
The deal will see UNHCR's logo replace that of the United Nations Children's Fund (UNICEF), another United Nations (UN) initiative, which has featured on Barcelona shirts in one form or other since 2006.
Through that partnership, Barcelona says it and UNICEF "have helped more than three million children to access sports, play, education, and child protection initiatives" and that "in recent years, the alliance has developed projects in more than 16,000 schools in Brazil, Ghana, South Africa, and China."
The club has said that its foundation will continue to work with UNICEF.
The deal is a result of one of the priorities that Barcelona's president Joan Laporta has set for the club outside of soccer – that of the growing refugee crisis – and will represent an expansion of Barca's existing partnership with UNHCR, with which it has been working since 2009.
UNHCR's work is focused on protecting the rights and building better futures for people forced to flee their homes because of conflict and persecution around the world.
In announcing the UNHCR deal, Laporta said: "We supported UNICEF for 16 years, and the truth is that it was a global alliance. It helped us position ourselves in the world as pioneers that, as a football club, built on social responsibility and on developing programs that can help people that need it most. This has been an agreement that I think has been very beneficial for both sides …
"Today, we've announced this great agreement between Barca and UNHCR which is also part of the UN, so they've also come from this same world. We're now connected to UNHCR, which supports refugees around the whole world, and so Barca is also there, from today, developing this desire we have to help people in suffering, people in need."
Yesterday's announcement follows the confirmation last week of the long-expected sponsorship deal between audio streaming giant Spotify and Barca.
That four-year deal, also taking effect from the start of 2022-23, is believed to be worth €280 million in total, or €70 million a year.
It gives Spotify both stadium naming rights and front-of-shirt branding rights for the men's and women's first teams.
The huge deal was much needed by Barca, with the club having seen its debts spiral to well over €1 billion as a result of mismanagement and the impact of the Covid-19 pandemic.
Of that deal, Jake Kemp, sport analyst at GlobalData commented: "With a reported $76.8 million set to be pocketed each season for the club, the reasons for FC Barcelona selling Camp Nou's naming rights are obvious. The club has been looking to rebalance its finances after announcing a huge debt, reported as being in excess of $1 billion, just last season.
"Cash has been in high demand at the Catalan club, after a turbulent 2021 summer period. The financial crisis was worsened by the termination of its previous $59.14-million-a-year shirt deal with Rakuten. The partnership with Spotify will look to plug part of the huge financial hole at the club, as it eyes further activation in the market, including a new sleeve partnership also being explored."
With those finances in mind, Barca are also believed to have come round to the idea of agreeing a deal with CVC Capital Partners to be part of the private equity firm's long-term agreement with LaLiga.
It was reported earlier this month that this could see Barca secure an initial injection of €270 million.