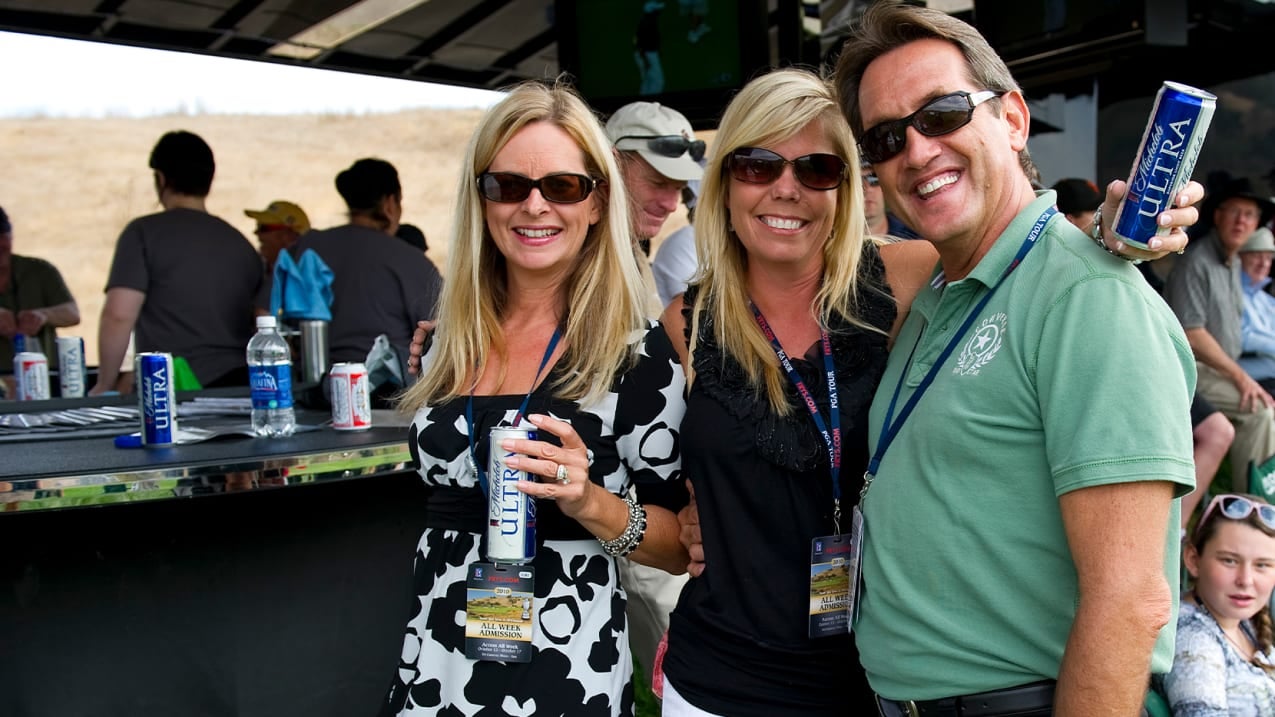 International brewing giant Anheuser-Busch has today extended its long-running sponsorship of US golf's PGA Tour through to 2024.
The deal will see Michelob Ultra remain the official beer sponsor of the PGA Tour and lower-tier PGA Tour Champions and O'Doul's remain the official non-alcohol beer of the two circuits.
In addition, Michelob Ultra Organic Seltzer will become the official hard seltzer of the PGA Tour.
Anheuser-Busch's partnership with the PGA Tour began in 1994, with Michelob Ultra becoming an official sponsor of the Tour eight years later in 2002.
Brian Oliver, executive vice president of corporate partnerships for the PGA Tour, said: "We are thrilled to continue our longstanding relationship with Anheuser-Busch and look forward to celebrating 30 years of partnership in 2024. As all great partnerships do, our relationship has evolved over the years, and we share in the excitement that Michelob Ultra is the fastest-growing beer brand in the United States. The PGA Tour takes pride in providing the very best products for our fans, and we look forward to the addition of Michelob Ultra Organic Seltzer with this extension to complement Michelob Ultra and O'Doul's."
Ricardo Marques, vice president of Michelob Ultra, added: "Partnering with the PGA Tour over the years has allowed Michelob Ultra unprecedented access to engage with and provide meaningful experience to golf fans, who are core consumers of our beer. Stepping into yet another new chapter with the PGA Tour is truly exciting as fans are welcomed back and we build even greater experiences for years to come."
Anheuser-Busch has a wide-ranging presence in US sport, sponsoring the likes of the NFL, the NHL and Nascar. Its Budweiser brand is a second-tier 'Fifa World Cup Sponsor' in a deal that includes the 2022 event in Qatar.
Elsewhere, it has today been announced that Dow will become the official sustainability resource of the Ladies Professional Golf Association and the Ladies European Tour.
The four-year partnership is aimed at creating a strategic approach for sustainability in women's professional golf across areas including equity, diversity and inclusion, climate action, promotion of biodiversity and reductions in resource use and waste.
Dow is working with GEO Foundation for Sustainable Golf, a non-profit that aims to inspire, support and recognise sustainability in golf and that brings significant experience and knowledge of sustainability solutions with it.
Mary Draves, chief sustainability officer and vice president for environment, health and safety at Dow, said: "Our work with the LPGA and LET is perfectly in step with Dow's ambitious 2025 sustainability goals, specifically by leading a blueprint for sustainability and engaging with communities, customers and employees for positive impact. Through creative collaborations with like-minded partners, we can help ensure the well-being of people and the planet through the power of sport."
Kelly Hyne, LPGA chief sales officer, added: "We have a history with Dow in promoting inclusion and career advancement for women in golf and we're excited to expand this effort through this first-of-its-kind partnership. As one of the world's longest-running women's professional sports associations, we have a distinct opportunity to drive meaningful change among tournaments, players, fans and the communities that welcome us by taking action on sustainability – socially, environmentally and economically."
LET Chief Executive Officer Alexandra Armas said: "Golf can play a highly valuable role in both championing and delivering on important social and environmental issues. Alongside partners such as Dow and the GEO Foundation, we are able to develop our leadership, support others and then celebrate powerful stories across our community. We are inspired to take action on some of the most important issues of our time — fostering nature; conserving resources; taking climate action; and strengthening communities through women's professional golf."