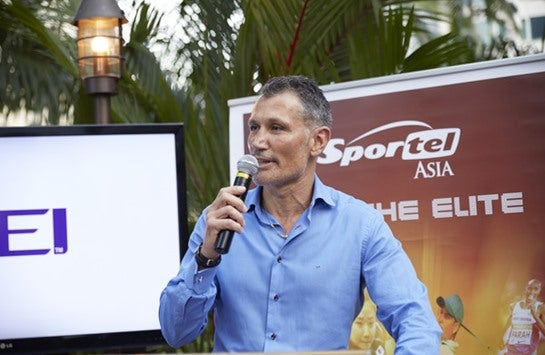 Laurent Puons, chief executive of SPORTEL, reviews the 2017 edition of the convention in Monaco
Q. How do you evaluate the success of the 2017 edition of SPORTELMonaco?
"The general feedback from participants and exhibitors was extremely positive and especially on the developments and growth of the convention. We were told that more participants were noticeable, yet the show was very calm. Most participants have spread out over all floors and lounges, which creates a subtle buzz in all exhibition venues without being overwhelming. Compared to last year, SPORTELMonaco 2017 had an increase of about 16% and with 22% new companies from across the globe. This is an amazing result for us, but also for the community. We were also complimented on the achievement in bringing more new business opportunities to the floor and we are grateful to see that participants have noticed this and were able to do more business."
There were some changes introduced last year to the layout of the convention. Has that helped to create a buzz across the different floors?
"For the past few years we have made subtle changes in the venues to add more exhibition stands but also to effectively increase traffic flow throughout the venues. The changes haven't been visible at first sight, but one has noticed that there were more people in all venues, but also more new exhibitors. Over the next years we will continue these developments, as we have the necessity to create more space for more exhibitors. Already we have received new requests from new companies to have an exhibition stand in 2018 and of course must accommodate these requests. There are two very tricky components to our side of the organisation, one is to develop an exhibition floor that flows and provides visibility and the other is to provide the correct business partners for the community."
How does this year's event compare to last year's Sportel Monaco? Is there greater engagement from rights-holders and broadcasters around the world?
"Absolutely, but not only rights owners and broadcasters. One must understand SPORTEL has moved on from being a sole content market. Due to the developments of the industry over the past years, SPORTEL has become and continues to grow into the complete business platform for any entity related to sports events, marketing, production, rights and broadcasting."
How are the plans coming along for the first-ever Sportel Summit in Miami next year?
"Since the announcement during SPORTELAmerica this year, it has been exciting and overwhelming. SPORTEL is an essential part of this industry for close to 30 years and based on this experience and insight we have seen the necessity of a global unification of industry leaders in order to jointly clarify and give direction to the world on where sport, marketing and media will be in the future. We have received huge feedback from high level executives, complimenting us on this idea and committing to the SPORTELSummit."
What is your personal highlight among the panel sessions at Sportel Monaco 2017?
"I very much enjoyed the SPORTELMarketing panel on "how digital strategies fit into the marketing plans" of a business or brand. This panel was perfect for the participants and gave great insight on how to understand and make use of new, alternative streaming options. This fits right into our plans on what SPORTEL will bring to the conventions in the future, new and alternative business opportunities for rights owners, brand and federations, to enable them to develop their sports and brands on an even bigger scale."