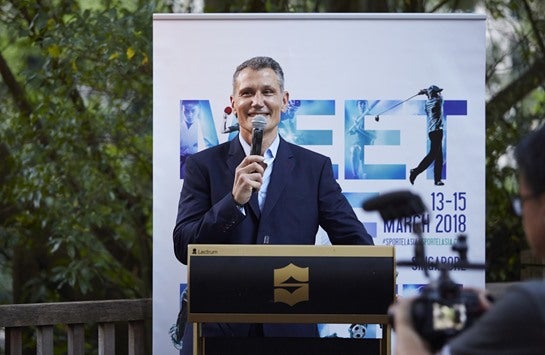 Laurent Puons, chief executive of SPORTEL, and David Jones, global sales and marketing agent at SPORTEL, review the 2018 edition of the spring market in Singapore, and look ahead to the SPORTELSummit and next year.
Q. How do you feel the event here in Singapore has gone?
Laurent Puons: "We were here in 2016 and this new edition of the spring market in Singapore was great. Good business and good networking for all the participants."
David Jones: "We believe it's going to be slightly above the attendance figures from 2016. One of the major changes that we made was the improved floorplan with the separated lounges and the additions of stands in the centre, which created a different traffic flow and a different energy in the exhibition. That paid off really well, everybody was happy. Even today one of the exhibitors told they have 10 meetings on today (the last day), which is really good."
Q. SPORTEL used to be purely a market for rights/content buyers and sellers but it's changed over the years. How has the spread of participants changed?
DJ: "SPORTEL is evolving into a fully rounded sports marketing, events, production and distribution market. Basically covering all sectors of the industry. Anybody who is related to sports events or broadcasting now has a platform to do serious business at SPORTEL. There is technology companies, federations, leagues…it's all coming together."
Q. Is there a timeline to announce a 2019 host for the spring edition?
LP: "We discussed with a lot of our exhibitors and delegates about next year and I think that next year we will be back in Asia but in Macau. It's not 100-per-cent sure but for me for the best destination would be Macau. For sure we would have all the Chinese delegates there. It's a great place, easy to fly to, no visa [required]. It would be a very good destination for this market next year."
DJ: "We have a top three list that we're going to send to out to the clients as well to respect their input and see where they need to go and what's interesting for them. One of the issues is visa/travel/connectivity and we have to make it easier for them to get from A to B. There are several cities in Asia that we were talking about, including Hong Kong and Bangkok and others, but Macau is definitely on the list."
LP: "We have a shortlist with three cities, but due to our discussions that we had this year, Macau is the best."
Q. There was particular interest in Javier Tebas' LaLiga panel session. How do you feel the panel sessions went?
LP: "I found the [Tebas] panel really interesting. The room was full, it was great for us but also for the participants. [However] for next year, we decided not to have panel sessions but only presentations for the participants. I prefer to develop the business content on the market.
"We also decided to reduce the cost of the stands. We organise SPORTEL in Monaco and it's the main event for SPORTEL and we have more than 3,000 participants. It's not possible for us to have the same cost for the spring market and in Monaco. Here we have 500 or 600 participants [646 participants for SPORTELAsia 2018] so it's not possible for us to provide the same costs for our exhibitors."
DJ: "We've been working for many years now to come to a system that works so we can reduce the rates. We have to rent the technology, the stands and everything so it costs us a lot of money to do that. We're negotiating with our providers because it can't be, and it wasn't our decision, that the rates for the spring market that is smaller than the main market are almost equal. We came to an agreement where we could reduce the rates and have come up with a new package for exhibitors that will make a clear difference between the spring market and the main market."
Q. Can you tell us more about the inaugural SPORTELSummit in Miami (on 15 and 16 May)?
LP: "It's very important for us to make a big difference between the spring market and the main event, but also the SPORTELSummit. It's for this reason that we decided to cancel the conferences during the spring market and Monaco. Of course there will be presentations [at the spring market and Monaco] but all the conferences will be held during the Summit.
"The Summit will be the best opportunity for chairmen and CEOs to make an overview on the sports business, share knowledge and shape the future of their industry. It's very important to differentiate between the SPORTEL sports market and the Summit."
DJ: "The SPORTELSummit is comparable to what the World Economic Forum is. We're really bringing the world leaders together to network together, communicate better with each other face to face. Not only do business but learn from each other. We're building a platform for them where they can jointly unite and together create the direction where things are going [in the sports market] and learn something from each other and through panels and information that we bring in as well. With the panels and line-up of speakers that we have, plus the sponsors who have already invested in the Summit, this event is going to be epic. It is the event that the industry needs."