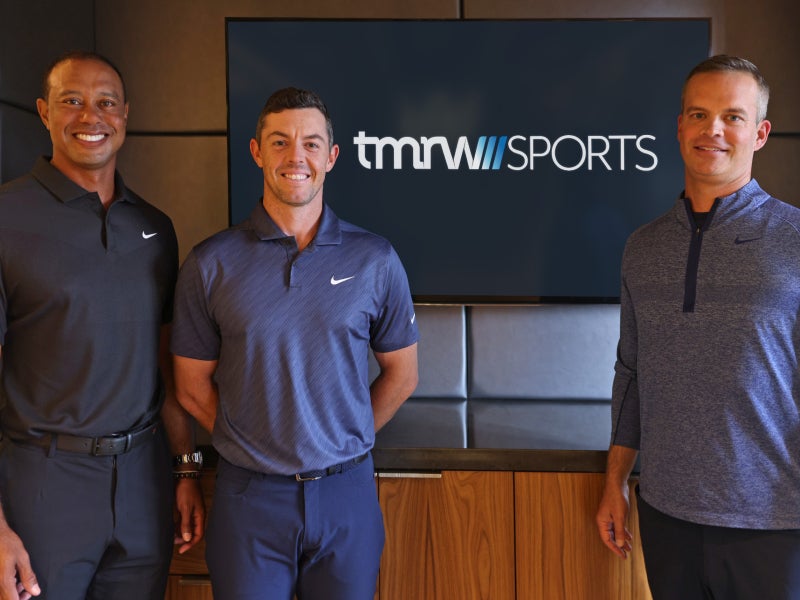 Tiger Woods and Rory McIlroy, two of golf's biggest-name players, along with sports industry executive Mike McCarley have founded a new company aimed at "harnessing technology to build progressive approaches to sports, media, and entertainment."
TMRW Sports, the formation of which was announced yesterday (August 23), will be headed up by McCarley as chief executive and counts US television executive and former chairman of NBC Sports among its initial investors.
Additional partners and investors are to be announced soon, along with early projects for the company.
One such project could see the world's top golfers competing against each other in a new stadium-based format, it has been reported.
According to Golfweek, which cites "multiple sources," this will take the form of a series of one-day events that will be "technology-forward and staged with a live audience."
The series is reportedly set to launch in 2024 and designed to complement the PGA Tour calendar, with the tour's commissioner Jay Monahan said to be familiar with the plans and discussions about broadcast and gaming partners for the new series underway.
Woods and McIlroy have apparently been working on the concept for more than two years.
They are reported to have shared details about the series with PGA Tour members who attended the meeting of players on August 16 at Wilmington Country Club ahead of it hosting the BMW Championship.
That meeting was understood to have primarily focused on the threat to the PGA Tour of the embryonic LIV Golf Invitational Series, of which innovation has been touted as one major selling point for both players and fans.
This detail, along with the reported alignment with the PGA Tour schedule, raises the prospect that the new stadium-based series could be used to help head off the departure of tour members to its high-paying LIV competitor.
Among the numerous players to have defected are high-profile names including Phil Mickelson, Brooks Koepka, Bryson DeChambeau, Dustin Johnson, Ian Poulter, Patrick Reed, Sergio Garcia, Graeme McDowell, and Martin Kaymer.
Last week (August 19), the PGA Tour announced that it has hired former player Jason Gore to assist with player relations amid the defection of members to LIV, and it has also been reported that the tour is considering giving up its non-profit status to compete financially with Saudi-backed series.
The PGA Tour has already increased prize money at many of its events in response to the LIV circuit which is offering $25 million purses.
Of the TMRW Sports venture, Woods said: "I am excited to work with TMRW Sports in bringing people more access to sports. So many athletes, entertainers, and people I meet from all walks of life share our passion for sports, but they also share our desire to build a better future for the next generation of sports fans. Together, we can harness technology to bring fresh approaches to the sports we love."
McIlroy commented: "For the last few years off the course, I've been focused on helping to lead golf into its digital future. Now, by joining forces with Tiger, Mike, and other TMRW Sports partners, we can shape the way that media and technology improve the sports experience.
"In a world where technology provides us with so many choices for using our time, we want to make sports more accessible for as many people as possible."
McCarley added: "As we begin this journey together with the strong support of a diverse team of investors and partners, we're focused on accelerating the evolution of sports with several interesting projects in development."