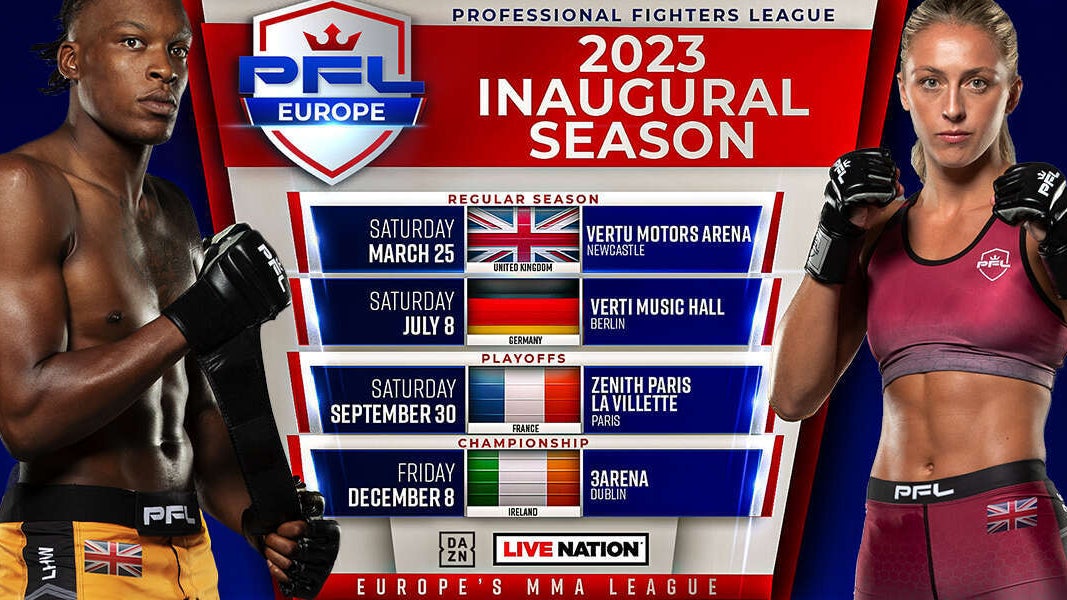 The Professional Fighters League (PFL), the US-based mixed martial arts (MMA) series, has announced the cities, venues, and dates of its new European league debuting this year.
The first season of PFL Europe, plans for which were revealed last July, be played out across four events between March and December.
Two regular season events will take place at the Vertu Motors Arena in Newcastle, UK, on March 25 and the Verti Music Hall in Berlin, Germany, on July 8. They will be followed by a playoffs event at Zenith Paris La Villette in the French capital on September 30 and the finals event at the 3Arena in Dublin, Ireland, on December 8.
The PFL's first international regional league, which the series hopes to replicate elsewhere as a pathway to the roster of its existing global competition, will "feature 32 of Europe's top-ranked fighters competing across four weight classes."
Fighters must win to advance, with the four weight-class champions each taking home $100,000 and a chance to fight in the PFL's global competition.
All four events will air during local prime hours live on the DAZN international sports streaming platform, which is a founding partner of PFL Europe and is part of a joint venture with the PFL for running the new competition.
Peter Murray, chief executive of the PFL, said: "PFL Europe's inaugural season schedule is set, and MMA fans in 2023 will experience Europe's best MMA fighters competing in the PFL's true sport format live on DAZN."
Shay Segev, chief executive of DAZN Group, added: "DAZN's partnership with the PFL is as exciting as it is innovative. It delivers yet more great content on our platform as we continue to develop our reputation as the global home of combat sports and the ultimate destination for sports fans.
"Working with rightsholders, like the PFL, we can help them grow and develop their sports by reaching new and global fanbases as well as developing a rich, immersive, and digital experience the new generation of sports entertainment demands. The PFL understands this, and we look forward to bringing what promises to be an enthralling series to millions of our subscribers and engaging with many more."
The PFL continues to go from strength to strength, with the recent announcement of a "historic two-part exclusive partnership" with Jake Paul that will see the US influencer-turned-fighter fight exclusively in the series' new Pay-Per-View Super Fights division and provide support for marketing and fighter recruitment.
For its global competition, The PFL has broadcast deals in place with ESPN domestically and in Sub-Saharan Africa, DAZN in Japan and Spain, DirecTV in South America, and Viaplay in 10 European markets, among a host of others.
It regards itself as the number two MMA company globally and notes that it is the only MMA league with a "true sports-season format" comprising a regular season, playoffs, and championship.