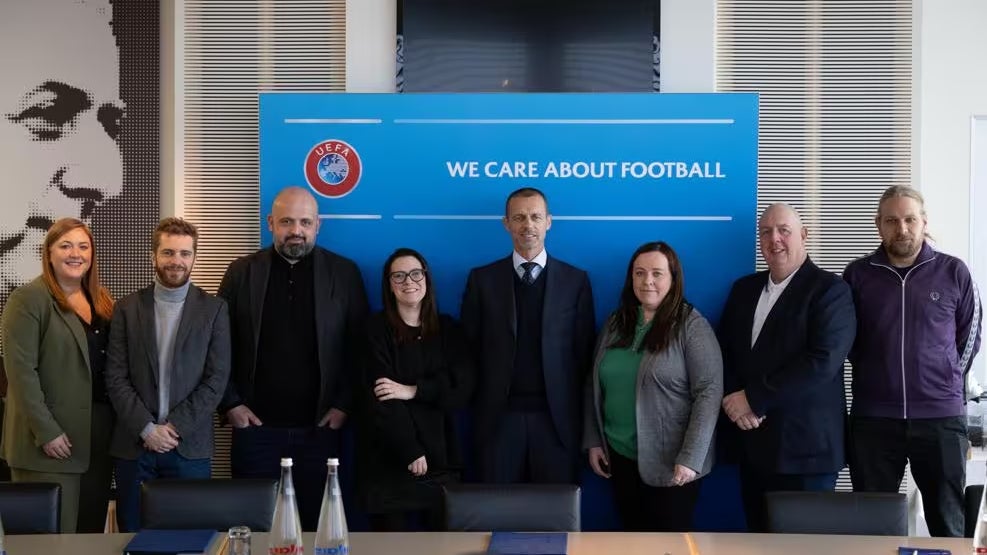 European soccer governing body UEFA and Football Supporters Europe (FSE), the body representing fans across the continent, have today (January 23) signed a Memorandum of Understanding (MoU) that further firms up opposition against the proposed European Super League (ESL).
The MoU formalizes what UEFA has characterized as "the progressive relationship" between the two organizations until 2026, setting out their priorities and a structure for cooperation between them.
Among the issues referenced specifically are the continued support by UEFA and FSE for the European football pyramid, the roles federations play in running the sport, and "the open system of promotion and relegation within domestic leagues."
These were some of the central issues to do with the ESL, which rose and fell with a matter of days in April 2021.
The league had been proposed by 12 elite European clubs – Real Madrid, Barcelona, and Atletico Madrid from Spain; Tottenham Hotspur, Arsenal, Chelsea, Manchester City, Manchester United, and Liverpool from England; and Juventus, Inter Milan, and AC Milan from Italy.
However, the concept was widely rejected by almost all of European soccer's range of stakeholders, with one of the main bones of contention being the proposed closed-shop format, without promotion to it or relegation from it.
The prospects for a revived ESL were severely damaged in December, with guidance from a senior advisor to the European Court of Justice that governing bodies FIFA and UEFA are within their rights to sanction any clubs that join any such breakaway soccer competition.
Prior to that, in October, A22 Sports Management, the company that was set up to assist with the launch of the ESL, had appointed Bernd Reichart as its chief executive and held talks with UEFA in what was viewed as the first step in an attempt to restart the project in some form.
However, UEFA subsequently panned A22 as "greedy" and having "nothing to say."
Elsewhere, UEFA and FSE have committed to improving the diversity among the representatives of the soccer community, the promotion and integration of the supporter liaison officer role, development of structured fan dialogue policies at national level across Europe, and prioritizing initiatives to safeguard and enhance the fan experience.
The chaotic scenes at last season's UEFA Champions League final between Liverpool and Real Madrid, into which UEFA has commissioned a report, will likely have informed that final point to some extent.
Aleksander Čeferin, president of UEFA, said: "Without the continued loyalty of football fans, the game would not enjoy its success and popularity. UEFA is committed to ensuring that the needs and viewpoints of fans are a key consideration.
"Today's landmark agreement shows that here at UEFA this is not an empty sentiment. We look forward to working with Football Supporters Europe on behalf of football fans in the years to come to ensure the game is a safe, secure, and welcoming place for all."
Ronan Evain, executive director of Football Supporters Europe, added: "Today is an exciting milestone for FSE. The MoU demonstrates that UEFA understands the value and importance of football fans, whether it's through protecting the future of European football, helping supporters have influence within their clubs and at national level, protecting human rights, or raising awareness around the positive contribution that supporters make to the game. We believe the joint commitments of the agreement will benefit all fans and we are excited to begin a new chapter of work together."