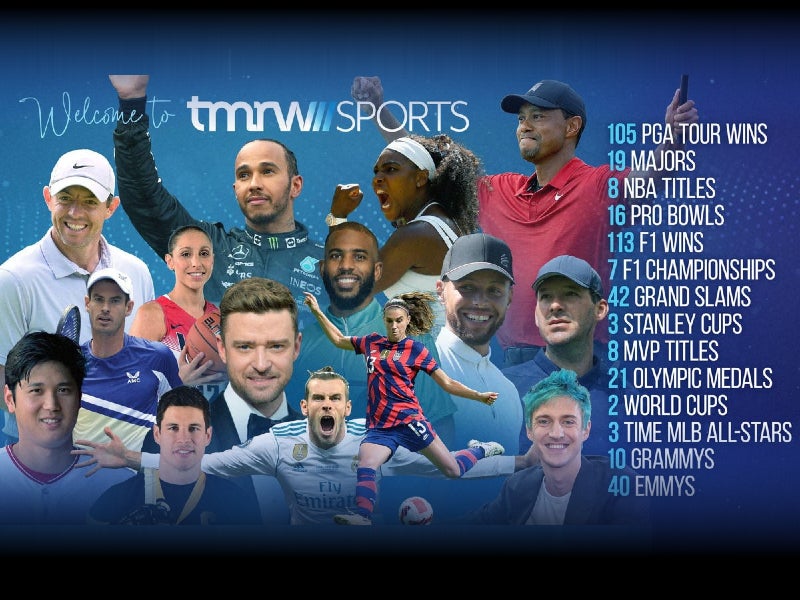 TMRW Sports, the new tech-focused sports, media, and entertainment venture founded by golf stars Tiger Woods and Rory McIlroy and sports industry executive Mike McCarley, has announced a who's who of sports and entertainment personalities that make up its initial investor group.
Institutional investment was co-led by seed venture capital firm Connect Ventures and venture incubator and investment firm 25madison Ventures.
Additional institutional investment has come from AMBSE Ventures, Apex Capital, Copper, Excel Sports Management, Fenway Sports Group, Misfits Gaming Group, Newbound Venture Capital, SC Holdings, Seven Seven Six, Symphony Ventures, and TGR Ventures.
They are joined by a host of major investors from the fields of sport, entertainment, and business.
Among the most notable sporting personalities involved are tennis' Venus Williams and Andy Murray, motor racing's Lewis Hamilton, basketball's Steph Curry, and soccer's Gareth Bale and Alex Morgan.
Investors from the business world include David Blitzer (co-managing partner and co-founder of Harris Blitzer Sports & Entertainment), Tom Werner (chairman of Fenway Sports Group), and Dick Ebersol (former chairman of NBC Sports).
In announcing the investor group, McCarley, who is also chief executive of TMRW, said: "Over the past year we've assembled a team of investors who will help deliver on TMRW Sports' mission to positively impact how sports are experienced in the future. And we've been intentional about diversity of expertise, thought, and backgrounds as we mobilized this strategic group co-led by Connect Ventures and 25madison Ventures.
"From the very beginning our plan has been to partner with the best-in-class in every way imaginable, and Tiger, Rory, and I value the support of this unrivaled team of investors, advisors, and ambassadors who believe in our vision to harness technology to create progressive approaches to sports. Their combined broad reach and cultural relevance will expand potential opportunities and fanbases for TMRW projects. Plus, many share a passion for golf that only adds more fuel to TGL, our first project in partnership with the PGA Tour."
TMRW Sports was launched at the end of August with the aim of "harnessing technology to build progressive approaches to sports, media, and entertainment."
It immediately revealed its first venture, TGL, a new "tech-infused" golf league that will "showcase team matches fusing advanced tech and live action from a custom-built venue in primetime."
The league has been developed in partnership with US golf's PGA Tour and is seen in part as a means for that series to compete with the innovations of the new Saudi-backed LIV Invitational tour, which has attracted a host of big-name players through lucrative signing fees and prize purses, and the planned LIV Golf League.
TMRW announced its first swathe of senior appointments in September and a number of key additional hires in October, at which point McCarley said the business would soon "unveil a roster of world-class investors."
Michael Blank of Connect Ventures, commented: "TMRW Sports is redefining how the next generation of fans will play and consume sports by leveraging technology in unique and innovative ways. Connect Ventures is thrilled to work alongside this world-class group of investors to support Tiger, Rory, and Mike's vision to further accelerate the evolution of sports and make it more accessible for all."
Steven Price, chief executive and co-founder of 25madison, added: "Tiger, Rory, and Mike are all titans of both golf and business. It was a no-brainer to join forces with Connect and this first-rate investor group to support TMRW Sports as they bring their vision to life. There is a huge opportunity to elevate how fans engage with the sports they love, and the team at TMRW Sports will do just that."
The full list of cultural investors is:
F1
Alex Albon: Williams Racing (THA/GBR)
Lewis Hamilton: Mercedes-AMG Petronas, 7-time World Champion (GBR)
Lando Norris: McLaren (GBR)
Carlos Sainz: Scuderia Ferrari (ESP)
Mark Webber: ret., 9-time F1 Grand Prix winner (AUS)
NFL
Josh Allen: Buffalo Bills (USA)
Kelvin Beachum: Arizona Cardinals (USA)
Larry Fitzgerald: Arizona Cardinals ret., (USA)
Tony Romo: Dallas Cowboys ret., CBS Sports (USA)
Entertainment
Justin Timberlake: 10-time Grammy Award, 4-time Emmy Award winner (USA)
Tennis
Andy Murray: 3-time Grand Slam Singles Champion, 2-time Olympic Gold Medalist (GBR)
Serena Williams: 23-time Grand Slam Singles Champion, 4-time Olympic Medalist (USA)
Gaming
Tyler "Ninja" Blevins: professional gamer and entertainment personality (USA)
NBA/WNBA
Stephen Curry: Golden State Warriors, 4-time NBA Champion (USA)
Andre Iguodala: Golden State Warriors, 4-time NBA Champion (USA)
Chris Paul: Phoenix Suns (USA)
Jayson Tatum: Boston Celtics (USA)
Diana Taurasi: Phoenix Mercury (USA)
Soccer
Jozy Altidore: Liga MX, Puebla (USA)
Gareth Bale: MLS, Los Angeles FC (GBR)
Servando Carrasco: MLS, ret. (USA)
Alex Morgan: NWSL, San Diego Wave FC, 2-time World Cup Champion (USA)
MLB
Shohei Ohtani: Los Angeles Angels (JPN)
Trea Turner: Los Angeles Dodgers, World Series Champion (USA)
NHL
Sidney Crosby: Pittsburgh Penguins, 3-time Stanley Cup Champion (CAN)
Surfing
Kanoa Igarashi: World Surf League, Olympic Silver Medalist (USA/JPN)
The full list of business investors is:
Sports
Arthur Blank: Owner and Chairman, Atlanta Falcons, Atlanta United and PGA TOUR Superstore; Co-Founder, The Home Depot
David Blitzer: Co-Managing Partner and Co-Founder of Harris Blitzer Sports & Entertainment: Philadelphia 76ers, New Jersey Devils, and Newark's Prudential Center; Owner, Real Salt Lake; Minority Owner, Cleveland Guardians
John Collins: Board Director, Super Group Ltd. Former CEO, On Location Experiences; COO, NHL; President and CEO, Cleveland Browns; and senior marketing, sales and programming executive, NFL
Ben Grossman: Sports, media, and technology executive; Co-Owner, Minnesota United and Angel City FC
Eric Grubman: Chairman of Super Group Ltd. and DroneUp; former senior executive, NFL, Goldman Sachs, Constellation Energy Group, and On Location Experiences
John Henry: Principal Owner, Fenway Sports Group, including the Boston Red Sox, Liverpool Football Club, and Pittsburgh Penguins
Dawn Hudson: Board Director, Interpublic Group and NVIDIA. Former CMO, NFL; President and CEO, Pepsi-Cola North America; and Chairman of the Board, LPGA Tour
Steve Nash: Co-Founder, BLOCK; former NBA MVP
Tom Penn: Founding President and Co-Owner, Los Angeles Football Club; Co-Founder, Sports Leadership Institute, former senior executive, NBA
Kevin Warren: Commissioner of the Big Ten Conference; former COO, Minnesota Vikings
Tom Werner: Chairman, Fenway Sports Group, including the Boston Red Sox, Liverpool Football Club, and Pittsburgh Penguins
Mark Wilf: Co-Owner of the Minnesota Vikings, Orlando City Soccer Club, and Orlando Pride
Finance
K. Don Cornwell: Co-Founder and CEO, Dynasty Equity
John S. Daly: Former Chairman Global Equity Capital Markets, Goldman Sachs
Jimmy Dunne: Vice Chairman and Senior Managing Principal, Piper Sandler; President, Seminole Golf Club
Cam Dyer: Former Partner and Sector Co-Head of Global TMT Investing, The Carlyle Group
David Gubbay: Senior Managing Director, Highpost Capital
Philippe Laffont: Founder, Coatue Management
Reggie Love: Senior Advisor, Apollo Global Management; former Partner, RON Transatlantic EG and White House Personal Aide, President Barack Obama
Tim Neher: Former Vice Chairman, Continental Cablevision; former President, Seminole Golf Club
Kirk Posmantur: Co-Founder and Chief Partnership Officer, 25madison; Chairman & CEO Axcess Worldwide
Joe Tauscher: Managing Partner, Mount Cypress Investment Fund
Media/Technology
Chris Chaney: Co-Founder and CEO, Fancurve; former CEO and Founder of Infinite Esports & Entertainment
Zach Dixon: Founder and COO, Players Lounge
Dick Ebersol: Former Chairman, NBC Sports; executive producer Sunday Night Football and NBC Olympics, Co-Creator Saturday Night Live
Rohit Gupta: Co-Founder NYXL; Partner, Sterling.VC
Alex Lieberman: Founder and Executive Chairman, Morning Brew
Ari Litan: COO of LayerZero Labs; founding team and former executive, The Athletic; Co-Founder, Swish
Alexis Ohanian: Founder, Seven Seven Six; Co-Founder and former Executive Chair, Reddit