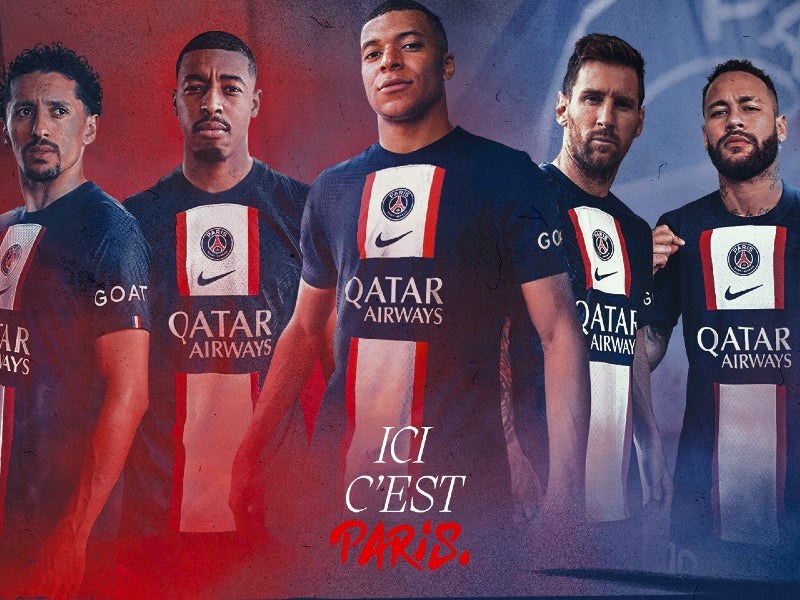 Paris Saint-German (PSG), the champions of French top-tier soccer's Ligue 1, have today (June 29) confirmed a multi-year main sponsorship deal with the Qatar Airways national airline.
Elsewhere in top-tier European soccer, Newcastle United, the English Premier League side acquired by a consortium involving the Saudi Arabian-backed Public Investment Fund (PIF) last November, have brought in the online shopping site Noon.com, popular in Saudi and across the Middle East, as their new sleeve sponsor.
Both deals feature brands closely linked to, and from the same regional location as, each club's respective owners.
GlobalData Sport has estimated the PSG-Qatar Airways tie-up to be worth $80 million annually and the Newcastle-Noon deal $5 million a year.
PSG have brought Qatar Airways in as their main partner and front-of-shirt sponsor. For the duration of the deal, the brand's logo will adorn the front of the playing kits used by the men's, women's, and youth professional sides.
The deal, which was originally reported back in early April, sees Qatar Airways taking over as PSG's main shirt sponsor from Accor Hotels, which let its three-year deal come to a natural end at the conclusion of 2021-22.
PSG have said the deal will also feature Hamad International Airport in Doha as the club's official airport and Qatar Duty-Free becoming the club's official partner in that category.
Accor replaced the Emirates airline as the main PSG shirt sponsor three years ago.
According to today's announcement, the club will "play an important role in Qatar Airways' extensive sponsorship portfolio and will connect and engage its brand with the club's hundreds of million fans worldwide."
The duo will collaborate to offer members of both organizations (PSG fans and Qarar Airways club members) experiences and innovative packages.
Marc Armstrong, PSG's chief partnerships officer, said: "The announcement of a new jersey partner is a milestone for the club … We are delighted to see Qatar Airways step up their commitment to the Paris Saint-Germain family."
Thierry Antinori, chief commercial officer at Qatar Airways, added: "Our connection with the club has gone from strength to strength, and the new season will feature Qatar Airways on the front of the club's kits; one of football's most recognized jerseys. Similar to Qatar Airways, the club has big ambitions in football, and we look forward to being a part of their success in the coming years."
Qatar Airways joins Visit Qatar, Qatar National Bank, Aspetar, and BeIN Sports as brands hailing from that Gulf state which are now premium PSG partners.
Other main club sponsors, include US sportswear giant Nike, EA Sports, Orange, and Visit Rwanda.
Newcastle, meanwhile, will put the Noon.com logo on the left sleeve of their shirts, with that announcement stating that the deal is initially for the 2022-23 campaign, starting in early August.
As well as its sleeve sponsorship, Noon.com – whose head offices are based in the Saudi capital Riyadh, and which is linked to PIF – will have a presence on the club's various digital platforms and mobile sites, as well as in the club's iconic St. James' Park home stadium.
The agreement, announced yesterday (June 28), also means Newcastle fans in Saudi and the rest of the Middle East will be able to pre-order club kit from Noon.com, with the option of personalization.
Dale Aitchison, Newcastle's head of commercial partnerships, said: "Noon.com is a hugely successful and influential brand in the Middle East and we are very pleased to team up to offer supporters in the region new ways to engage with the club."
Al Kafil-Hussain, chief of staff at Noon.com, added: "We are extremely proud to become a key strategic partner of Newcastle United, one of the most famous clubs in world football.
"We look forward to working with Newcastle United as a club with a strong sense of community and a vibrant history."
Newcastle, as of last December, are again permitted to secure sponsors from Saudi Arabia after the Premier League brought to an end a temporary block it had put on the team dealing with brands from the Kingdom following the controversial takeover last October.
The English top-flight now allows Newcastle to sign sponsorship deals with Saudi Arabian companies as long as it deems them "fair market value", which will ultimately be decided by a Premier League board.
The Premier League board will be advised by an independent external assessor on commercial deals.
In addition, assessors will have access to a confidential data bank, created by the Premier League, that will accumulate previous commercial agreements across the competition to assess their value.
Commenting on both deals, Conrad Wiacek, head of analysis at GlobalData Sport, said: "While the issue of Saudi involvement in the takeover and ownership of Newcastle United is still unclear, the deal between PIF-backed Noon and the club shows that Saudi influence will be significant moving forward.
"By paying well over the odds for a sleeve partnership, with the deal estimated to be worth $5m per season, Noon is showing that the PIF will use the same loopholes that the Abu Dhabi-backed Manchester City used to circumvent Financial Fair Play rules to boost Newcastle United's potential ability to spend in the transfer market.
"Outside the top six, sleeve sponsorship deals in the Premier League are typically worth between $500,000 to $2 million annually.
"Meanwhile, Qatar Airways becoming PSG's new front of shirt partner in a deal worth in excess of $80 million annually highlights the practice of Middle Eastern owners providing financial support to teams with which they are heavily involved, despite protestations to the contrary in the case of Newcastle United."