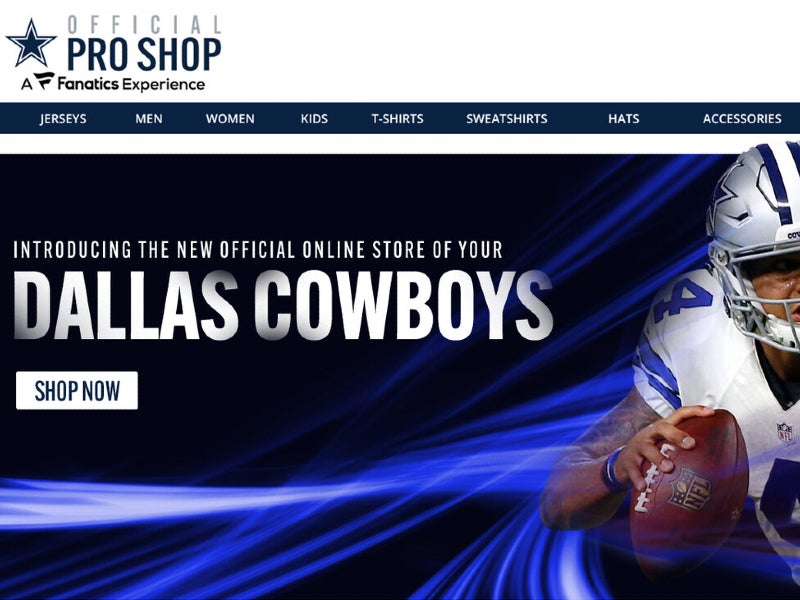 The Dallas Cowboys, the heavyweight franchise from American football's NFL, have entered into a 10-year exclusive merchandise partnership with Fanatics, the online sportswear and equipment retailer.
Under the deal, which will last until 2031, Fanatics will operate the online and mobile club shop for the Cowboys.
It has, through the deal, also secured co-branding opportunities across the franchise's various media channels, around the AT&T Stadium in the Texas city and throughout the overall Cowboys complex.
The team's licensing revenue is more than double that of the next most popular NFL franchise, according to reports, and it has predominantly operated its own e-commerce platform in recent years.
Fanatics already operates the online store for the NFL overall and, with the Cowboys agreement, now has separate deals in place with 26 of the 32 franchises.
Its deal with the NFL, struck in 2018, is a long-term affair running until 2030 and gives the company exclusive rights to manufacture and distribute all Nike NFL adult products. It has been estimated as being worth between $15 million and $20 million per year.
It also has arrangements with basketball's NBA, baseball's MLB and ice hockey's NHL.
Tim Burkhart, chief operations officer at the Cowboys, said: "The Dallas Cowboys have always strived to be at the top of our game with new, innovative ways to reach our fans with our merchandise…
"The agreement helps ensure a consistent and expansive product assortment."
Earlier this month, the Cowboys agreed to a lucrative, long-term sponsorship extension with Molson Coors, the North American brewing giant.
Ahead of the start of the new season (which began for the Cowboys on 9 September), the franchise and the brand signed a 10-year renewal worth $200 million.
Under the prolonged partnership, Molson Coors will continue to be the exclusive supplier of alcoholic beverages for the franchise.
Meanwhile, the NFL has extended its partnership with Extreme Networks, the cloud-driven networking company, until the end of the 2024-25 season.
The company will remain the league's official Wi-FI network solutions provider, and its official Wi-FI analytics provider through the next four seasons, having first entered into a partnership with the league in 2013.
During the next few years, it will begin working with an additional five NFL stadiums and with another four teams – the Baltimore Ravens, Green Bay Packers, New England Patriots, and Seattle Seahawks.
The extension will mean the NFL can "provide next-generation in-stadium fan experiences while gathering and leveraging real-time analytics that will help to drive better decisions", the league has said.
The brand's solutions have also supported every Super Bowl for the last eight years and will continue to do so.
By the end of the 2021 season, the Extreme Analytics platform will be deployed at 29 of the 30 stadiums.
Michelle McKenna, chief information officer at the NFL, said: "Our partnership with Extreme allows us to stay ahead of the curve, providing every team in the NFL with a resource for leading stadium Wi-Fi network technology … We're extending our relationship with Extreme because we want to continue working with a partner that is equally invested in creating a superior fan experience."
Norman Rice, chief operating officer at Extreme Networks, added: "With the right network technology and analytics in place, the NFL can continue to make data-driven decisions that advance the game and keep fans engaged. Network analytics are the currency driving innovative new services like real-time sports betting and mobile concessions."