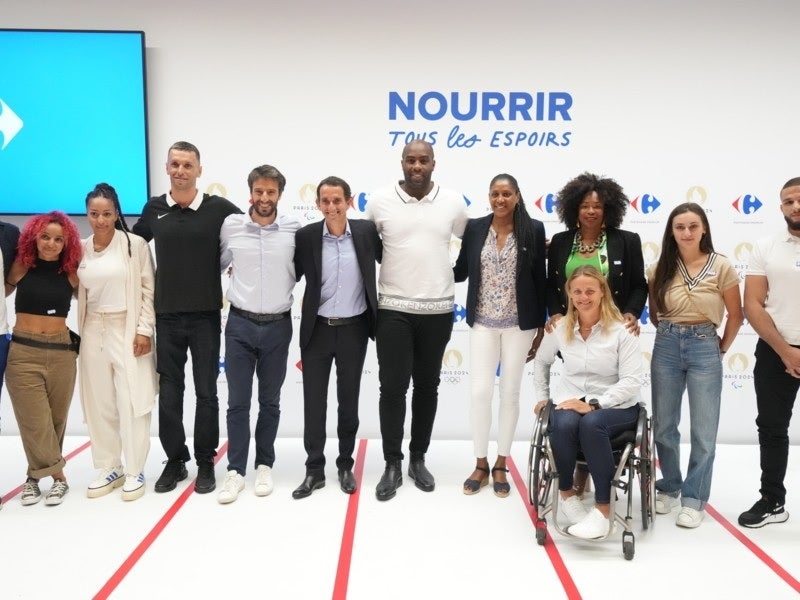 Carrefour, the French-based retailer and supermarket, has entered into a major sponsorship deal with the organizers of the Paris 2024 Olympic Games through a deal announced today (June 22).
Through the agreement with the Paris 2024 organizing committee, Carrefour has become a premium partner of both the Olympic and Paralympic Games in two years' time.
The partnership will involve the chain supplying fresh produce and organic food to the Olympic and Paralympic Villages during the games – which will run from July 26 to August 11, 2024 – while the two bodies will also collaborate on a branding project and a commercial project.
The latter will see Carrefour "develop exclusive collections in a wide range of official products licensed by Paris 2024", including clothing and stationery.
In addition to these aspects, there will be a business side to the partnership, which will involve all of Carrefour's partners and franchisees, and will "raise awareness of disability, nutrition, and health at work."
Tony Estanguet, Paris 2024's president, said: "Paris 2024 is reaffirming its desire to organize Games that are helpful to people and closely involved with their lives. Being among the largest networks of local businesses in France, Carrefour will help bring the magic of the Games to life for the French people.
"Sport, health, commitment to healthy and sustainable eating, and inclusion: Carrefour shares our values and our desire to leave a legacy which is useful to society."
The top-tier worldwide partners for Paris 2024 are Airbnb, Alibaba, Allianz, Atos, Bridgestone, Coca-Cola/ Mengniu, Intel, Omega, Panasonic, P&G, Samsung, Toyota, and Visa.
There are also subsequent premium-partner, official-partner, and official-supporter levels.
Alexandre Bompard, the chair at Carrefour Group, added: "With its popular presence, its 5,000 stores in France, and its blue, red, and white logo, the Carrefour Group wishes firmly to contribute to the success of this huge celebration of sport, help all French people to take part, and associate our brand with the marvelous values of Paris 2024. It is with great pride that Carrefour's employees in France take part in this adventure."
Earlier this month, Île-de-France Mobilités, the authority that oversees the transport companies that operate in Paris and the wider Île-de-France region, and the Paris 2024 organizing committee announced a transport collaboration for the event.
For the millions of spectators expected to attend Paris 2024, Île-de-France Mobilités and its operators will adapt Paris' transport plan during the games to ensure that all events and venues can be reached by public transport.
In addition to providing all public transport – and laying on additional services specifically – for spectators during the games, Île-de-France Mobilités will support the games' global mobility partner Toyota in transporting accredited participants by bus and coach.
Late last week, meanwhile, New Zealand Media and Entertainment (NZME), the prominent New Zealand media business, acquired exclusive radio broadcast rights for Paris 2024, as well as for the Birmingham 2022 Commonwealth Games later this year.