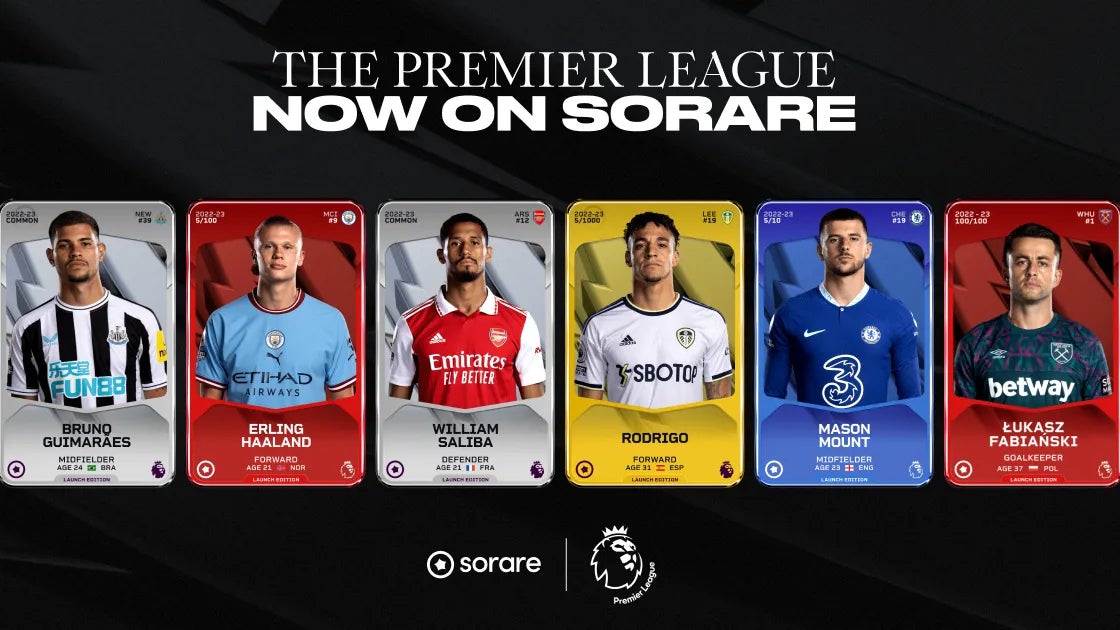 English soccer's top-tier Premier League has launched on the Sorare blockchain-based fantasy sports platform under an initial four-year partnership.
The deal, announced today (January 30), represents a coup for Sorare, with the Premier League being the most valuable and most-watched soccer league in the world, and a statement of intent in the face of a troubled cryptocurrency industry.
It will initially run for four years and is worth "tens of millions of pounds" annually, according to the Financial Times, which cited people familiar with the agreement.
Through the deal, Sorare is licensed to produce digital cards of players from all 20 Premier League clubs, which fans can buy, collect, and trade as part of its fantasy soccer game.
The individual cards, which are used to build team line-ups, are non-fungible tokens (NFTs) based on the Ethereum blockchain that increase or decrease in value based on the real-world performances of players. Some, such as the Cristiano Ronaldo card, have sold for more than $100,000.
To mark the partnership, Sorare has also launched a number of new gameplay features, including league-specific competitions, draft-based gameplay, and capped-mode competitions.
Launched in 2018, Sorare now has partnerships with over 300 soccer teams around the world and a host of the biggest leagues, including Spain's LaLiga, Germany's Bundesliga, Italy's Serie A, and the Netherlands' Eredivisie.
Last year, it expanded beyond soccer with North America's MLB (baseball) and NBA (basketball).
The platform has over three million users worldwide.
In 2021, it raised $680 million in a Series B funding round that valued it at $4.3 billion.
Richard Masters, chief executive of the Premier League, said: "The way that supporters follow their favorite teams and players is evolving, and the Premier League is always looking for ways to engage with fans.
"Sorare's digital cards and innovative online game represent a new way for them to feel closer to the Premier League, whether they are watching in the stadium or from around the world. We believe that Sorare are the ideal partner for the Premier League and we look forward to working closely together."
Nicolas Julia, chief executive and co-founder of Sorare, added: "The Premier League is a truly global competition and has been the home to so many iconic moments and players over the last 30 years. As football fans ourselves, this partnership is something we've dreamt of since we founded the business.
"It's a major milestone for us as we pursue our goal to build a compelling global sports community for fans and we're extremely proud to have now partnered with three of the biggest sports leagues in the world: the Premier League, NBA, and MLB. We're incredibly excited and can't wait to see fans play with Premier League cards in our tournaments."